2.25.13
No Woman, No Cry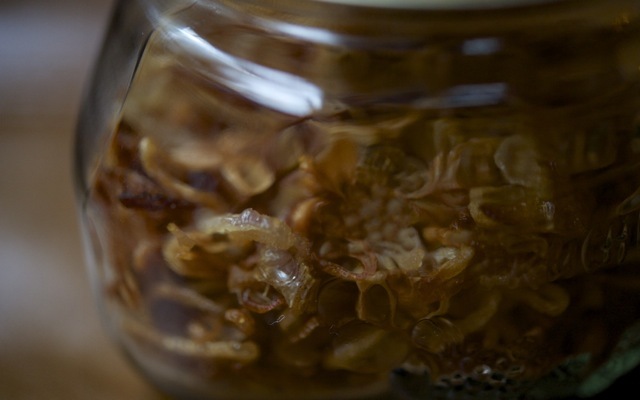 The trick to tear-free slicing? A very sharp knife and good skills. Shallots are a bit less pungent than their humbler relative, but the value of a good sharp knife cannot be overrated when it comes to virtually any repetitive cutting task. I never tire of using shallots in my cooking. They create a deep, slightly sweet flavor base and become soft and velvety much quicker than onions. They're also delicious raw, adding a mild bite to salad dressings and slaws. A quick soak in ice water first diminshes their intensity somewhat. But perhaps my favorite way to eat them—fried—is inspired by Southeast Asian cuisine, where the shallot runs rampant. They make an addictively crunchy topping to everything from rice and noodles to soups and salads. What you may not know is that you can fry up a mass of them and, once cooled, store them in a sealed glass jar, where they will remain crisp for quite a while.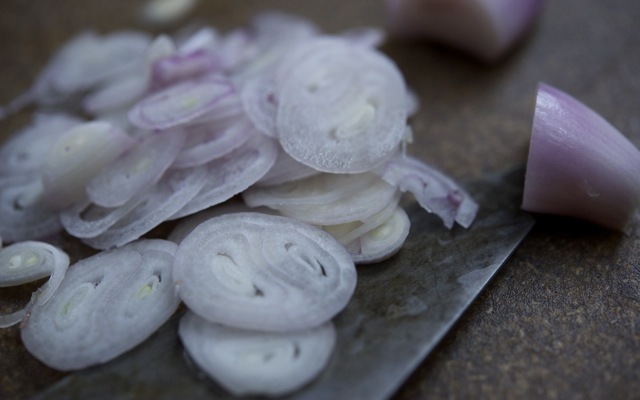 In exploring Naomi Duguid's latest book,
Burma: Rivers of Flavor
, I realized what an important element these fried shallots are to so many of the dishes. The byproduct that is their frying oil also has many uses. Even if you're not cooking Burmese food, I think you might find these condiments to be a great asset in your kitchen.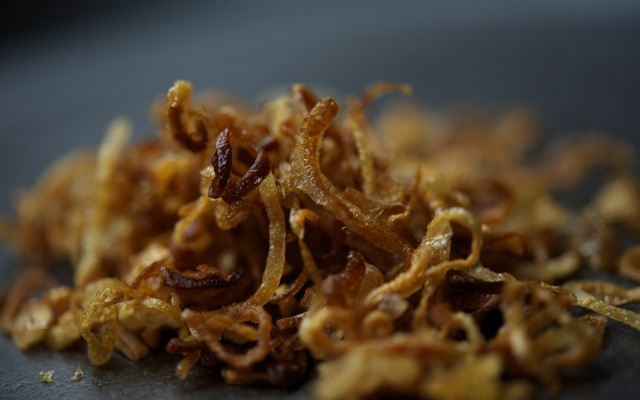 Naomi offers a very simple recipe that doesn't bother with dusting the sliced shallots with flour or cornstarch as I have seen elsewhere. The secret here is to cook them in plenty of oil and to take your time. Bring them slowly to the perfect deep golden-brown and then scoop them out with tongs or a spider to drain on a paper-towel-lined plate.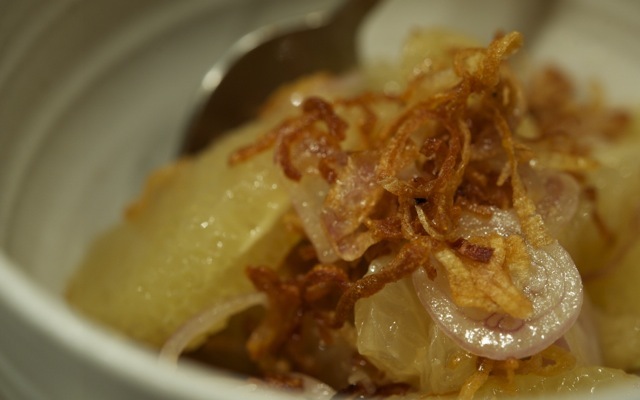 We ate them last night on another type of
pomelo salad
, this one tossed with raw and crispy shallots and dressed with lime juice, shallot oil and fish sauce. The fried shallots are sublime. Make some and you'll be snacking on them plain and tossing them into everything from popcorn to carrot soup to buckwheat groats. The oil is great for stir-fries, rice and noodles or to dress steamed vegetables. With the right knife, the only tears shed will be ones of joy.
Crispy Fried Shallots & Shallot Oil
makes about 1 1/4 cup
— 1 cup

peanut oil

— 2 cups (about 1/2 lb)

thinly sliced European or Asian shallots
Heat oil in a wide, heavy skillet over medium-high heat and line a plate with paper towels.


Test oil by tossing in a slice of shallot. When it sizzles, gently add remaining shallots and lower heat to medium. Shallots should bubble gently. Stir often. After 5 minutes, if shallots have started to brown, reduce heat. They should slowly turn from translucent to golden to brown; the process should take about 15 minutes.


Transfer cooked shallots to lined plate with spider, slotted spoon or tongs, shaking off excess oil. Blot with paper towel and let cool at room temperature for 5 to 10 minutes, until crisp.


Store shallots in an airtight container. Strain oil to remove debris and store in a cool place in an airtight container.



Download Recipe