12.28.12
The Perfect Pear (and a Winner!)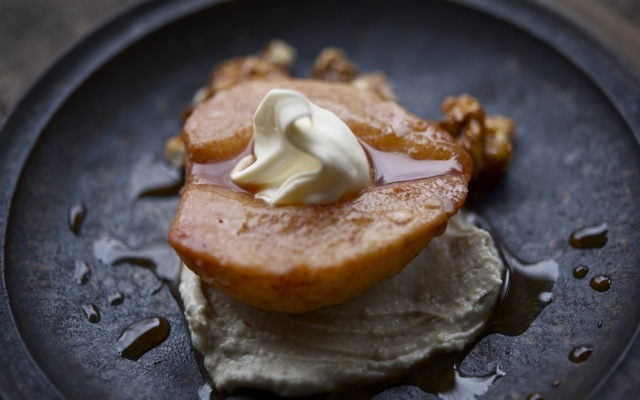 As I mentioned in
this post
the other week, one great thing about restaurant food is the diversity of flavor and technique on the plate. I'm always thrilled to get a dessert that combines tastes and textures without being too overwhelming. A simple panna cotta becomes so much more interesting when it comes with a pile of velvety macerated fruit or even just a generous pour of aged balsamic. I remember dining at Aureole way back when it was still in its original townhouse location and ordering a dessert that was a symphony of lemon—fluffy curd in a pastry shell, decadent ice cream, candied peel. This may seem like way too much work to attempt at home, but I recently managed to put together a layered dish with a few elements I had on hand to pretty great effect. The combination of a cinammon-scented roasted pear with a creamy smear of intense blue cheese, a drizzle of cider syrup and the sweet crunch of walnut brittle made a festive (and not too heavy) ending to a holiday meal. Everything was made ahead so it could be quickly plated at the last moment—a must when I'm entertaining.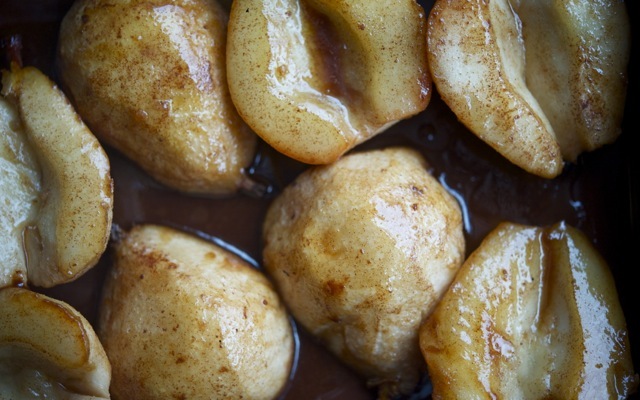 A special
friend
had sent me a lovely jar of cinnamon butter for the holidays and, as I was slathering it on a piece of toast, the idea for this dessert came to me. I also had a jar of cider syrup on hand, made by boiling down a gallon of apple cider to just two cups—thick and perfectly sweet-tart. I melted a bit of the cinnamon butter and tossed peeled Comice pear halves in that and a few tablespoons of the syrup. Then I roasted them until they were tender and lightly caramelized.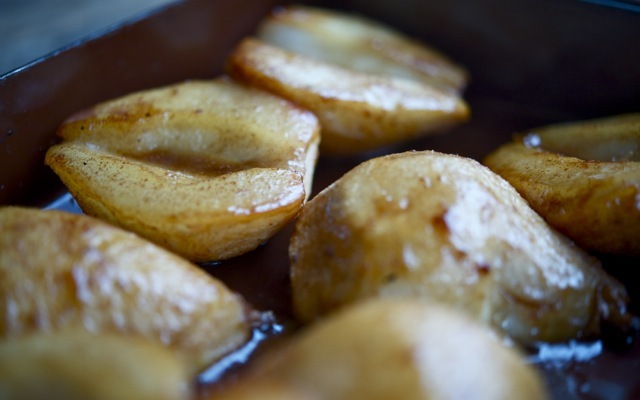 Comice pears—sometimes called Christmas pears because they are in season now—are firm and juicy, wonderful for eating out of hand. They don't fall apart when you cook them, making them ideal for this dish. A Bosc pear would also work nicely.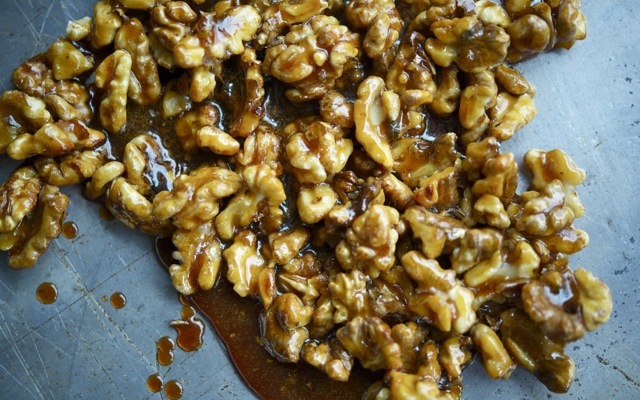 The walnut brittle comes together in a flash. All you do is melt sugar and a touch of sea salt in a skillet. When it's liquid caramel, fold in the walnuts, then pour the lot onto a greased sheet pan. Once it's hard, you can break it into chunks or chop it more finely. It's absolutely delicious as a snack, mixed into granola or even added to a wintry salad of bitter greens with a little aged goat cheese.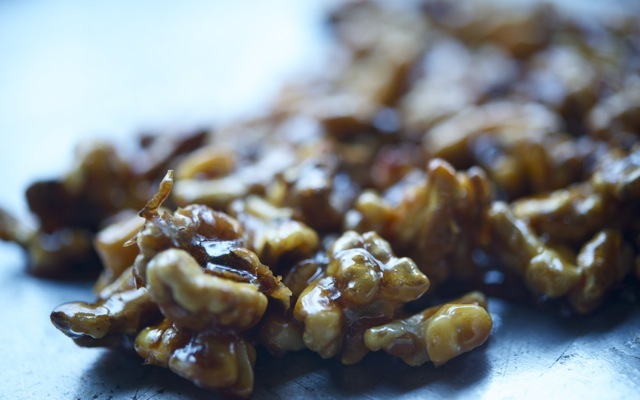 I adore eating cheese with fruit. Almost nothing makes me happier than a beautifully composed cheese plate. There's been part of a wheel of cabrales, a Spanish blue cheese made from goat's milk, in my fridge for the last several months and it was still appealing, despite having become a bit dry and crumbly. I decided to whip it with a little cream cheese and honey, and the result was addictively tangy and smooth.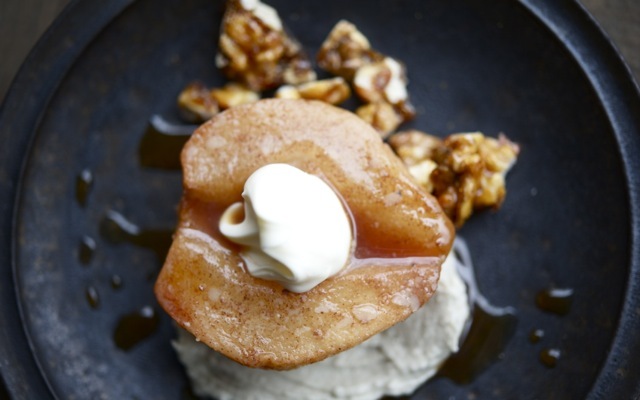 A dollop of crème fraîche added a note of brightness to the plate. This is not exactly a pared-down dessert (that would be just fruit and a chunk of cheese) but the pear pairs beautifully with the other flavors. Don't you just love homonyms?

And the winners (yes, that's right, it was a tie) of the spice giveaway are..."kristina" and "always hungry." Both of you will receive a set of 3 delicious spice blends from La Boîte, so please email me your mailing addresses right away. (gluttonforlife@gmail.com) Congratulations!
Walnut Brittle
makes about 3 1/2 cups
— 1 1/2 cups

organic cane sugar

— 1 1/2 teaspoons

sea salt

— 3 cups

walnuts
Oil a baking sheet and set aside. Cook sugar with salt in a dry 8" skillet over moderately high heat, undisturbed, until sugar begins to melt, about 5 minutes. Continue to cook, stirring occasionally with a fork, until sugar is melted into a deep golden caramel, about 3 minutes more. Remove from heat. Add walnuts, stirring with a heat-proof spatula to coat, then pour onto baking sheet and cool 10 minutes. Break nuts into smaller pieces, or finely chop, as desired.



Download Recipe
Pure Cider Syrup
makes 2 cups
— 1 gallon

best quality apple cider
Pour two cups of water in a large, heavy-bottomed pot. This is so you can see the amount to which you are about to reduce the cider.


Pour out the water and replace with the cider. Bring to a medium-fast boil over medium heat. Skim any impurities with a spoon (you don't have to be super-fastidious about this) and continue to cook until liquid reduces down to two cups.


Cool and refrigerate. Use in place of maple syrup; great in cocktails.



Download Recipe
Roasted Pears with Blue Cheese, Cider Syrup & Walnut Brittle
serves 4
—

walnut brittle

— 2 tablespoons

cider syrup, plus more for plating

— 2

Comice pears

—

juice of 1/2 lemon

— 1 tablespoon

butter, softened

— 1/2 teaspoon

cinnamon

— 2 ounces

blue cheese

— 2 ounces

cream cheese

— 1 tablespoon

honey

—

crème fraîche
Have the walnut brittle and cider syrup already made.


Preheat oven to 375 degrees.


Combine lemon juice and a few cups of water in a medium bowl. Peel, halve and core the pears and drop into the acidulated water.


Place butter and cinnamon in a small bowl and combine well. Heat a small skillet over medium heat and melt cinnamon butter. Transfer to a medium bowl.


Drain pears and gently blot dry. Toss well with melted butter and cider syrup, then place in a shallow casserole or roasting pan, pouring any remaining butter and syrup over. Roast in the oven until tender and lightly caramelized, about 20-30 minutes. Cool. Can be served warm or at room temp.


Meanwhile, whip together the blue cheese, cream cheese and honey until light and completely assimilated. Cover and refrigerate until ready to use.


To assemble dessert, smear a tablespoon or two of the cheese on a dessert plate. Set a pear half on top, core side up. Drizzle a little cider syrup over the oear and the plate. Please a dollop of crème fraîche in the center of the pear. Sprinkle finely chopped walnut brittle over the plate and garnish with a couple of bigger pieces.



Download Recipe