12.24.12
Light Fantastic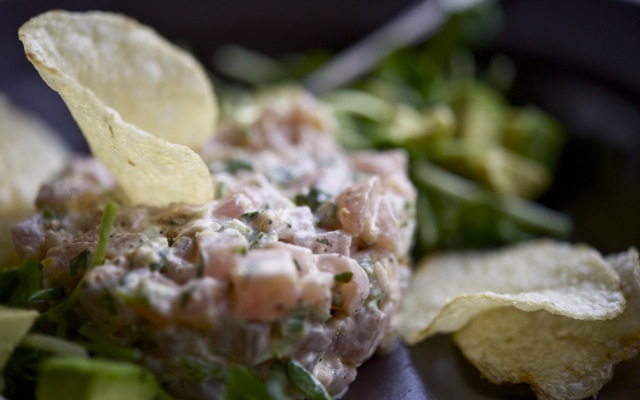 It's a moment for feasting. Wherever we turn, we're inundated with images of glistening roasts and spun-sugar delights—and with the real things, too. No one arrives without a bottle of champagne or a plate of cookies. Fudge abounds. The scent of bacon permeates the air. No wonder we're all bloated and cranky, popping Tums and yearning for naps. Go for it, if you must. But remember, every meal doesn't
have
to be a pig-out just because "it's the holidays." While everyone else is tempting you with nutella-frosted monkey bread and seventeen-cheese lasagna, I'm going to present you with a lighter option that doesn't skimp on luxurious flavor. It's great cocktail party fare and makes a lovely lunch, or a light supper if you've had an over-indulgent day. Consider it my gift to you.
(And don't forget to leave a comment here to be in the running for my giveaway of three superb spice blends from La Boîte à Epices!)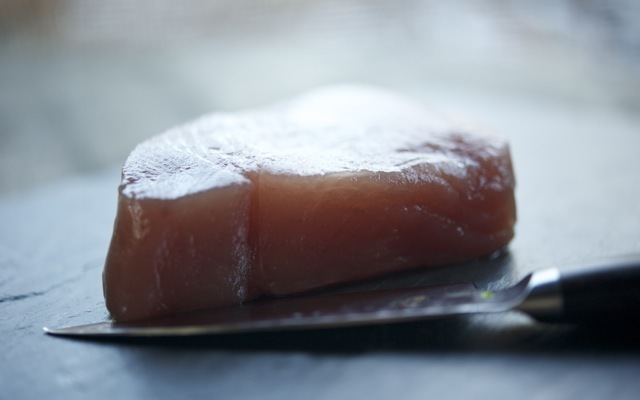 It's debatable which chef first made the leap from meat to seafood tartare but in 1986, when Gilbert LeCoze opened Le Bernardin in New York City, he brought his salmon and whitefish tartare recipes with him from Paris. After LeCoze's untimely death, Eric Ripert took over and introduced his tuna tartare, pairing it with Asian flavors in tribute to the Japanese sushi bars he frequented. I do my own variation on it, but I always serve it with potato chips—Ripert's inspired touch that brings a wonderful salty crunch to the creamy fish. Whatever you decide to add, the most essential ingredient is always the freshest, most pristine tuna you can find.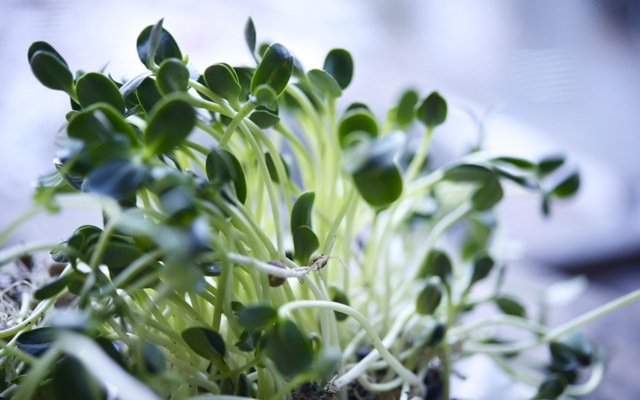 I picked up some beautiful sunflower sprouts at the farmers market in Chappaqua and decided to combine them with a little diced avocado and a gingery dressing to go alongside the tartare. You could substitute any microgreens, fresh lettuces or even bean sprouts.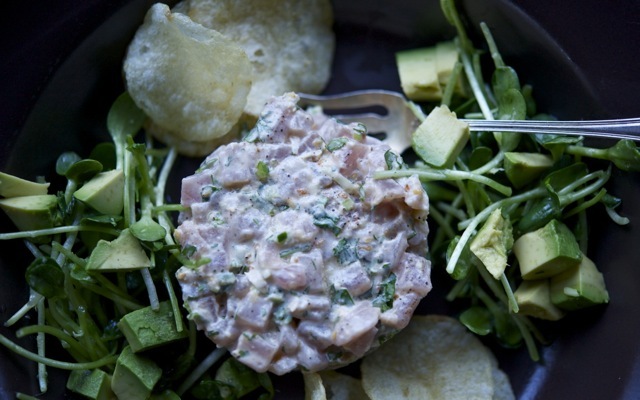 I like to make a creamy, slightly spicy sauce for the tuna by combining mayonnaise (I adore
Kewpie
), Sriracha and a little
yuzu juice
(or lime juice). Using a biscuit cutter to mold the tartare (I received
this
excellent gift from my sister-in-law) makes for a neat and elegant presentation. Scoop it up with a few crisp, kettle-cooked potato chips, feeling virtuous and indulgent at the same time—and totally ready to trip the light fantastic. Merry Christmas, my friends!
Tuna Tartare
serves 2
— 1 tablespoon

raw sesame oil, or other neutral vegetable oil

— 1 teaspoon

grated fresh ginger

— 2 tablespoons

mayonnaise

— 1 tablespoon

Sriracha sauce, or to taste

— 1 teaspoon

yuzu juice (or substitute fresh lime juice)

— 1/2 pound

sushi-grade raw tuna

— 2 tablespoons

finely chopped cilantro

— 1 teaspoon

minced jalapeño

— 1 teaspoon

toasted sesame seeds

— 1 tablespoon

finely chopped scallion

—

juice of 1/2 lemon

— 1/2 avocado

peeled and diced

— large handful

fresh sunflower sprouts

—

potato chips, for serving
In a bowl, combine the oil and grated ginger and let stand at room temperature while you prepare the rest.


In a small bowl, whisk together mayonnaise, Sriracha and yuzu juice.


Using a very sharp knife, cut the tuna into 1/8" dice. In a large bowl, combine the tuna with most of the mayonnaise sauce plus the cilantro, jalapeño, sesame seeds and scallions. Mix gently and season with salt and pepper. Taste and add more mayonnaise sauce if needed, or a little lemon juice.


Stand a round mold or a biscuit cutter in the center of a salad plate. Fill the mold with tuna tartare, pressing gently. Lift off the mold. Repeat with the remaining tartare.


Toss the avocado and sprouts with the ginger oil and a bit of lemon juice. Pile greens around the tartare. Garnish with a few potato chips.



Download Recipe