12.19.12
Culinary Art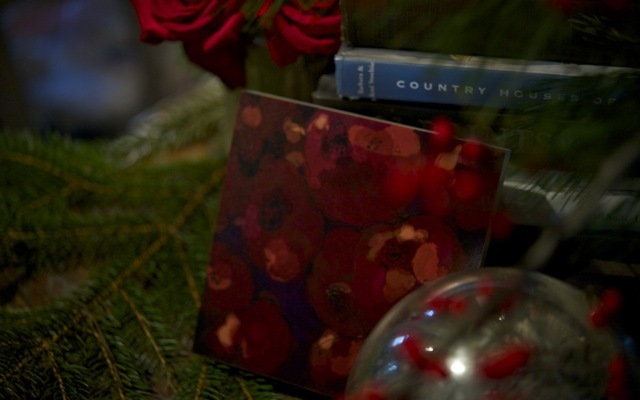 Are you house-proud? It's one of the simple satisfactions of domestic life. I believe that living in a clean, uncluttered space that's well-organized and smells fresh is essential for health and happiness. Your house doesn't have to be big (mine is tiny) and your furnishings needn't be fancy, but you can surround yourself with things that are pleasing to the senses. Right now, I've made some small adjustments in honor of the holidays. I'm burning this fabulous
juniper incense
all the time (I also love their Big Sur cabin spray) and I've brought in bunches of red winterberries and boughs of fragrant pine. My three big silver mercury glass ornaments (jumbo versions of
these
that I got at the old Takashimaya) and our two embroidered stockings are out—small tributes to the Christmas tradition in which I was raised. And I'm also loving incorporating Jan Richter's lovely drawings into little vignettes around the house. Those are her gorgeous
pomegranates
, above. Have you been to the
GFL shop
yet? Her work is for sale there.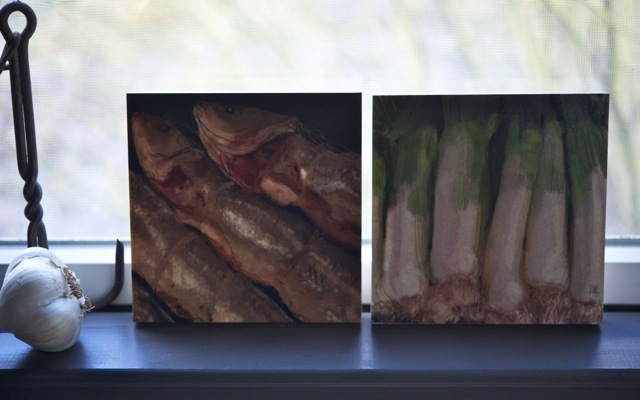 Jan was my boss when I worked at Saks Fifth Avenue; she ran the creative department but was a closet artist. (Read my interview with her
here
and see more of her illustrations.) She created this beautiful set of food-related images for me and had the very clever idea of having them silkscreened onto chunky little slices of natural birch wood. They are 6-inch squares that look great alone or in groupings—I love the fish and leeks together and have them perched on a windowsill in my little breakfast nook.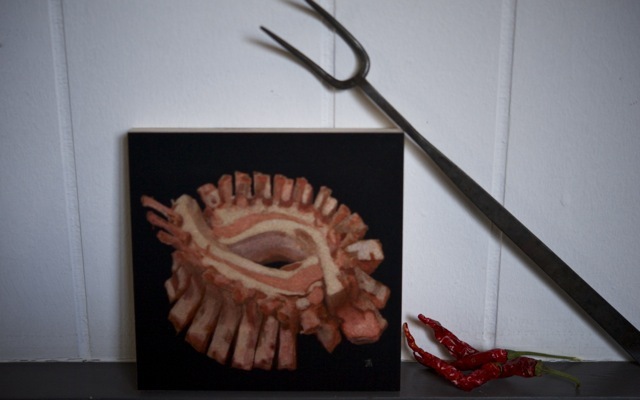 Her crown roast may be my favorite, inspired by a visit to Dickson's butcher shop in New York City. The image really pops against the black background. Perfect for the carnivore in your life. One of the great things about these beautiful works of art is that they require no framing—they're notched on the back and ready to hang. But, as you see, they can also easily be propped up on a shelf or ledge, worked into an assemblage of your favorite things. Check out all six of Jan's illustrations in the
shop
, as well as other great options (spices, aprons) for last-minute gifting...or self-gifting.