11.26.12
Spice of Life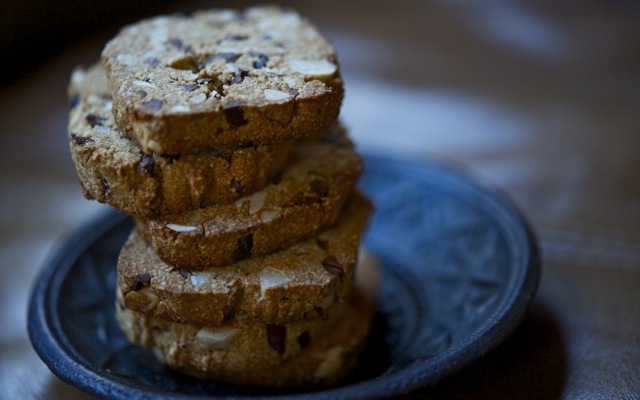 I'm always lecturing you about cutting out sugar and eating more greens, right? There are so many blogs you could be reading instead, blogs that give you recipes for cheese-laden pastas and bacon-studded scones and chocolate tortes. And yet here you are, learning about whey and sunchokes and making your own pickles. And I love you for that, you sexy thing. While I don't think it's smart to consider food as a reward, I do believe that into every life a little sweet must fall. Especially with the holidays upon us, it's best to have some pragmatic treats on hand that can shield us from the cheese twists and peppermint bark and pecan rolls that will soon materialize at every turn. So here's a recipe for a tasty little biscut that is sugar-free and gluten-free, yes, but also rich and crunchy and packed with flavor. Trust me, that's not the taste of deprivation.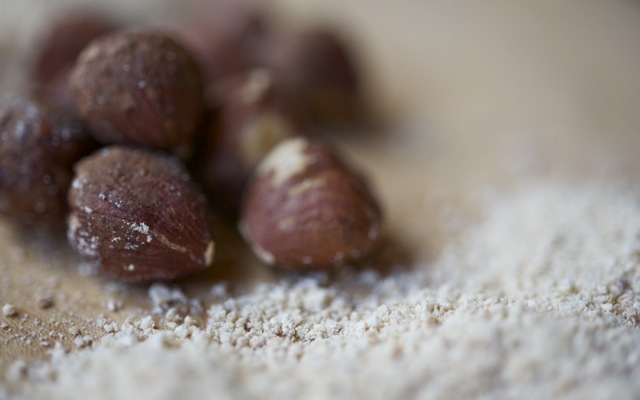 Nut flours work very well in baked goods where they add a lush density. Since they're full of oil they are quite fragile, so it's best to store them in the fridge or freezer. I've always been a bit on the fence about hazelnuts, but I think I'm coming around. I like them best when toasted, and in flour form they have a subtle quality and a natural sweetness. This biscuit uses both to excellent effect. The whole nuts I toasted in a skillet, then rubbed vigorously in a tea towel to slough off most of the dark skins. You can skip this last step if you like.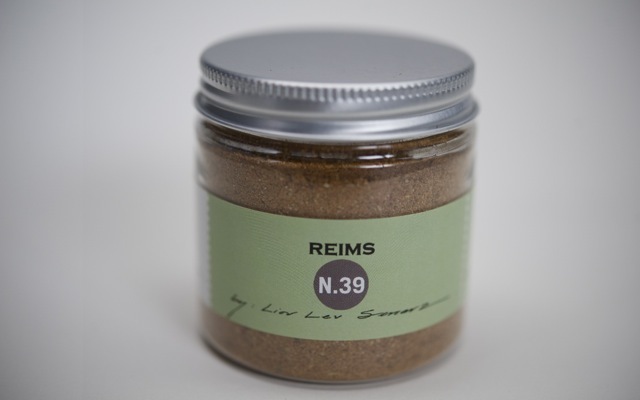 It probably won't suprise you that I was initially going to add cardamom to this recipe, but instead I reached for my new jar of Reims, number 39 in
Lior Lev Sercarz
's collection of 41 extraordinary spice blends. This lovely combination of honey, ginger and anise (and many other secret ingredients) adds the perfect notes of comforting familiarity and sweet mystery to nutty brown butter and earthy cacao nibs.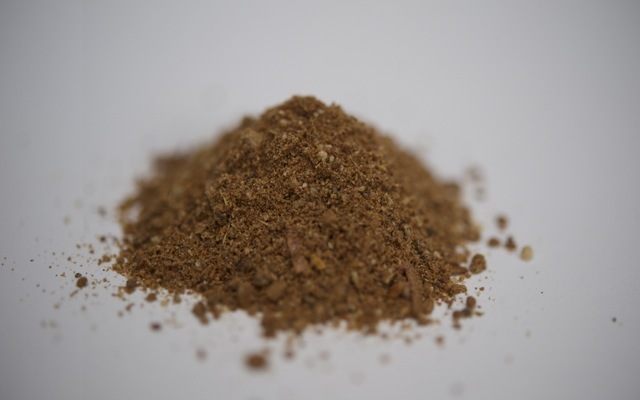 Lior's blends are fresh and enticing, tied to specific moments in time and romantic destinations. They inspire me in the kitchen and have a welcome ability to finesse any dish lacking a certain something. Reims would be wonderful in coffee, for instance, or whisked into melted butter used to baste a roasting chicken.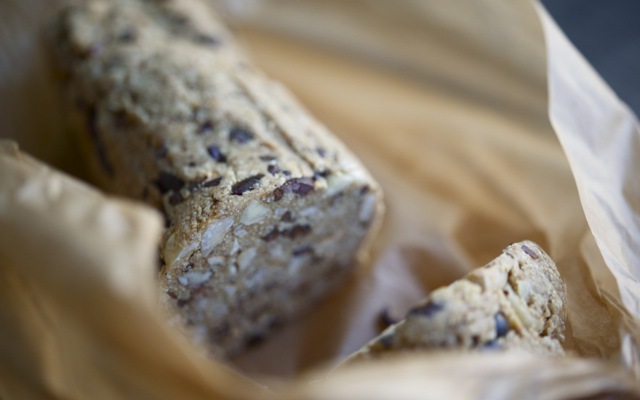 These biscuits come together in a trice, no mixer needed. If you haven't made brown butter before, all you do is melt some good quality butter in a small skillet or saucepan over medium-low heat until the milk solids turn a deep golden brown and it gives off a toasty, nutty aroma. (The French call this beurre noisette, literally "hazelnut butter," so you can see how it really does make sense here.) Simply combine all the ingredients into a stiff dough, form it into a log that gets chilled firm and then slice it into thick coins. You can bake just a few at a time as the dough will keep, well-wrapped, in the fridge or freezer.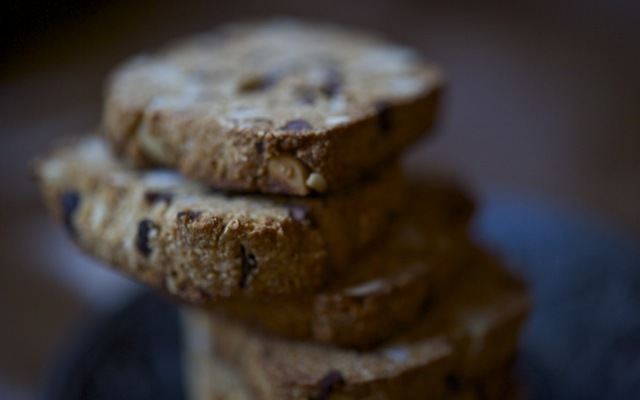 As they bake, your kitchen smells divine. So little trouble, so much satisfaction. True to their name, these biscuits have the dense snap of a biscotti, the ideal texture for dunking. In my book, they're a slam-dunk.
Hazelnut Brown Butter Biscuits
makes about 2 dozen
— 2 1/2 cups

blanched hazelnut flour

— 1/2 teaspoon

fine sea salt

— 1/2 teaspoon

baking soda

— 1 1/2 teaspoons

Reims

— 1 cup

hazelnuts, toasted and coarsely chopped

— 1/2 cup

cacao nibs

— 1/2 cup

brown butter

— 1/4 cup

virgin coconut oil

— 6 tablespoons

honey

— 1 tablespoon

vanilla extract

— 3 teaspoons

Maldon salt

— 3 teaspoons

rapadura
Preheat the oven to 350 degrees. Line 2 large baking sheets with parchment paper.


In a large bowl, combine the hazelnut flour, fine sea salt, baking soda, Reims, hazelnuts and cacao nibs. In a medium bowl, whisk together the butter, coconut oil, honey and vanilla extract. Stir the wet ingredients into the hazelnut flour mixture until thoroughly combined.


Roll the dough into a large log, 2 1/2 inches in diameter, then wrap in parchment paper. Place in the freezer for 1 hour, or refrigerate until firm. Take out the log, unwrap it and cut into ¼" slices with a sharp, wet knife. Combine the Maldon salt and rapadura in a little bowl and sprinkle a bit on each slice. Transfer the slices onto the prepared baking sheets, leaving 2 inches between each biscuit.


Bake for 7 to 10 minutes, rotating trays once, until biscuits are golden brown. Let them rest on the baking sheets for 10 minutes, then transfer to a rack to cool completely.



Download Recipe