10.19.12
Room for Dessert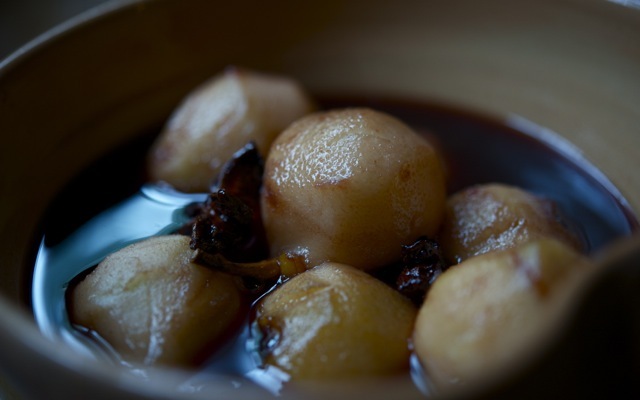 Sugar brings me down. It causes inflammation which is basically the root of all evil. Too much of it (which is almost any at all) and I become tired, my face is more prone to break out and those little aches and pains creep in. It's insidious because you may not make the connection between that Snickers bar and the way you're feeling. It gets worse, though. Did you know that the consumption of refined sugar is now definitively linked to obesity, type II diabetes, hypertension and heart disease? (Learn more
here
.) Sweets are a limited commodity in our house and, when we do have them, I try to substitute honey, maple syrup or rapadura for the white processed stuff. And I focus on the incredible abundance of delicious fruits designed by nature to satisfy a sweet tooth. Are you turning away in disgust at the thought of a tangerine supplanting an Oreo in your heart? Stick with me. Because eating for health does not require a Dranconian regimen, merely the desire to become interested in tastes and treats that are both delicious
and
good for you. Cookies, muffins, cupcakes, tarts, donuts and pies are something of a national obsession, and they play no small role in the alarming increase of the aforementioned ailments. I'm actually kind of shocked by how many popular blogs and cookbooks are devoted to recipes for greasy, gooey treats. But I'd be lying if I said I never indulged. I just prefer to do it my way.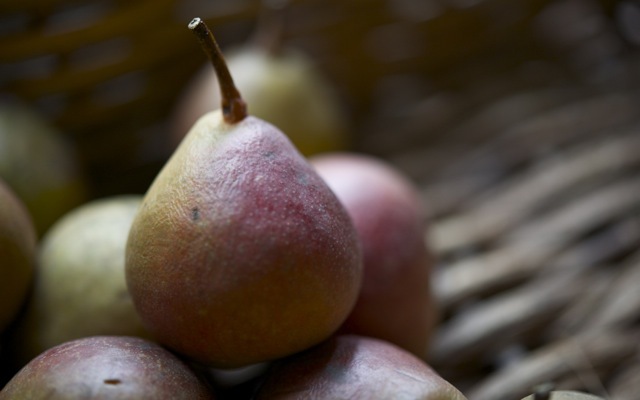 Take, for example, this gorgeous little Seckel pear. Next to one of those buttercream-frosted cupcakes from Magnolia bakery (I will never, ever understand what people are lining up for) it shines as a paragon of pure, simple sweetness. Seckels are thought by some to be the only truly American pear, descended from a wild seedling found near Philadelphia in the late 17th century. Quite a pedigree for this short, tubby fruit that's small enough to preserve whole or serve cut in half as a garnish. They are delicious eaten out of hand with perhaps a tender chunk of young Manchego, but they're also firm enough to withstand cooking. A Seckel's delicate flavor holds up beautifully to a quick poaching in fruity red wine.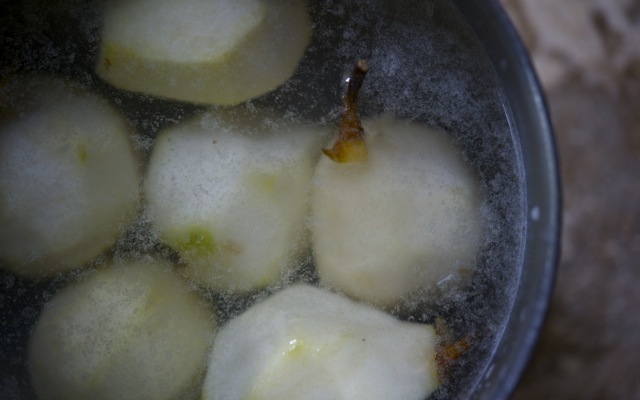 Seckels' smooth skin is olive green with a glossy red blush. The woody stem should be attached, or decay will quickly set in where the interior is exposed. These pears are best on the firm side, so gently probe around the neck for a very slight yield. No pinching, as they bruise easily! Prepare them for poaching by peeling them, leaving the stems intact if possible, and hold in acidulated water (just water with a little lemon juice) so they do not begin to darken.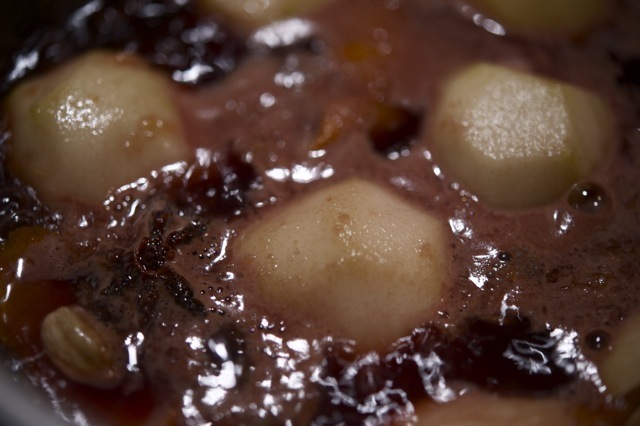 I poached these gently in wine, orange juice and pomegranate molasses, with a bit of the orange zest and some star anise and cardamom to intensify the flavor. Baste them as they cook, so they are uniformly colored all over. They will also soak up more of the sauce and its color if you store them in the fridge. Incidentally, you can try this recipe with any number of fruits, including lady apples (or big ones), fresh or dried figs, plums, etc.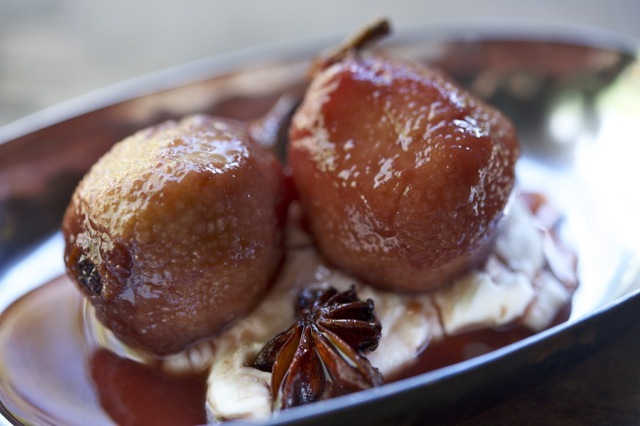 The pears cook quickly and are done when the tip of a sharp knife slides in easily. Remove them to a plate and take a few minutes to reduce the wine, adding some honey to create a thick, sweet syrup. Served warm or cold on a smear of creamy Greek yogurt, they make a wholly satisfying dessert (or breakfast) that is both simple and sophisticated. Not really something you can say for a salted-caramel-bacon-glazed donut.
Pears Poached in Red Wine
serves 4
— 8

Seckel pears

— 1 1/2 cups

fruity red wine

—

juice of 1 orange and its peel in wide strips

— 2 tablespoons

pomegranate molasses

— 3

cardamom pods

— 3

whole star anise

— 1/4 cup

honey
Squeeze half a lemon into a medium-sized bowl of fresh water. Peel pears, keeping stems intact, and drop them in acidulated water as you go. Toss peel in your compost bucket.

Combine red wine, orange juice and pomegranate molasses in a medium saucepan and stir together over medium heat until well combined. Add pears, orange zest and spices and lower heat to a simmer. Poach pears until they are easily pierced with the tip of a sharp knife, about 15 minutes.

Gently remove pears and set in a shallow bowl or small casserole. Stir honey into poaching liquid and turn heat to high. Reduce liquid by half, stirring occasionally; this should take about 15 minutes. Cool slightly and strain out spices if desired before pouring over pears.

Serve with a dollop of Greek yogurt or crème fraîche or a pour of heavy cream.



Download Recipe