9.24.12
Naomi Duguid: On Burma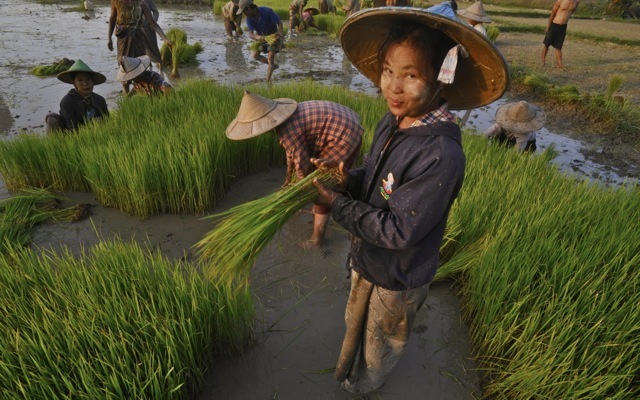 More than a decade ago, I was given a cookbook that taught me how to use ingredients in my own kitchen that I had previously enjoyed only in restaurants found deep in ethnic neighborhoods. Fish sauce. Kaffir lime leaves. Sticky rice. This was "Hot Sour Salty Sweet: A Culinary Journey Through Southeast Asia," for which authors Naomi Duguid and Jeffrey Alford—with their two young sons in tow—followed the Mekong River south through southern China, Burma, Laos, Thailand, Cambodia and Vietnam. Along the way, they ate from stalls in village streets and learned to cook in the humblest of private homes, absorbing traditional techniques and discovering the kind of authentic food that is a true reflection of people, places and cultures. And they shot roll upon roll of film—intimate portraits, sweeping vistas, the quiet poetry of everyday life.

The result was a gorgeous and enthralling book that served as inspiration for my own travels to Thailand, Laos, Cambodia and Vietnam, and taught me always to begin with a visit to the local outdoor food market. Naomi and Jeffrey wrote five more books while pursuing the road less traveled—"Seductions of Rice" (2003); "Home Baking: The Artful Mix of Flour and Tradition Around the World" (2003); "Mangoes & Curry Leaves: Culinary Travels Through the Great Subcontinent" (2005); "Beyond the Great Wall: Recipes and Travels in the Other China" (2008); and "Flatbreads & Flavors: A Baker's Atlas" (2008)—each one showered with well-deserved praise and awards. The couple divorced in 2009, and Naomi's first solo endeavor, "Burma: Rivers of Flavor," is being released by Artisan this week. It's proof that two heads are not always better than one. I was lucky enough to interview the author by phone late last year when she was finishing work on the book, and have read it in an online galley form thanks to the kind people at Artisan.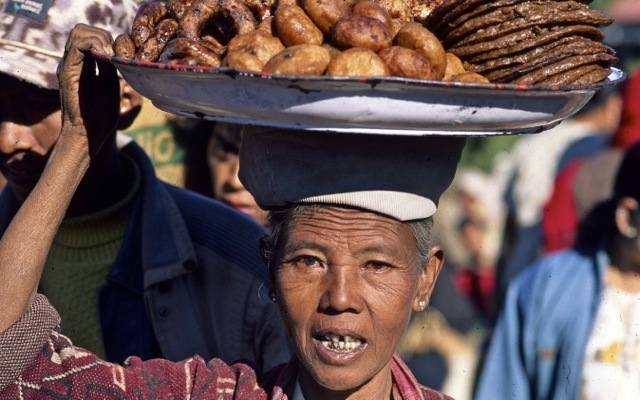 Despite bearing the name of only one author, the book reflects a collaborative style. Richard Jung returns to do all the studio photography, which is lush and mouthwatering. Naomi also shines a light on many of the home cooks she encounters and whose recipes she shares, like Cho Cho and her bean thread soup. What Naomi is most interested in is "getting insights into culture and into people's daily lives by learning about what they eat, where their food comes from, how they farm and fish, and also of course how households get everyday meals on the table." Character studies, personal narratives and interesting cultural context are interwoven throughout the book.


An intrepid traveller—and a hungry one—Naomi went to Burma eight times to explore and learn about the people and their food. Her first visit was in the early 1980s, at a time when the country's repressive regime and civil unrest made it unpalatable for most tourists. "The Burmese army and government are not invited into the kitchen in the book," she writes, "nor will you find discussions of human rights mixed in with the recipes here." Politics is not a focus but Naomi happily acknowledged Burma's new optimism—"it's not a revolutionary feel, but a kind of relief that the logjam seems to be broken"—which has arisen with the recent turn of events, including the advent of the National League for Democracy and Aung San Suu Kyi's election to parliament. She also spoke of an added sense of responsibility in writing this book, of "wanting to do justice to the subject and to be ethical about it."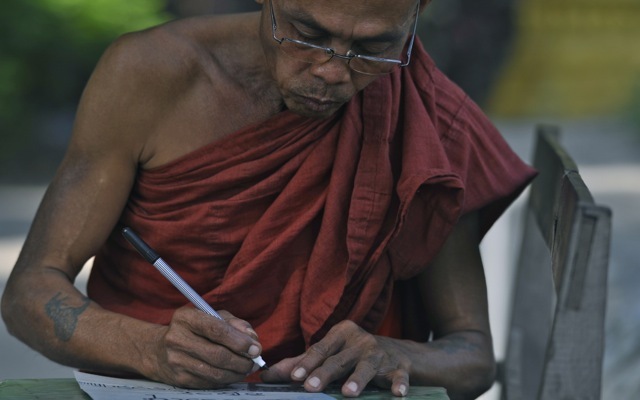 Burma is the largest country in mainland Southeast Asia, situated between India and China, with a long shared border with Thailand. It's roughly the size of Texas and is divided into seven states and regions. The 60 million inhabitants are of many different ethnicities and religions, grouped primarily according to region. The Bamar make up nearly three-quarters of the population, but there are also Shan, Kachin, Chin and many others. Naomi—essentially a culinary ethnologist—has travelled widely around Burma and her book encompasses recipes from many of these regions.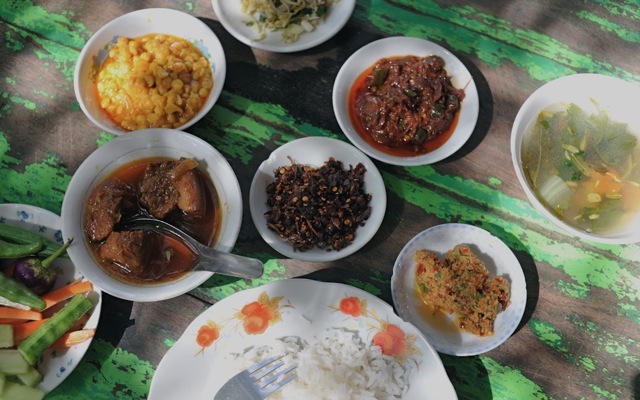 Burma offers intense, pungent flavors; soothing soups; silky noodles; a rich array of raw and cooked vegetables; spectacular salads; and rice, always rice, around which the main meal of the day revolves. ("To eat" in Burmese literally translates as "to eat rice.") Ask Naomi which dish is her favorite and she hesitates. "I can't really answer that because it's about the context, where it comes from, who made it, what was the feeling, why it was done this way and not that way," she says. "I love the whole of food integrated into humanity. So my favorite Burmese meal is one eaten with friends." Watch Naomi navigate her way around a rice meal on the streets of Rangoon,
here
. Or, if you're in New York City, book a table at Porsena on October 1st, when Naomi will team up with chef Sara Jenkins to cook a
Burmese feast
.
The Burmese palette features fish sauce; dried shrimp; fermented soybeans; rice powder; ginger; garlic; pickled tea leaves; and brilliant condiments like fried shallots, chile sauces and chutneys. I'm excited to whip up some Shan "tofu," made from chickpea flour pressed into smooth, firm cakes which can also be shaved into "noodles." I'll definitely be transforming my next chicken stock with the addition of shallots, lime juice and coriander. And I'm intrigued by the sound of rice cracker snacks—discs of leftover sticky rice that you air dry and then fry into crispy crackers. But I didn't even wait to finish the book before putting together the Punchy-Crunchy Ginger Salad, an aptly named and addictive toss of assertive flavors, including pickled ginger, dried shrimp powder, fried garlic and chopped roasted peanuts that delivers one vibrant, sensation-filled bite after another.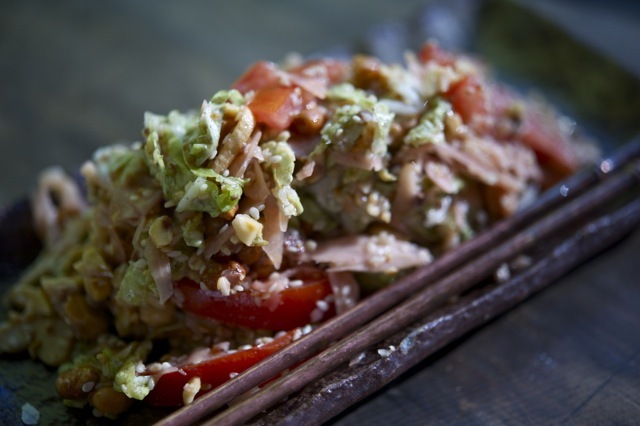 Page through "Burma: Rivers of Flavor" and you'll be ready to book your ticket to what the
New York Times
is calling the latest "hot destination." In February, Naomi will be taking a lucky group to some of her favorite places there as part of Immerse Through, her program of culinary tours that expose people to culture through food and travel. Read all about it
here
. Or just read "
Burma: Rivers of Flavor
" and do a little culinary touring around your own kitchen. Invite some friends to share whatever you cook up. And be sure to raise a glass to Naomi.
Punchy-Crunchy Ginger Salad
serves 6
— 1 cup

pickled ginger, rinsed thoroughly in cold water, drained and minced into fine strands

— 1/2 cup

toasted pumpkin seeds (optional)

— 1/2 cup

roasted or fired split soybeans or split peas, store-bought or homemade

— 1/2 cup

chopped roasted peanuts

— 1/2 cup

lightly toasted sesame seeds

— 1/4 cup

dried shrimp powder

— 1/2 cup

long, thin wedges of Roma or other fleshy tomato

— 1 cup

shredded Napa cabbage

— 1/4 cup

fried garlic

— 1-2 tablespoons

fresh lime juice

— 1 tablespoons

garlic oil, or to taste

— 2 teaspoons

salt
Place all the ingredients except the garlic oil and salt in a bowl and mix together with your hands, blending well. Add the garlic oil and salt and mix again. Taste and adjust the seasonings as needed.

Download Recipe