9.19.12
C'est Parfait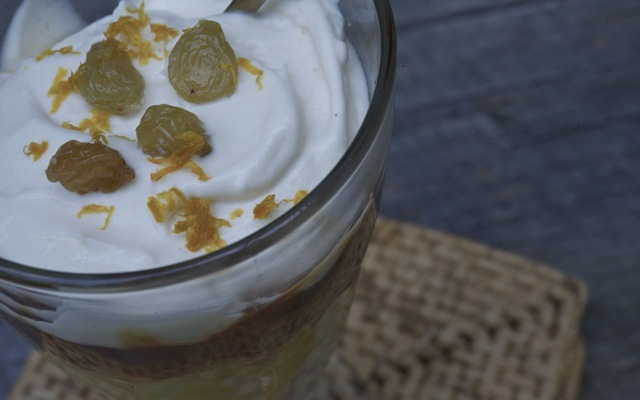 I majored in comparative literature at Harvard in the 80s, when symbolism was in. I was immersed in deconstructionism, from Derrida to Barthes. So some long-neglected part of my lizard brain perked up when I came across Pamela Yung's tantalizing multi-faceted dessert in an Edible Selby
feature
in
T
magazine. (Scroll through until you find it.) The grand finale to a loosely-Brazilian-themed lunch cooked by a bunch of groovy food types (Ignacio Mattos, former chef at
Isa
and
Il Buco
; David Tanis, of
Chez Panisse
fame, etc), the dessert combined grilled pineapple, lime sherbet, coconut mousse and a nutty riff on
farofa
(toasted manioc flour), all casually jumbled together in a clear glass. Reader, I was smitten. These elements might have been composed into a more formal construction, yet in this supremely modern ensemble each one retained its own distinct identity while still contributing to a revelatory gestalt. It wasn't as obvious as when you get all the pieces of a classic dessert spread out on a plate—like the tired conceit that is deconstructed pie, for example. This just felt so fresh and original that I was compelled to copy it right away.
In actuality, Yung's folly served primarily to unleash my creative juices, as the best recipes always do. It spawned my own interpretations. The first began with that grilled pineapple. I sprinkled mine with coconut sugar and charred it under the broiler.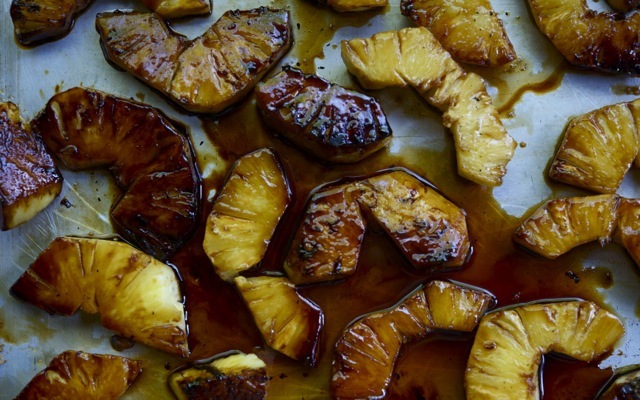 Afterwards, I doused it in a syrup of lime juice and sugar. This smoky, electric combination alone qualifies as dessert. But don't stop there.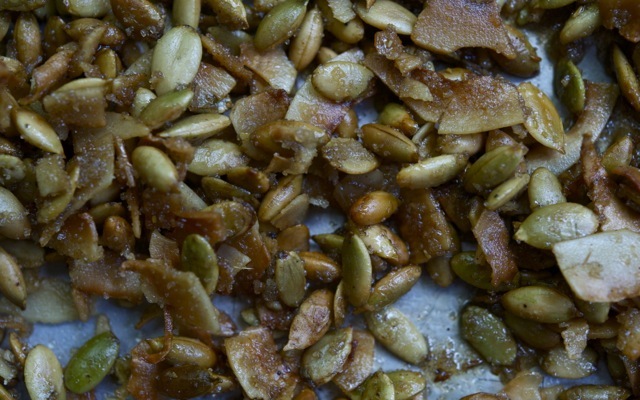 I was seized with the notion of stacking several distinct textures in a layered confection and, in a flash of inspiration, I ordered these
parfait glasses
. I wanted to to be able to plunge my spoon into wild and mysterious depths, encountering different surprises all the way down. Next, I made a toasted crumble of pumpkin seeds, coconut and cayenne, but for a layer of crunchy texture you could just as easily buy an excellent granola, or smash some good quality gingersnaps. I introduced the grilled pineapple with its pool of lime syrup to this spicy crumble, a gooey smear of cajeta (goat's milk caramel)—
homemade
, but you can buy some
here
—and a thick slick of whipped crème fraîche spiked with lime zest. I would be lying if I said it wasn't rather spectacular.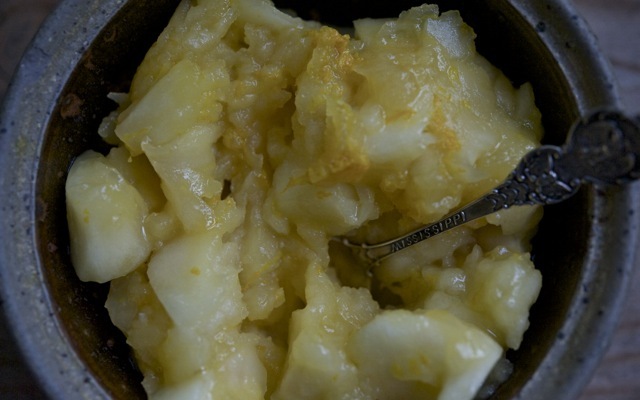 Heading into fall—and presented with the season's first apples at our local farmers market—I embarked upon a different set of flavors, though I knew I wanted to keep the scintillating mix of textures. I made a list of seasonal highlights that went something like this: apple, plum, pumpkin, cinnamon, star anise, nutmeg, cardamom, Balinese longpepper, walnut, pecan, port, bourbon, honey, pomegranate molasses, maple syrup. I broke open a bottle of American Honey Wild Turkey and got to work.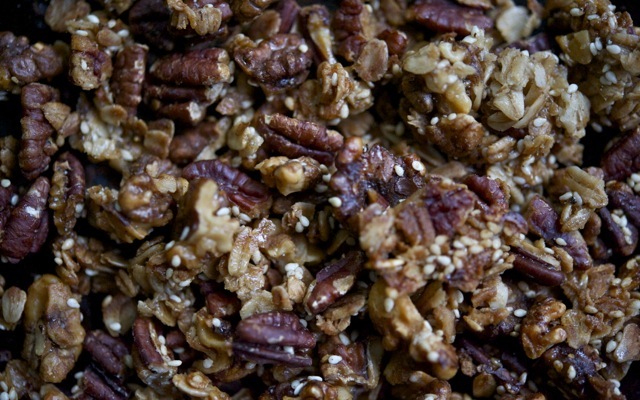 This time, the crunch came together as a toss of walnuts, pecans, sesame seeds, cardamom, maple syrup and olive oil, roasted on a tray in the oven. It smelled like an angel's earlobe. Meanwhile, I cooked cubes of apple down with some pungent orange zest until they were soft but not too mushy. Then I layered these with a puree of bourbon-soaked raisins and more of that cajeta, and piled a generous drift of whipped cream on top. Another triumph. These parfaits are as easy on the eyes as they are to make. And they're impressive enough to present with a flourish at your next dinner party. (
Long spoons
would take it over the top.)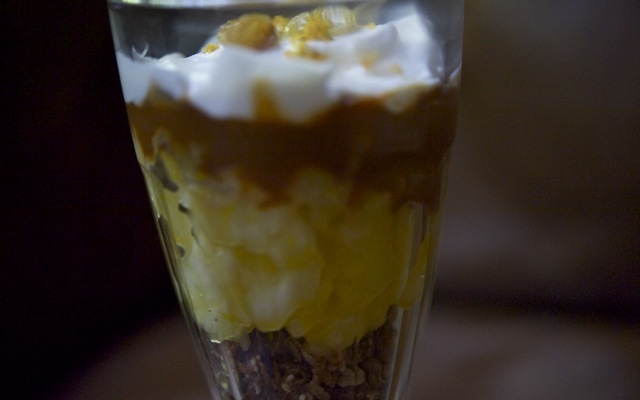 Are you beginning to grasp the possibilities? Ice cream, sorbet, mousse, leftover toasted banana bread, grilled or macerated fruit, puffed rice, tapioca, toasted nuts—it's all fair game. Just remember to strike a balance between creamy, crunchy and gooey, and be sure to inject vivid notes of sour and spice into all that sweetness. Prepare the individual elements ahead of time, but don't assemble the parfaits until just before you serve them. This is one dessert you don't want to keep waiting.

Apple Parfait aka Mac 3.0
serves 2
— 1/2 cup

golden raisins

— 1/2 cup

American Honey Wild Turkey, or other bourbon

— 1/2 cup

pecans, coarsely chopped

— 1/2 cup

walnuts, coarsely chopped

— 1/2 cup

rolled oats

— 1 tablespoon

sesame seeds

— 1/8 teaspoon

sea salt

— 1/4 teaspoon

cardamom

— 5 tablespoons

maple syrup

— 1 1/2 tablespoons

olive oil

—

juice & zest of 1 orange

— 2

large early Macs, or other firm, sweet-tart apple, peeled, cored and chopped into 2" pieces (about 3 cups

— 1/2 cup

crème fraîche

— 1/2 teaspoon

vanilla extract

— 1/2 cup

cajeta (goat's milk caramel), may substitute dulce de leche
At least a day and as much as a week before you plan to serve this dessert, place the raisins and liquor in a small jar and set aside to steep.

Preheat the oven to 350º and cover a baking sheet with parchment paper. In a medium bowl, combine the nuts, oats, sesame seeds, salt and cardamom. Add 3 tablespoons maple syrup and olive oil and toss well. Spread in a single layer on baking sheet and toast in oven until golden and fragrant, about 15 minutes, stirring halfway through. Remove from oven and cool.

While crumble is in oven, whip the crème fraîche with 1 tablespoon maple syrup and vanilla until thick. Place in a covered container and chill until ready to assemble dessert.

Next, make the compote. In a heavy saucepan, combine apple, 1/3 cup orange juice, 1 tablespoon maple syrup and salt, and simmer gently until soft but still chunky, about 15 minutes. Cool, then stir in 1 teaspoon orange zest, reserving the rest for garnish.

Strain the raisins, reserving the liquid for another purpose. Remove 8 whole raisins and set aside. Puree the remaining raisins in a food processor, blender or spice grinder.

To assemble dessert, layer the components in a parfait glass or other tall, clear vessel. Start with 2 inches of the crumble, followed by 2 inches of the apple compote, a thin layer of the raisin puree and another of cajeta. Top with a thick layer of the chilled crème fraîche and garnish with the reserved raisins and a little orange zest.

Download Recipe