7.2.12
The Mix Master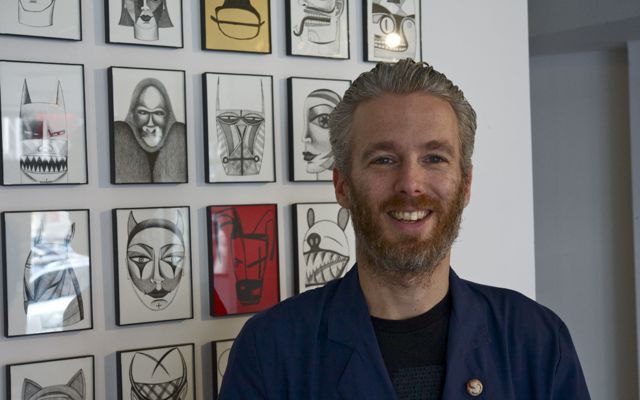 An Interview with Lior Lev Sercarz
I visited Lior Lev Seracarz in his studio a few months ago, but I haven't written about it until now because I wanted to spend time really getting to know some of his spice blends. You may remember me mentioning this chef-turned-spice-wizard and his gallery/store,
La Boîte à Epice
, in Hell's Kitchen, or perhaps you read Susan Choi's
profile
of him in
Food & Wine;
it won the James Beard Foundation journalism award this year. A quick bit of background on Lior: he's Israeli (yep, he did his military service), but his family has roots in Belgium, Germany, Transylvania and Tunisia. He trained as a chef in France and apprenticed with Olivier Roellinger, the Michelin-starred chef who also has a spice business now. In 2006, after 4 years working at Daniel in New York (where they built him his own spice shelf), Lior decided to go out on his own. But he wasn't sure exactly what that would entail. Unlike many chefs who have a laser-like focus on the usual trajectory that ends with their own empire of restaurants, Lior dreams of immersing himself in everything from classical music to finance. In a world of specialists, he's something of a Renaissance man. Lucky for us, then, that his love of spices rose to the fore.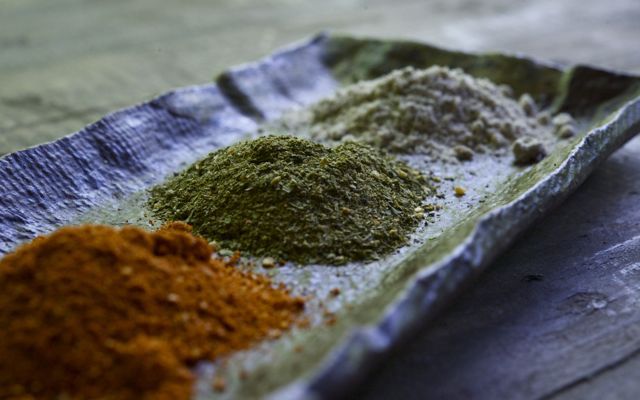 But first, he took a corporate cooking position, which essentially allowed him to catch his breath and think about what came next. Turns out it was biscuits. "It was about my love of baking," says Lior, "but also about reviving the tradition of making biscuits that last. My grandparents baked once every two or three months and put their biscuits in a jar." So he brought back some of these old recipes and used them to showcase the vast array of spices beyond the predictable cinnamon and clove we're used to in our cookies. "I figured, maybe if people experienced a caraway-olive-oil-chick-pea-flour cookie, it might encourage them to go home and bake something new." And so was born La Boîte à Biscuits, featuring two annual collections of sweet-savory biscuits. La Boîte à Epice followed right behind and now offers 41 (and counting) spice blends starring unique combinations of the familiar and the exotic.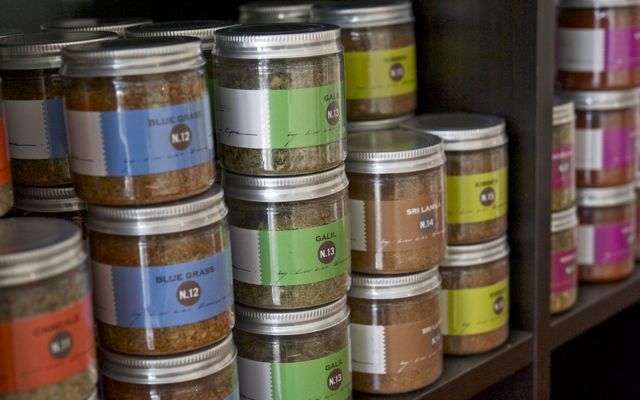 Is it vulgar to point out that the only spices used at New York's legendary Le Bernardin are provided by Lior? Or that he makes custom blends for many of the world's hottest chefs? Or that some of his blends are named for famous foodcentric friends like Paul Liebrandt, Ana Sortun and Apollonia Poilâne? It's just an indication of the quality, artistry and originality for which he is known. In his airy art gallery/spice store/studio, you can choose among jars labeled with such intriguing names as Siam (lime leaves, cilantro, seafood); Breeze (tea, anise, lemon); Ararat (urfa biber, smoked paprika, fenugreek); and Tangier (rose petals, cumin, cardamom). Although they are described by their three most prevalent notes, most of Lior's blends contain around 13 ingredients, some as many as 23. They evoke countries, cultures, cuisines. Each one is based on a narrative, because Lior has never forgotten what he learned from his mentor, Olivier Roellinger. "Anything that you create has to have a story," quotes Lior. "Silly, smart, commercial, poetic—it must be made with intention, not by coincidence."
What I've discovered is that Lior's spice blends can totally transform your cooking. Panna cotta, infused with Orchidea (Sichuan pepper, lime, orchid root), will curl your toes. A steamed artichoke dipped in mayonnaise whipped with Salvador (pimentón, saffron, seafood essence) is a meal in itself. There is something Willy Wonka-esque about the way these blends take you on a journey. Remember the Three-Course Dinner Chewing Gum? It's a little like that. For a while, I was sprinkling MishMish (crystallized honey, saffron, lemon) on everything from my morning yogurt to my afternoon snack of cashew butter on celery. Lula (seaweed, coriander, fennel seeds, salt) turns a simple cucumber salad into something you might find in a very good restaurant.
I recommend you order a few of his blends, whichever strike your fancy. Then experiment with incorporating them into dishes in your repertoire, or let them define new ones. Use them to rim cocktail glasses; combine them with salt; add some to your shortbread batter (or use
this recipe
, with or without the olives); rub them into meats before grilling; toss them with roasted nuts; roll logs of goat cheese in them; sprinkle them on salads and soups...it's endless.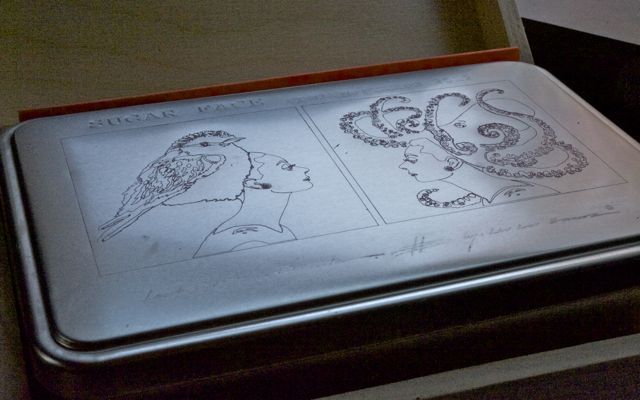 Lior is also obsessed with packaging. He has an extensive collection of vintage boxes, bottles and jars—"chewing gum boxes, old cans, all food-related"—some of which have influenced the containers used for his seasonal biscuit collections. It is with the biscuits that so many of his passions come together: tradition, baking, spices, packaging, art. Twice a year he collaborates with a different visual artist whose work is featured in the biscuit packaging and in the gallery Lior has created in his spice store and workshop.
To get to your biscuits, you must unwrap beautiful paper that reveals a lightweight wooden box with a little latch. Inside is a tin engraved with the season's chosen image. This holds more printed pieces and, nestled beneath rustling tissue, a generous assortment of biscuits. The spring/summer 2012 collection, Lior's 15th, is a collaboration with Sarah Ashley Longshore, an artist from New Orleans. It's called "Sugar Face," and is a colorful take on pop culture iconography. The biscuits themselves are sophisticated—to the eye and the palate. I was hard pressed to decide on a favorite between Java (coffee, cacao nibs and white chocolate); Kewra (coconut, almond paste, long pepper and Kewra water); Membrillo (quince, ginger and marcona almonds); Desert Rose (sesame, salted butter, rose buds and cardamom); and Daria (curry, orange and dark chocolate). I think it might have been Daria. (Kewra water, by the way, is an extract distilled from pandanus flowers.)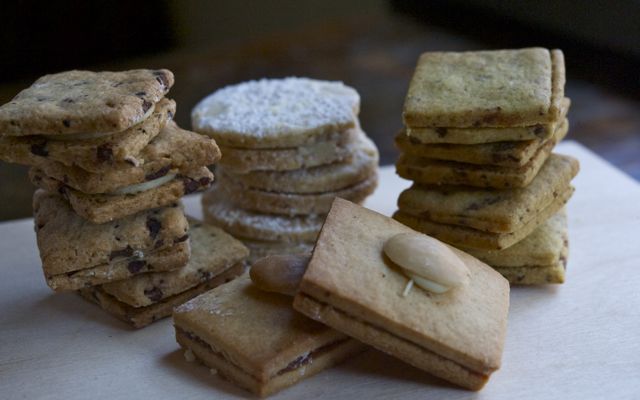 The biscuits are small, firm and not overly sweet. These are not Chips Ahoy; you do not wolf them down while talking on the phone. There is a level of refinement here that cries out for a good cup of tea and a moment of reflection. What I've learned from Lior's masterful combinations of flavors is that spices can be—and should be—central to how we cook and eat. They should not be relegated to an afterthought. They are transformative. Transporting. How fortunate we are that Lior has entered the spice trade. Now he just needs to open a restaurant.