5.25.12
Friday Free-for-All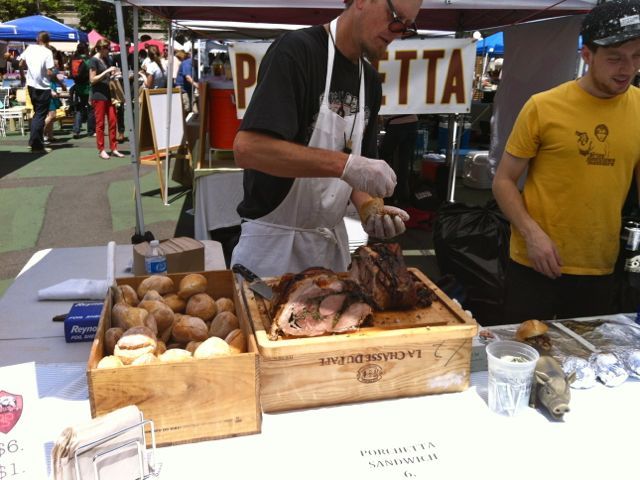 This is kind of a random post, but it does end with a couple of recipes, since I feel I owe you. Have you been cooking? Are you ready for a summer of fresh salads, grilling and frozen treats? I sure am!Before attending the Brooklyn Food Conference a couple of weeks ago, G and I hit the
Fort Greene Flea
. I was instantly transported back to the days when Saturdays always included a stroll around the now-defunct 26th Street flea market in Manhattan. I have to say, though, the food in Brooklyn takes it to a whole other level. It's such a testament to the explosion of artisanal craft that's going on in this once-humble borough. Sadly, I was on a juice fast, but G ate his way through the place. I had to be content with snapping a few photos with my iphone. That's fragrant roasted porchetta, above, which they were hand-slicing to go on chewy ciabatta rolls for deliciously rustic sandwiches.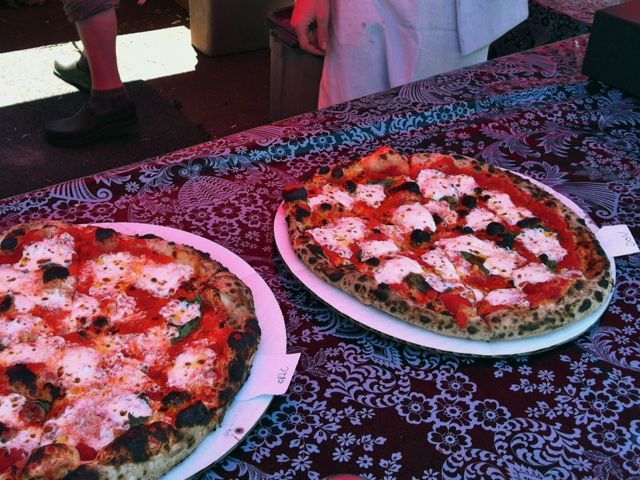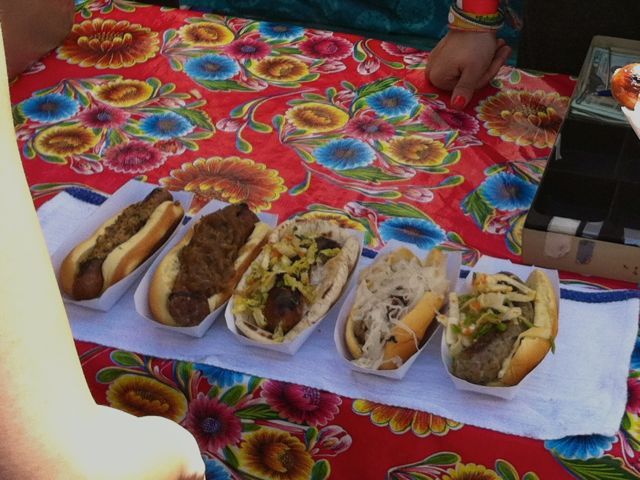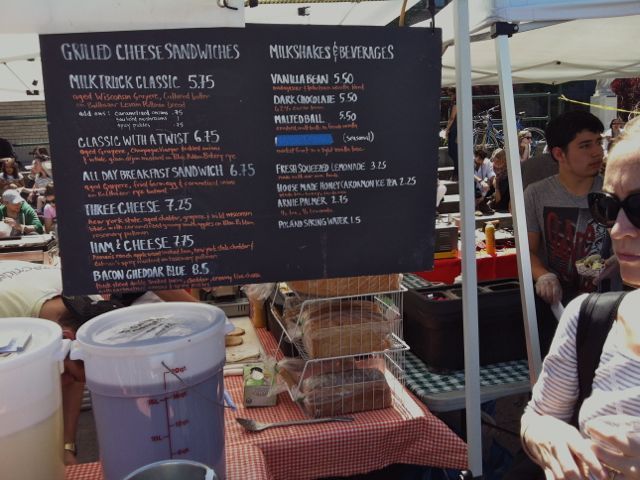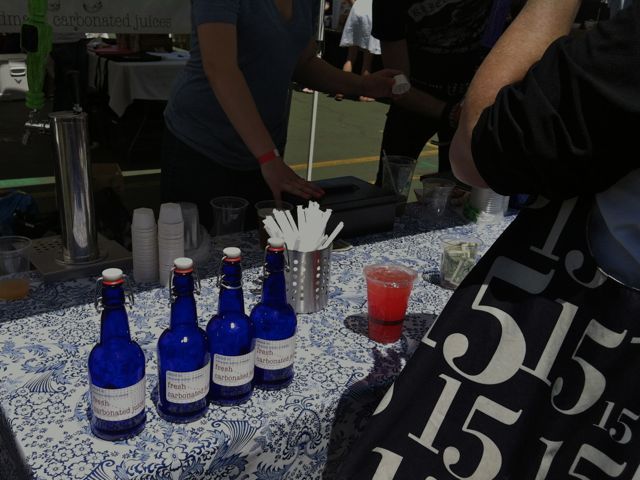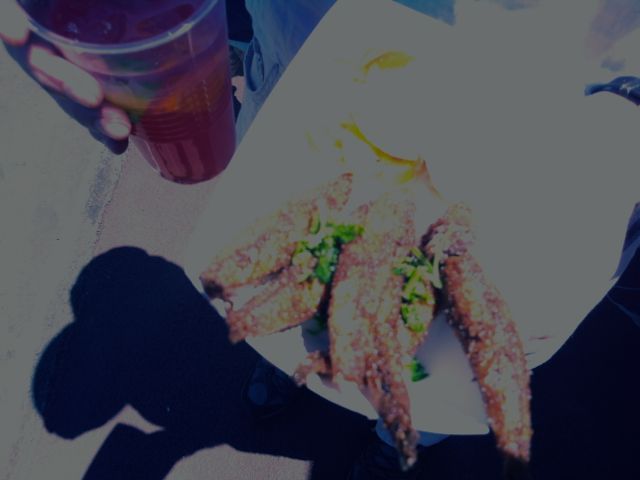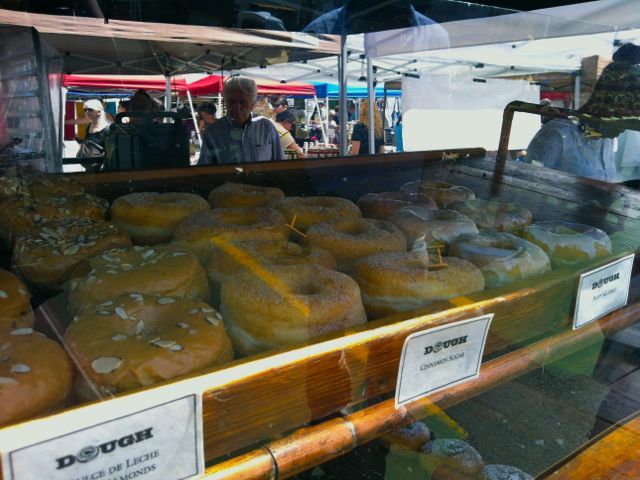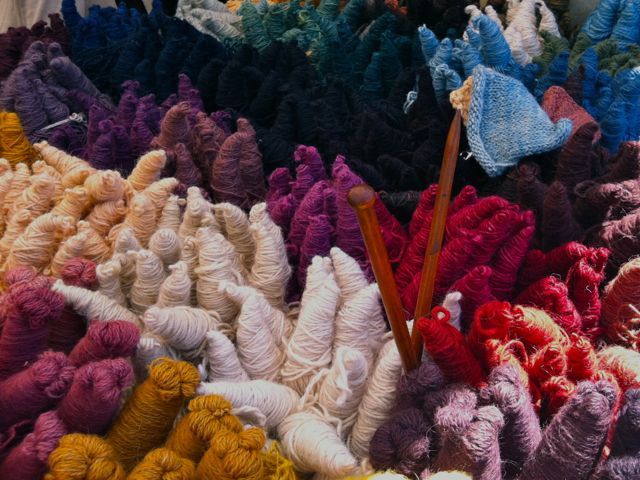 The many vendors are selling everything from taxidermy to vintage office furniture to antique ribbon, and cool crafters offer their wares, including rugs made from these gorgeous yarns.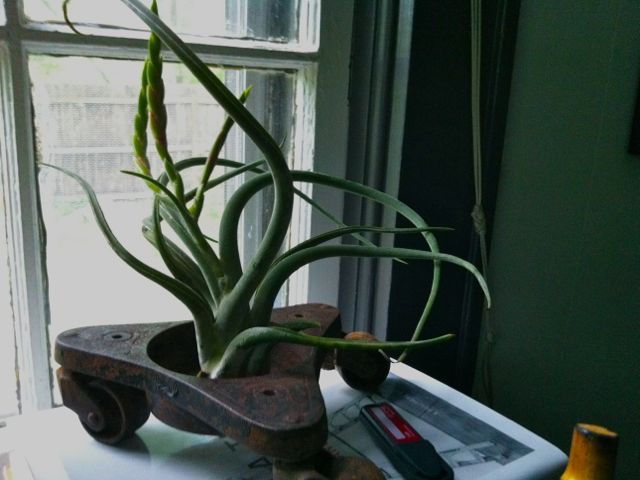 I bought this 
tillandsia
from
Roots in Rust
, a creative little company that ingeniously combines air plants with reclaimed vintage industrial hardware.I also discovered (and, yes, sampled)
OMilk
, purveyors of freshly made almond and cashew milk. The stuff is manna from heaven and you can even get it delivered if you live in New York City. Overall, the Fort Greene experience really inspired me to get to
Smorgasburg
, an entire "flea" in Williamsburg devoted solely to food. This ain't no San Gennaro festival.Here, as promised are a couple of recipes for quick, easy salads, the kind of thing I throw together for lunch when I'm home working. They both deliver on my desire to eat more raw vegetables and oily fish, and satisfy my penchant for assertive, salty flavors and satisfying crunch. Even if you think you won't like them, you will.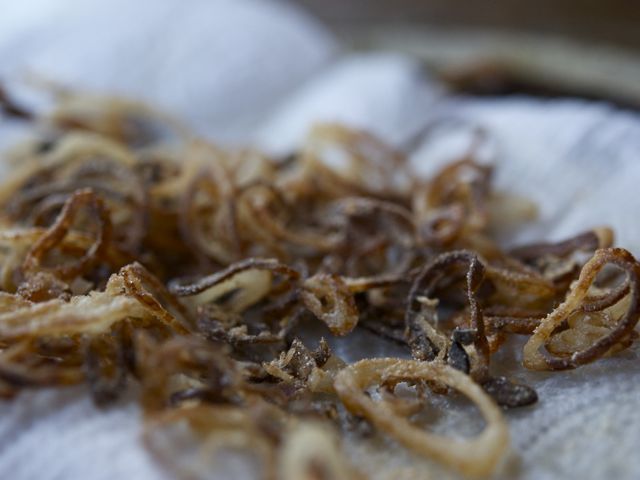 If you've eaten Vietnamese food, you understand the winning proposition that is the fried shallot. Crunchy, toasty and sweet, it gets thrown on top of everything from salads to pho and makes the perfect finishing touch. I've got an easy technique for making them that requires little more than total vigilance.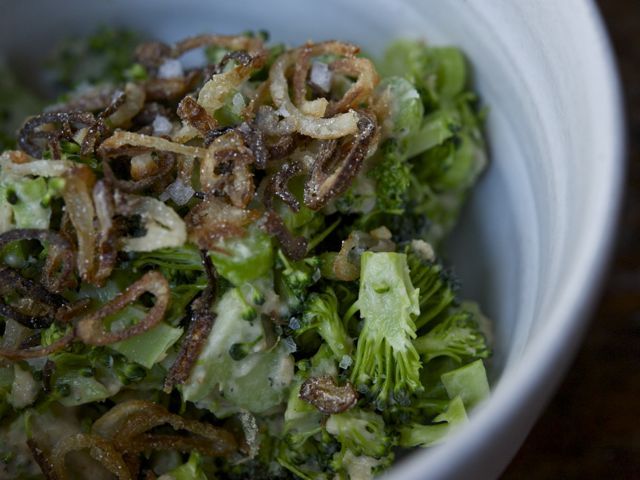 I toss them atop this broccoli salad, inspired by one from Momofuku Ssam that's dressed with a smoked bluefish vinaigrette. You just slice up a lot of raw broccoli and mix it with some smoked fish, lemon juice and a little olive oil. I use what I generally have on hand: a
tin
of smoked mackerel, full of omegas 3s.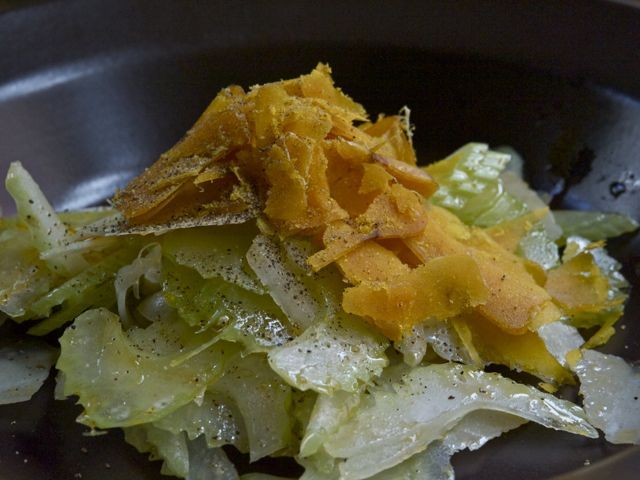 Or, get out your sharpest knife and make paper-thin slices of celery, bottarga and parmesan. A little hot chile oil, a little lemon juice and you're golden.
Broccoli Salad with Smoked Mackerel Vinaigrette
serves 2 as a main, 4 as a side
— 1 tablespoon

olive oil

— 2-3 tablespoons

rice vinegar

— 1 6-ounce can

smoked mackerel

— 1 medium head

broccoli

—

high-heat oil, like sunflower or grapeseed

— 1/3 cup

cornstarch

— 1

large shallot, peeled and thinly sliced

— 1 teaspoon

fish sauce

— 1 teaspoon

honey

—

sea salt & fresh pepper, to taste
Separate shallot slices into rings and toss with the cornstarch. Shake off excess and set on a plate. Spread another plate with a couple of paper towels.


Heat a scant inch of oil in a small skillet until very hot. Add shallots and fry over medium-high heat, turning with tongs as they begin to color. Watch very carefully and remove quickly from oil to paper towel as soon as they turn a dark gold. Set aside.


Slice broccoli head in half and remove core. Cut into bite-size pieces, either thin slices or little chunks, whichever you prefer. Place in a large bowl.


Combine remaining ingredients in blender or food processor and blend into a thick dressing. Thin with a little warm water, as needed. Taste and adjust seasoning before pouring over broccoli. Toss very well to evenly coat all the pieces.


Garnish with fried shallots and serve immediately. Alternately, you may chill the salad; garnish with shallots just before serving. The fried shallots will keep for several days stored at room temp in an airtight container.



Download Recipe
Celery & Bottarga Salad
This salad is really made to your taste, so it requires a bit of experimentation. Make it in large or small quantities, but eat it right away.
—

celery

—

fresh lemon juice

—

chile oil, or olive oil

—

bottarga

—

parmesan
Cut celery on the diagonal into about 2 cups of thin slices. Remove any long strings. Place in a medium bowl with high sides.


Add 1-2 tablespoons lemon juice (to taste) and a couple of teaspoons of chile oil (also to taste) and toss very well to coat. Transfer to a serving bowl or plate.


Slice bottarga paper-thin, and pile atop celery. Use as much as you like and/or can afford.


Using a peeler, shave a few thin slices of parmesan over and around.


Inhale.



Download Recipe