4.17.12
First Signs of Spring: Wild Edibles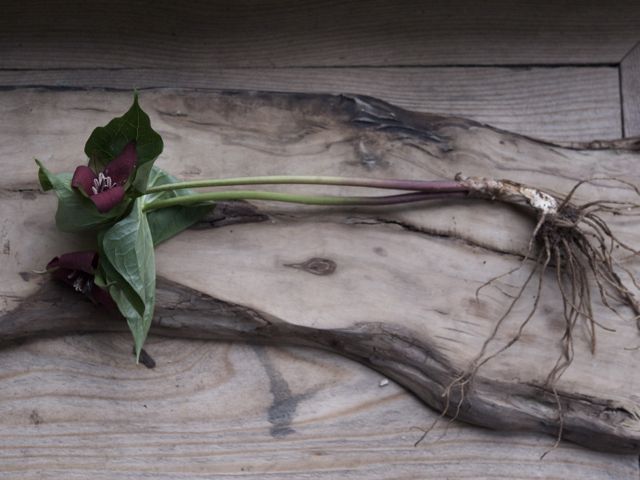 We've scarcely had any rain up here in the hinterlands. I've even considered doing some sort of little dance in an effort to placate the gods. A winter without snow means no melts to form the vernal pools where frogs and salamanders spawn, and it can also lead to precious few mushrooms. (And this was to be my year of tracking down morels!) But driving home late the other night, we came across a yearly event that would seem to indicate that things are mostly proceeding according to plan: smashed frogs on the road. Yes, every year they make the trek from the ponds behind our house to the ones across the way. I know not why as it seems like a dangerous endeavor. A good number give up their precious lives along the journey to greener pastures. Out in the woods, we found other signs of spring, too.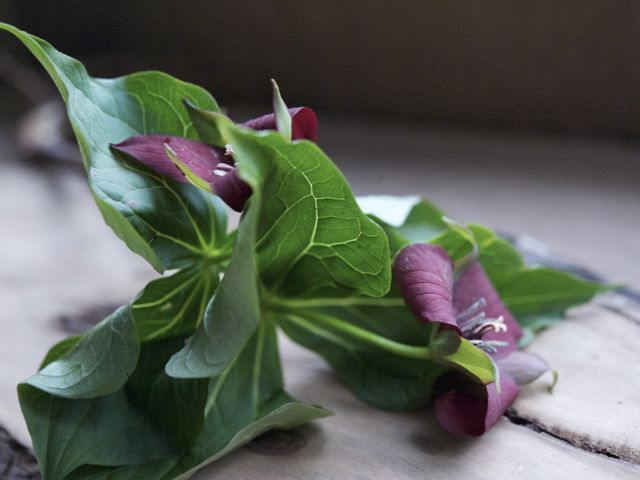 These gorgeous trillium—trillium erectum, to be precise—nodded at us from the forest floor. They are also known as Stinking Benjamin because the blood-red blooms give off a fetid odor that attracts the flies responsible for pollinating this deceptively dainty plant.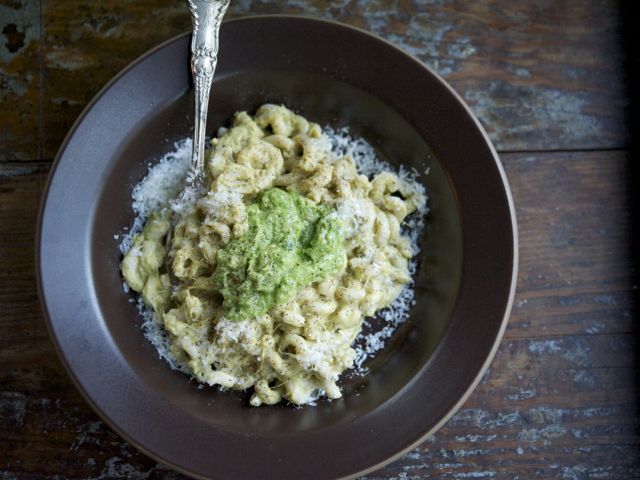 After a day tromping trough the woods (and my friend Michael's property), I was able to rustle up quite a refined little dish of fusilli with Japanese knotweed cream sauce and a swirl of field garlic pesto.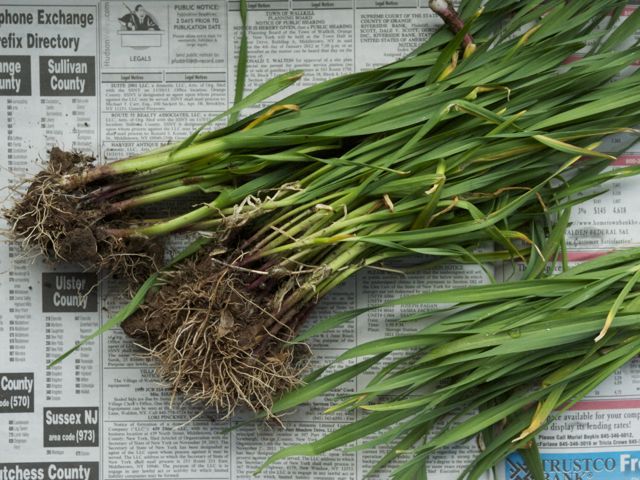 Although similar to ramps—which are sometimes mistakenly referred to as "wild garlic," or correctly referred to as "wild leeks"—you'll notice that the greens on this wild field garlic are decidedly thinner and more wispy than those of ramps. Paradoxically, field garlic also seems to be a bit milder in odor if not in flavor than its allium cousin.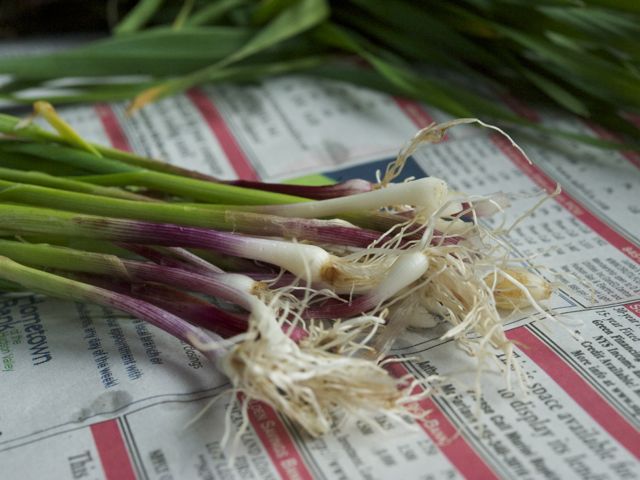 This plant was actually difficult for me to positively identify, as there is also something called "wild onion," allium canadense, that looks quite a bit like it. If anyone can corroborate, please do so.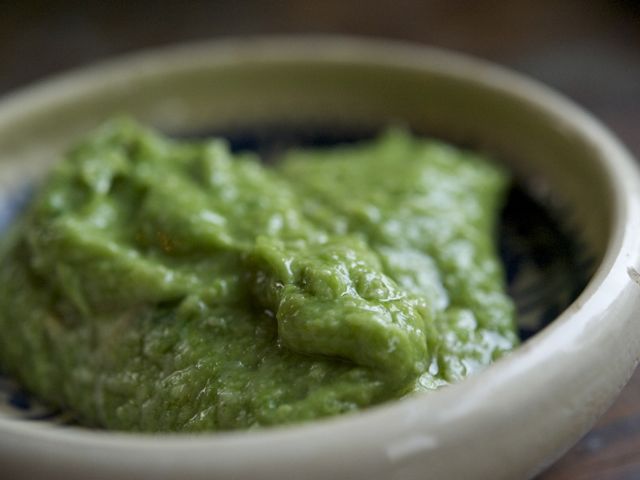 Thinking they might be incredibly potent, I blanched a medium handful of cleaned stalks (roots and tips trimmed), then pureed them with a tablespoon or so of pine nuts, some good olive and a little parmesan. The taste was out of this world—not pungent at all, so I'm not even sure if the blanching was necessary. And what a beautifully vivid green, no?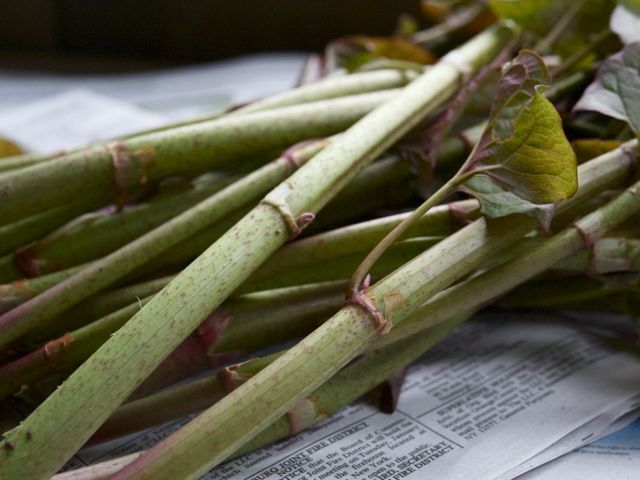 As we walked along the brook, I noticed the first shoots of Japanese knotweed (Fallopia japonica) poking up and grabbed any that were about 6-8 inches long. An ornamental plant that was coveted in Victorian times for the delicate sprays of white flowers it produces in late summer, Japanese knotweed is now considered a noxious invasive species because of how quickly it spreads and takes over. Despite its noduled and hollow-stalked bamboo-like appearance, it's actually related to sorrel and rhubarb, and has a similar mouth-puckering astringency.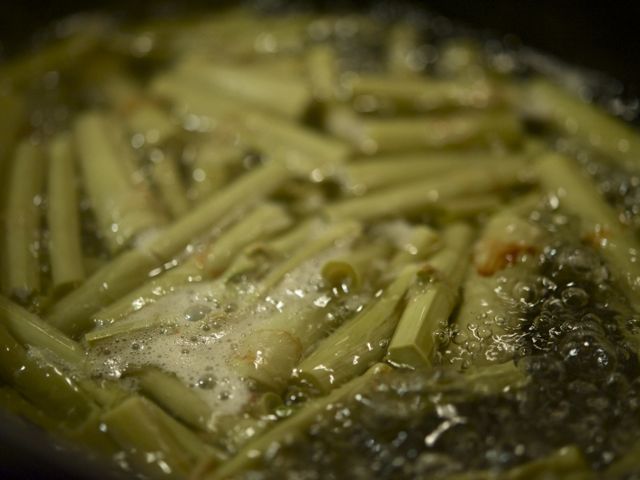 Like rhubarb, it is a vegetable that lends itself to both sweet and savory preparations. Many sources I consulted recommend literally substituting it in any recipe that calls for rhubarb, but Euell Gibbons, my foraging mentor, wrote that it has an affinity for butter and cream. So I decided to boil them until soft and then puree them with a little of both. The result was extremely tasty, with a crisp vegetal tartness that balanced the richness; something akin to asparagus or sorrel. My only quibble is that no one mentioned the rather overt stringiness, along the lines of celery. The strings weren't so tough as to be problematic in the dish, but next time I might push the sauce through a fine strainer.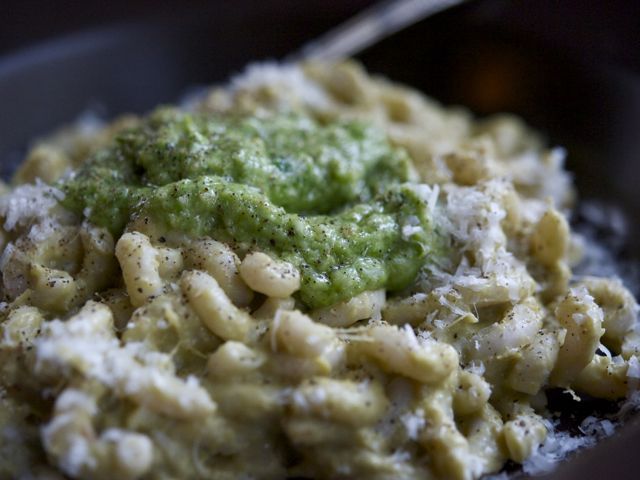 So with your freshly foraged Japanese knotweed and field garlic—or even with asparagus and green garlic from the farmers market—this is the dish to make. Wild things, you make my heart sing.
Field Garlic Pesto
eyeball the amount you need; freshness is paramount
—

olive oil

—

parmesan or pecorino

—

pine nuts

—

young field garlic, cleaned and trimmed, or green garlic

—

sea salt
Blanch the field garlic in boiling salted water until tender. Drain and transfer to the bowl of a food processor.


Add a proportionally small amount of pine nuts and process to blend. With the machine running, slowly drizzle in olive oil until everything breaks down into a paste. Add a little cheese and process to blend. Taste and add more olive oil or cheese as needed to balance. Season with salt if needed.



Download Recipe
Fusilli with Japanese Knotweed Sauce & Field Garlic Pesto
2 hearty portions
— 8 cups

tender Japanese knotweed shoots, washed, trimmed and roughly chopped

— 2 tablespoons

unsalted butter

— 1/3 cup

organic heavy cream

—

sea salt, to taste

— 1/2 pound

brown rice fusilli, or the pasta of your choice

—

grated parmesan

—

Field Garlic Pesto
Bring 2 large pots of water to the boil and salt them well. Into the first, add the knotweed. Cook until very tender, about 10 minutes. (Test with a fork; do not undercook.) Drain and transfer to the bowl of a food processor.


At this point, you can put the pasta into the second pot.


Add butter and cream to the knotweed and process until completely smooth and the right consistency for a pasta sauce. If there are a lot of fine strings that annoy you, push puree through a fine mesh strainer.


Transfer knotweed sauce to a large skillet and keep on very low heat. When the pasta is done, drain well, reserving a little of the water in case you need to thin the sauce. Add it to the skillet and toss to coat well with the sauce.


Divide between two bowls and garnish with a large dollop of Field Garlic Pesto and a generous sprinkling of grated parmesan.



Download Recipe