2.22.12
Chip In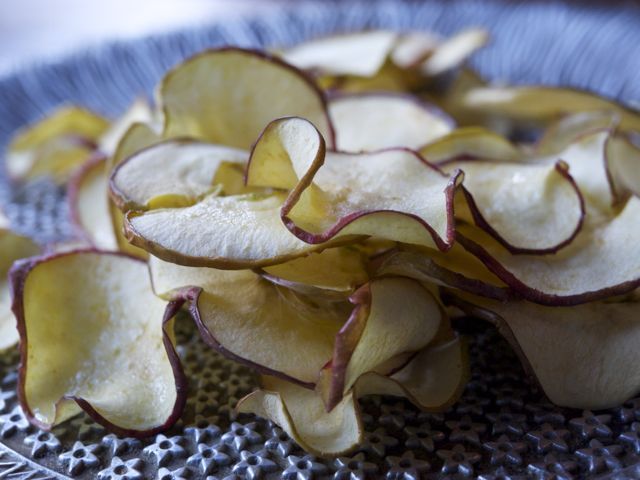 I'm really struggling with my weight these days. A doctor friend told me it's my body's stubborn attempt to hold onto whatever little estrogen is left. My diet is
ultra
clean. Dessert is a rare treat and, despite my love of cocktails, I'm limiting myself to just one a week. I don't get as much exercise as I should—no snow has meant no snowshoeing, for one thing—but I'm hoping that warmer weather will make it easier to get outside and to use our makeshift gym in the (unheated) barn. My biggest challenge is to not loathe my body, which has outgrown much of my cherished wardrobe, but I am trying to practice compassion. I often consult Christiane Northrup's invaluable book,
The Widsom of Menopause
, so I know many women go through similar changes, and that they are not irreversible. On the plus side, I now have cleavage. Unfortunately, it's often in places it shouldn't be.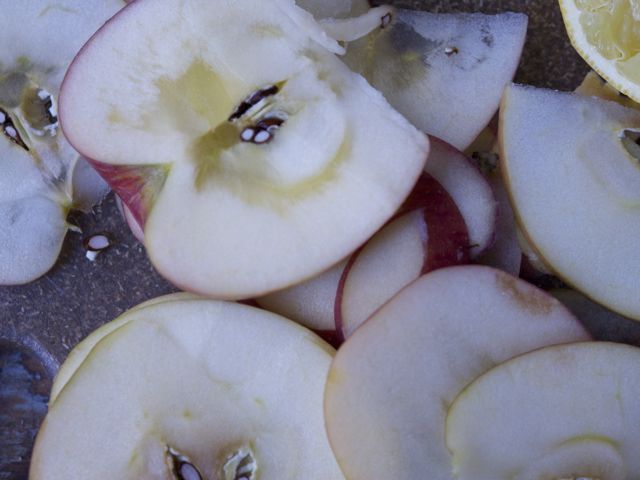 Christiane stresses the importance of eating plenty of food—not starving yourself in an attempt to lose weight—as the body requires enough to keep the metabolism from getting sluggish. I've had to come up with some snacks that work (hello,
pickles
! hello,
mushroom jerky
!) and the dehydrator is suddenly my new BFF. My recent foray into
fruit leather
was a success and nudged me in a new direction: apple chips. A dear friend recently mailed me a package full of amazing chiles and spices from
here
, including habanero sugar with a monster kick that promised to make these an adult snack.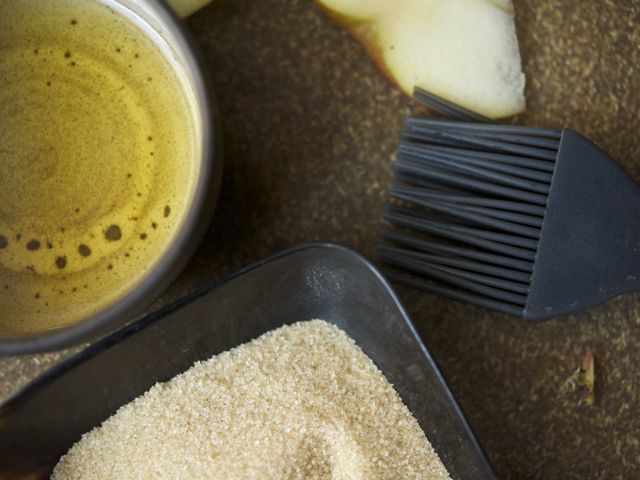 Not being too familiar yet with the whole dehydrator thing, I wasn't sure if the sugar would stick to the apple slices once they got really dry. So I decided to brush them with the merest whisper of oil. Really any oil would do for this recipe, something neutral or something more assertive, depending on your taste. I used some pecan oil I've had hanging around my fridge, applied with a
silicone basting brush
. These are easier to clean than the bristle brushes of yore, and don't retain the smell of garlic butter like those did.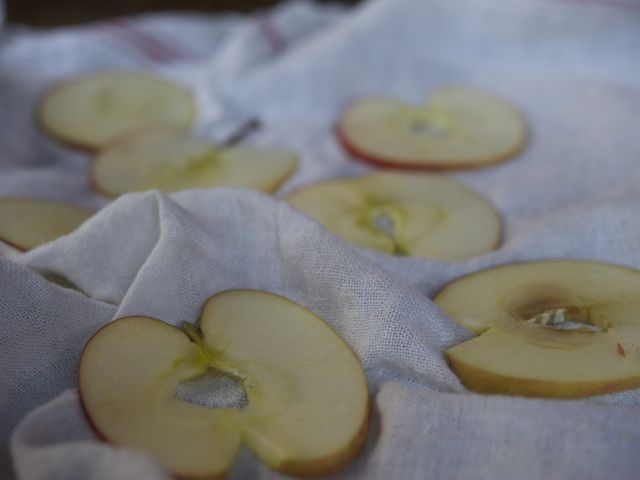 As you slice the apples, I recommend dropping them in a bowl of acidulated water so they don't turn brown. Once you're all done, spread them out on a clean dish towel that will absorb the excess water.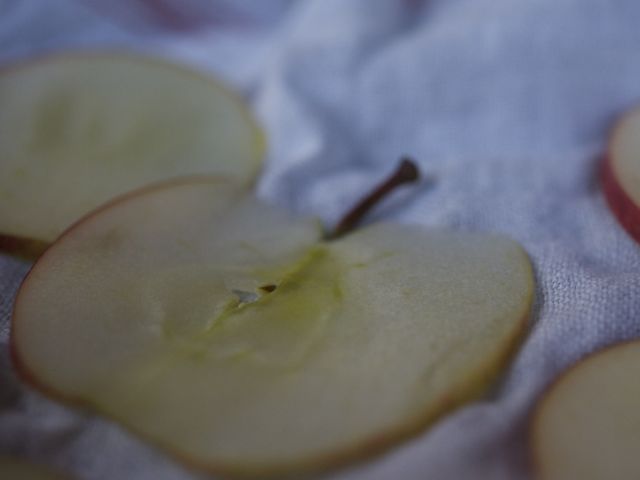 Not all your slices will look this beautiful. But some will.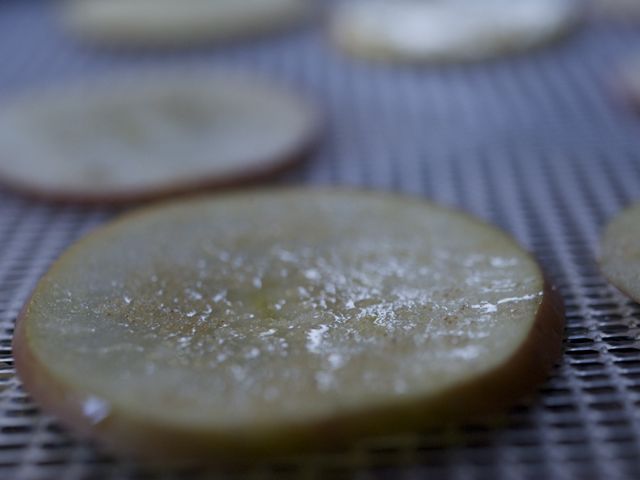 Sprinkle just a hint of sugar (spicy or not) and even less of sea salt as flavors will intensify in the dehydrator.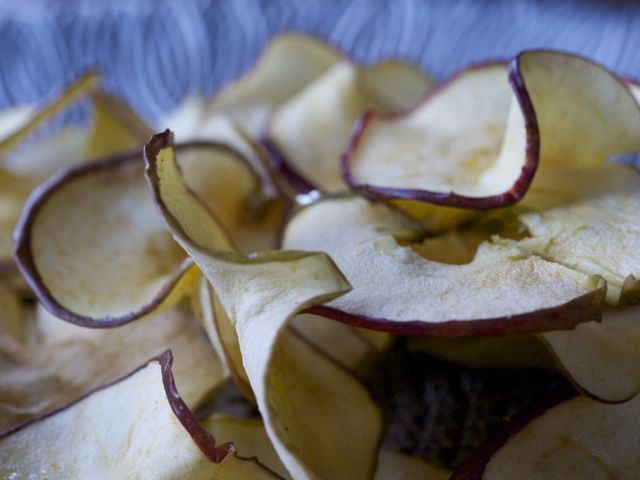 You can dry these to that sort of chamois-like texture, but I prefer them quite crisp with a perceptible crunch. I left mine to dry overnight and went to sleep with the soft drone of the machine wafting into the bedroom, where I lay dreaming of slipping, once again, into my size 6 trousers.
Spicy Apple Chips
—

habanero sugar

—

pecan oil

—

crisp apples, like Fuji or Pink Lady

—

sea salt
Prepare a bowl of cold water and add the juice of a small lemon. Slice apples as thinly as possible, picking out any seeds or tough bits of core. (A mandoline is ideal here, but a very sharp knife will do.) Then drop the slices into the acidulated water.


When the apples are sliced, remove from water and pat dry with a dish towel. Lay the slices on dehydrator trays, or on parchment-lined baking sheets.


Using a pastry brush, brush each apple slice with the thinnest sheen of oil. Then sprinkle with a tiny bit of habanero sugar and an even smaller bit of sea salt.


Dehydrate at about 125º for approximately 12 hours, or as long as it takes for the slices to become at least moderately crisp. Store in an airtight container or ziploc bag.


*If you don't have a dehydrator, set your oven on its lowest temp and prop the door open with the long handle of a wooden spoon.



Download Recipe