2.20.12
Spare Me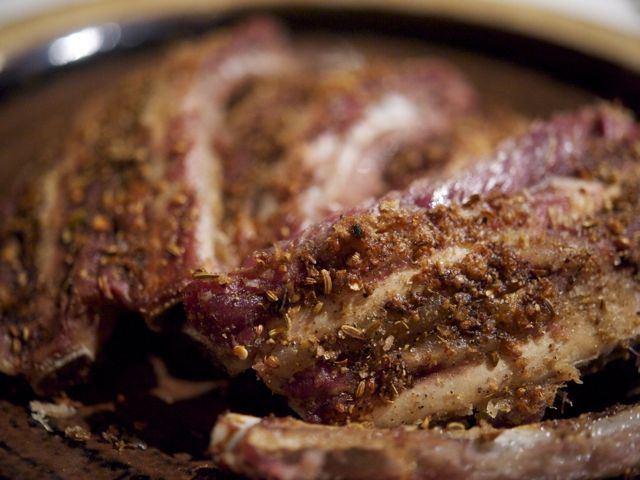 I've acquired an armload of new cookbooks—despite a total lack of shelf space to house them in our tiny cottage. I just can't resist, especially after reading so many entertaining and informative reviews, especially those from Food52's
Piglet
competition. The newest tomes are piled up beside my bed, and any seasonal ones (grilling, popsicles, etc) are temporarily lodged in the attic.
Cooking in the Moment
has now migrated from the bedroom to the kitchen and, though I've only officially cooked one recipe from it so far, I have added several more to my always evolving mental list of "things to be eaten soon." After reading Nigella Lawson's Piglet review of North Carolina chef Andrea Reusing's enticingly photographed and thoughtfully composed book, I was seized with the urge to make her roasted spareribs. Whatever she means by "cooking in the moment"—eating seasonally, I assume—I take it as an excuse to immediately make whatever I most feel like eating right this minute. So ribs it is.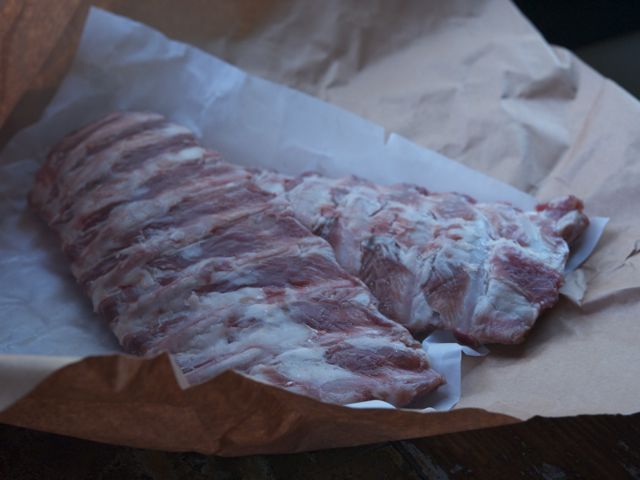 Please, please be sure to source your meat wisely. If you still don't know what I'm going on about, just watch
Food Inc.
or the HBO documentary
Death on a Factory Farm
. Eating meat raised on a factory farm—a Certified Animal Feed Operation—is good for nothing and no one: not you, not the animal, not the planet. I don't eat a great deal of meat, but when I do I make sure it's from a source I can count on to follow humane and sustainable practices—and that includes restaurant meals; I make no exceptions at this point.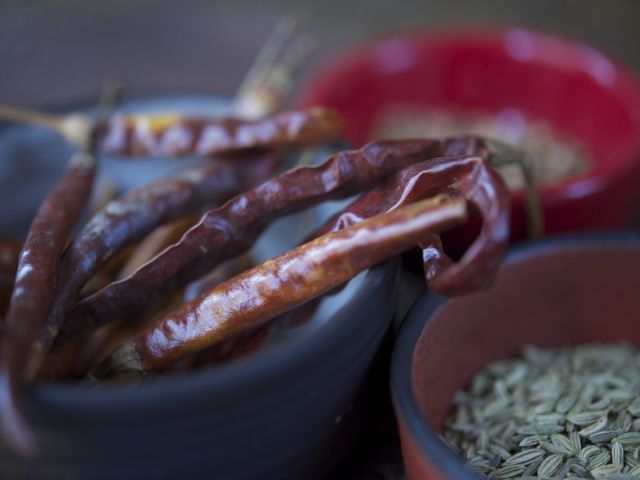 I was drawn to the simplicity of this recipe. There's no goopy marinade, no soy-and-sugar-laden sauce, just an assertively spiced rub featuring fennel seeds and red chile. I added some coriander seeds because I so love their crunch and the bright flavor they impart.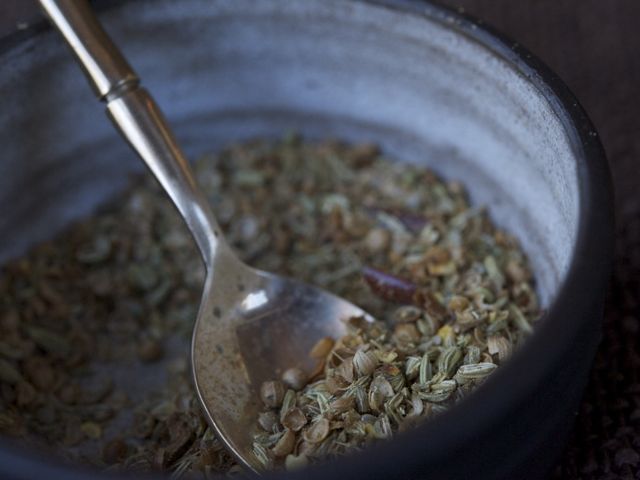 Whiz these few ingredients in your spice blender until they're broken up but not finely ground. Then massage the ribs with a little oil, followed by salt, pepper and the rub. An hour or so in a hot oven and the ribs emerge more dry than juicy, with a crispy chew to them. Addictively salty and finger-lickin' good.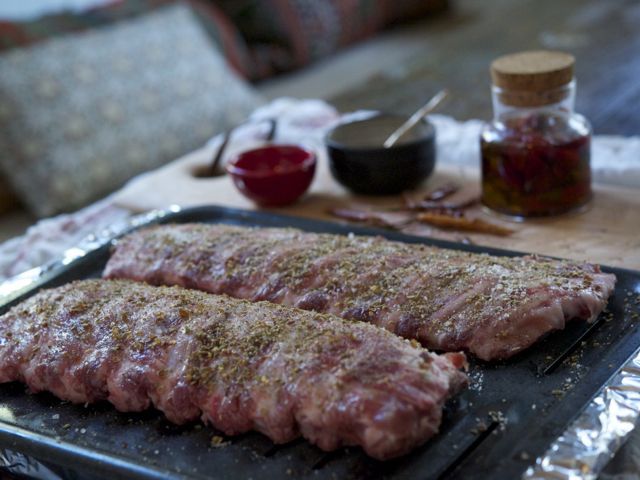 G pointed out that the spicy crust makes these reminiscent of the superb Muslim lamb chop we enjoyed in
Queens
. So much flavor, so little work. Make some in your spare time.
Roasted Spareribs with Crushed Fennel & Red Chiles
lightly adapted from Andrea Reusing's Cooking in the Moment
serves 4
— 1 tablespoon

coriander seeds

— 1 tablespoon

fennel seeds

— 2

small dried red chiles, like de árbol

— 2 tablespoons

expeller-pressed vegetable oil

— 2

racks pork spareribs, about 5 pounds

—

sea salt & freshly ground black pepper
Preheat the oven to 450º.


Rub the oil into the ribs. In a clean spice or coffee grinder, pulse the chiles, fennel seeds and coriander until coarsely but fairly evenly ground. Season the ribs on both sides with the mixture, and with a generous amount of salt and pepper. Put the ribs on a rack in a foil-covered roasting pan and roast for 15 minutes.


Reduce the oven temp to 375º and roast for another 1-1 1/4 hours, rotating the pan halfway through cooking, until the meat is tender and deep golden brown, and easily pulls away from the bone.



Download Recipe