1.17.12
Souper Bowl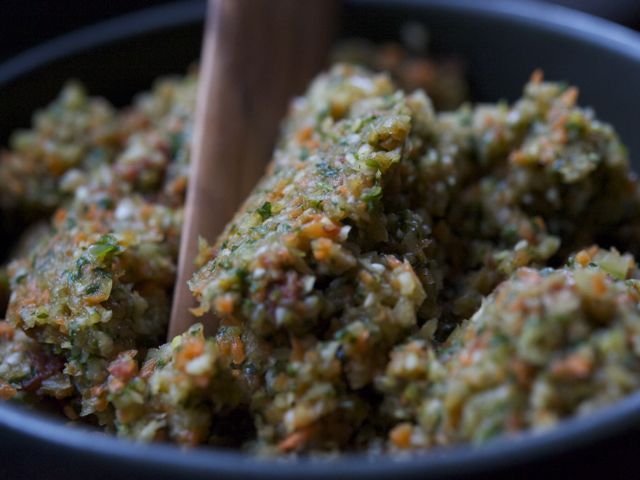 Even though it may seem like I am the most organized kitchen bitch on the planet, there are definitely times when I reach for something and it's not there. Although once I was not above keeping canned (or boxed) stock in my pantry, I now resist that easy (and nutritionally challenged) out. Tragically, my source for chicken feet dries up in the winter and though I'll make stock from whole birds, it's just not as good. Dashi, the Japanese broth made with kombu and bonito flakes is one option, but its flavor is very specific. So when I came across a recipe in
The River Cottage Preserves Handbook
for a homemade vegetable bouillon, I got very excited. It's basically just a bunch of vegetables ground into a paste and preserved with salt. You stir a bit into hot water to make an authentically flavored stock for soups, stews, curries, whatever you like.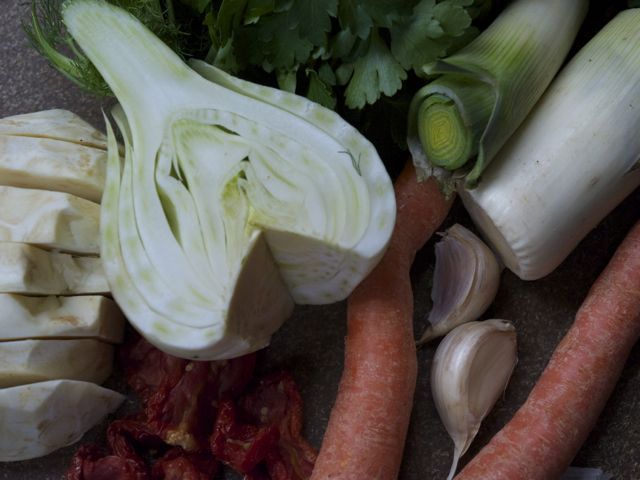 Pam Corbin, the author, says you can use just about any herbs or vegetables you like, so long as they are fresh and taste as
"vegetable-y"
as possible. In addition to the ingredients in this recipe, you could also use young turnips, shallots, celery, rutabagas, beets or peppers, as well as bay leaves, thyme, lovage or mint, bearing in mind that the character of the stock will vary depending on what you include. Ingredient quantities for this recipe are given in weights, so do yourself a favor and get a scale if you haven't already.
This
is the one I use; it's efficient, handy and doesn't take up much room.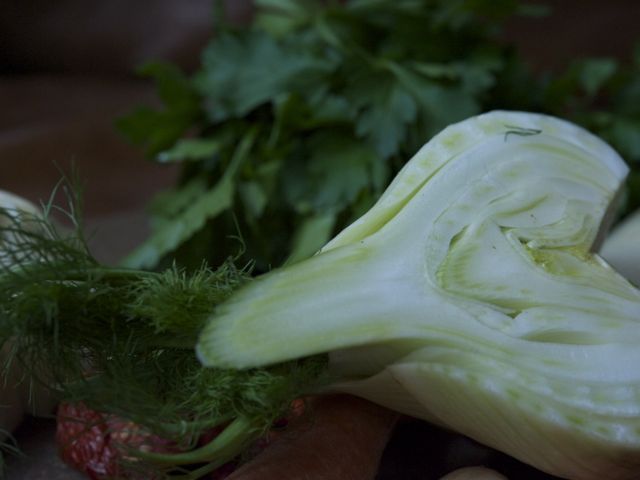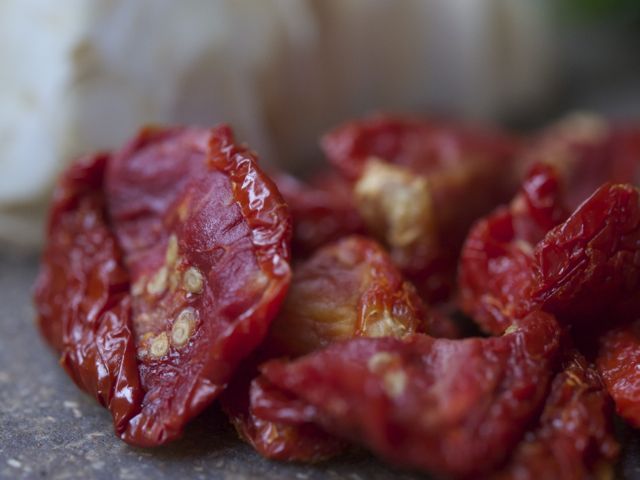 Sundried tomatoes were such a fad in the 80s that they really fell off hard. It's too bad because, skillfully employed, they are quite wonderful. I like to store mine in good olive oil, so they become soft and gooey. Then you can toss them with goat cheese, black olives, fresh thyme and pasta; throw a few into soup; slice them thin and add them to an arugula salad...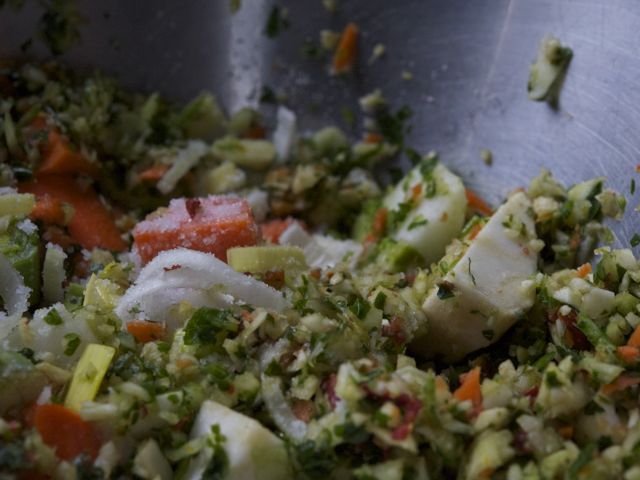 A food processor is essential to make what Pam calls her "souper mix." You grind the ingredients into a fine paste that is dense and granular.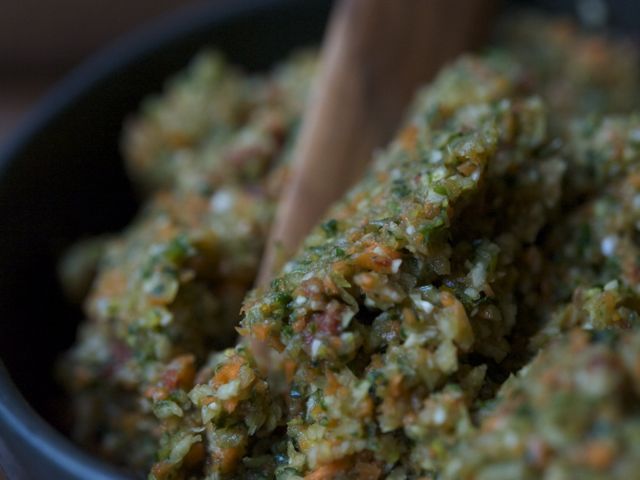 This makes quite a lot of the stuff, so you may need to process in batches. Or grind a few ingredients at a time, so they condense and make room for others.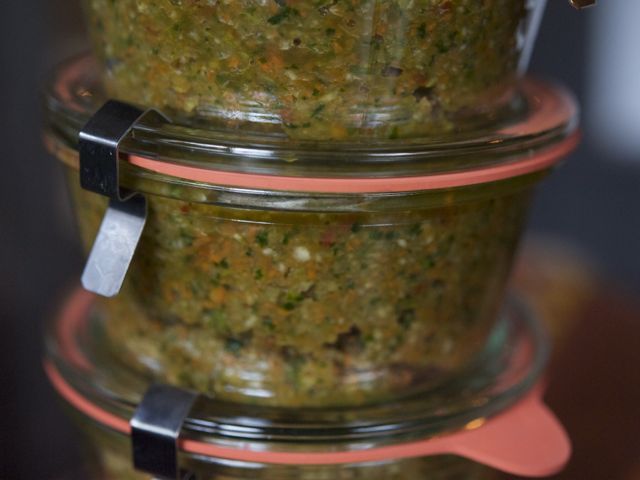 Run your jars through the dishwasher, or wash them with boiling water and soap, and dry with a clean towel. Fill and seal the jars, then keep one handy in the fridge. The rest can be stored in a cool, dry spot as the high concentration of salt acts as a preservative.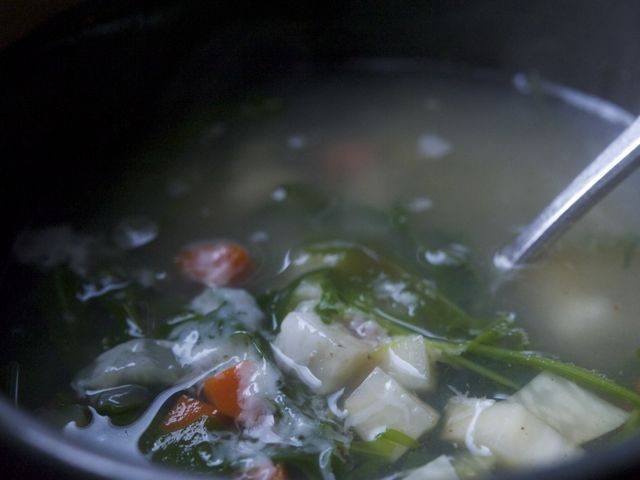 Just moments after making my batch, I pressed it into service in a very light and simple vegetable soup. I heated 4 teaspoons of it in 4 cups of water and added some minced celery root, carrot and fennel, a few handfuls of arugula and a crumbled dried chile. I simmered this until the vegetables were tender, tossed in some grated parmesan and sat down to the perfect winter lunch.
Vegetable Bouillon aka Souper Mix
from The River Cottage Preserves Handbook by Pam Corbin
makes 3-4 8-ounce jars

The following ingredients are given in prepared weights — i.e., they should be washed, trimmed and peeled where necessary before weighing.
— 3.5 ounces

parsley

— 2-3

garlic cloves

— 2 ounces

sundried tomatoes

— 9 ounces

celery root

— 7 ounces

carrot

— 7 ounces

fennel

— 9 ounces

leek

— 3.5 ounces

cilantro

— 3/4 cup plus 1 tablespoon

sea salt
The helping hand of a food processor is essential in this recipe. Simply put all the ingredients into the processor and blend together. Spoon into sterilized jars and seal with vinegar-proof canning lids.


Keep one jar of the mix in the fridge, within easy reach for everyday cooking. The rest can be stored in a cool, dark, and dry place. Use within six months.


To use, just stir about 1 teaspoon of it into 1 cup of hot water.



Download Recipe