12.2.11
Forbidden Fruit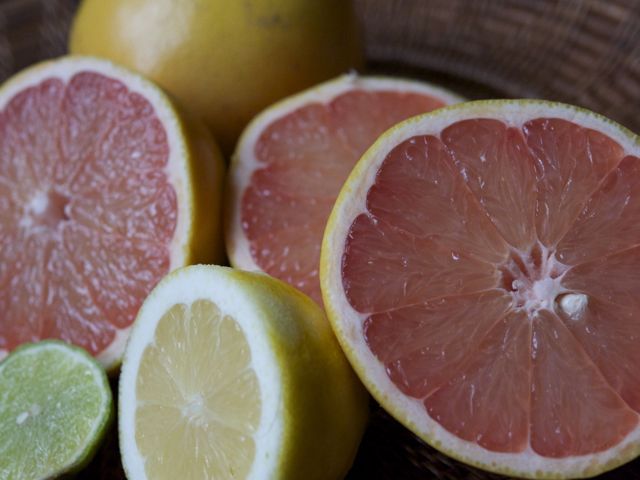 The grapefruit (Citrus × paradisi) is an 18th-century hybrid first bred in Barbados, a subtropical citrus tree known for its pleasingly sour fruit. It was originally named the "forbidden fruit," though until the 19th century it was called "shaddock." (Huh?) Its current name alludes to the cluster formations of the fruit on the tree, which look like grapes. My in-laws sent us a baker's dozen from Florida last week, and they are ruby red inside and bursting with juice. My first thought? Sorbet.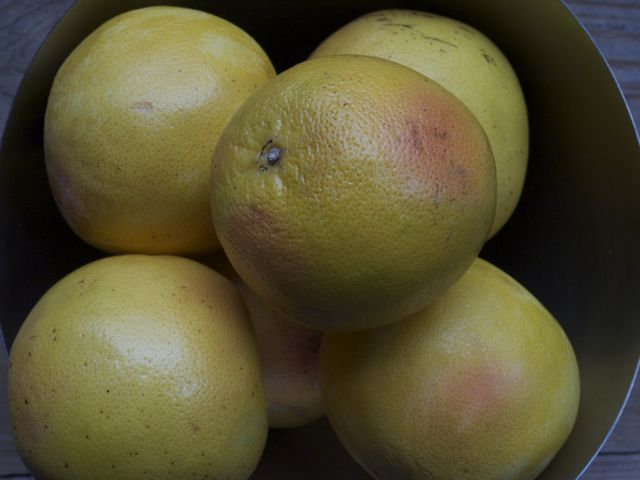 Although I like to eat local, I feel so grateful for winter citrus in all its tartly refreshing glory. It's consistently available even when I won't touch those weirdly spongy supermarket strawberries and the enormous globule grapes from Chile. I love the fresh-squeezed juice, especially in one of my all-time favorite cocktails, the Salty Dog (recipe below), and I'm a sucker for icy, spine-tingling grapefruit sorbet.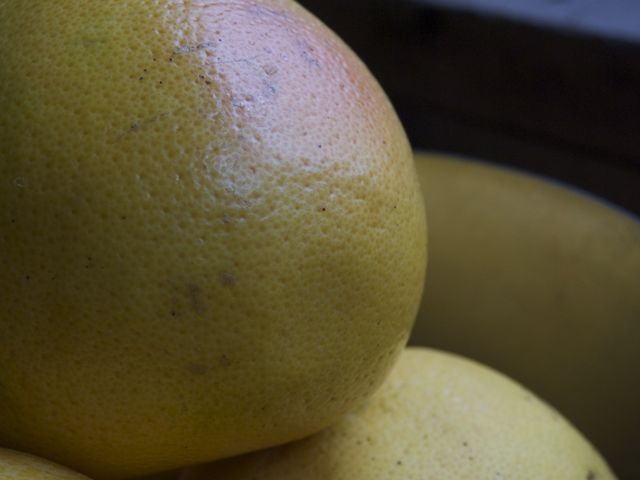 My father always said that when I was born my head was the size of a grapefruit. To this day it has retained a certain roundness, especially in the forehead area. (Or, as G calls it, my "fivehead.")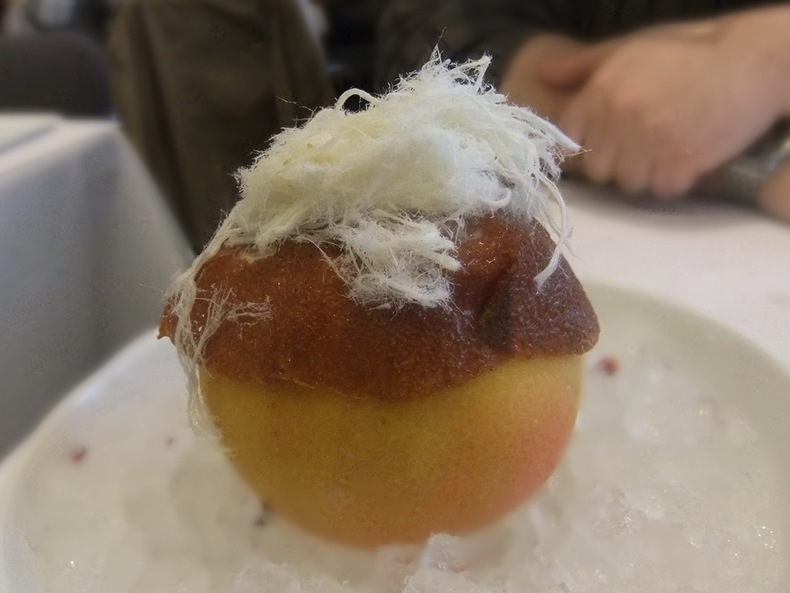 On a recent visit to Daniel Boulud's latest restaurant, Boulud Sud, I had the enormous pleasure of trying pastry chef Ghaya Oliveira's incredible grapefuit givré. It is, in a word, sick. (For the over-50 crowd, that's a good thing.) Under a crown of wispy strands of halvah cotton candy is a crunchy sesame tuile that sits atop a hollowed-out grapefuit filled with grapefruit sorbet dotted with grapefruit marmalade and containing halvah crumble and rose
lokum
, a soft and squidgy Turkish delight. Every swoon-worthy spoonful was a contrast in scintillating tastes and textures. (You can watch her make it,
here
.) Not sure I would ever want to attempt that at home, but I do love the idea of serving sorbet or ice cream in hollowed-out citrus. I remember my mother used to serve lemon sorbet like that. So festive.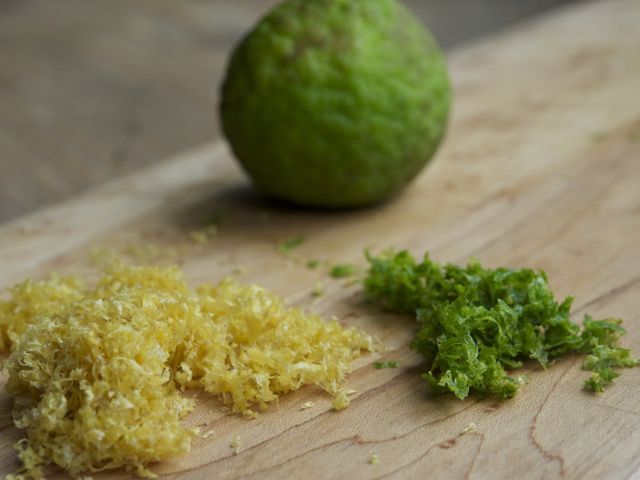 I bought a few kaffir limes when I came across them at Kalustyan's the other day, so I perfumed my grapefruit sorbet with its juice and zest, as well as grapefruit zest, fresh ginger and the
mint sugar
I made in October.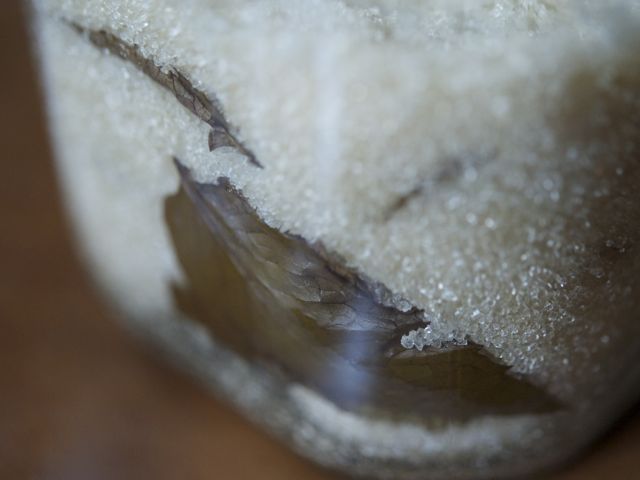 You can see how the leaves dried, imbuing the sugar crystals with their oils and flavor.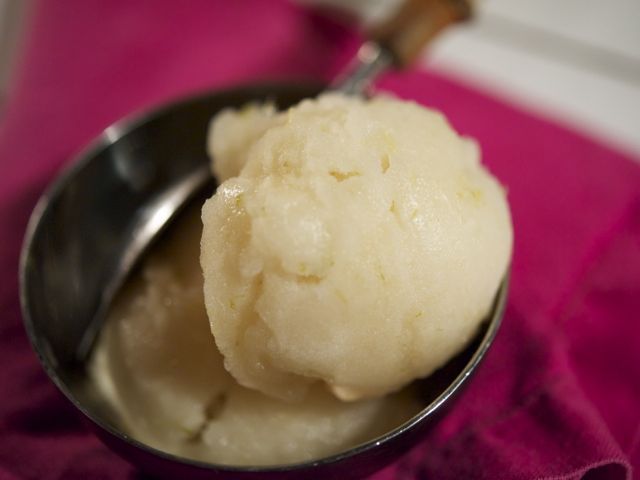 In the end, I think I muddied up the sorbet with too many strong flavors. You might prefer my original recipe, which you can find
here
. You can even leave out the mint and ginger if you want a more streamlined, high-impact grapefruit experience. Choose the firmest, juiciest grapefruits you can find, and if they're red you can look forward to sorbet with just a hint of rosy blush. Want to mainline the juice? Try it straight for breakfast, or in this simple—simply
great
—classic cocktail.
Salty Dog
makes 1 cocktail
— 6 ounces

fresh grapefruit juice

— 2 ounces

vodka*

— 1/4 cup

crushed ice

— 1 splash

grapefruit bitters

—

sea salt, I like crushed Himalayan pink
Spread 1/2 cup of salt on a small plate. Run one of the spent grapefruits around the edge of a rocks glass. Dip the rim of the glass in the salt to coat the edge. (Like a margarita—get it?)


Combine juice, vodka (*use gin instead and it becomes a Greyhound), ice and bitters in a shaker and give it a good workout.


Either strain into the glass, or pour in the whole thing. Personally, I like it with the ice.



Download Recipe