12.12.11
In Memoriam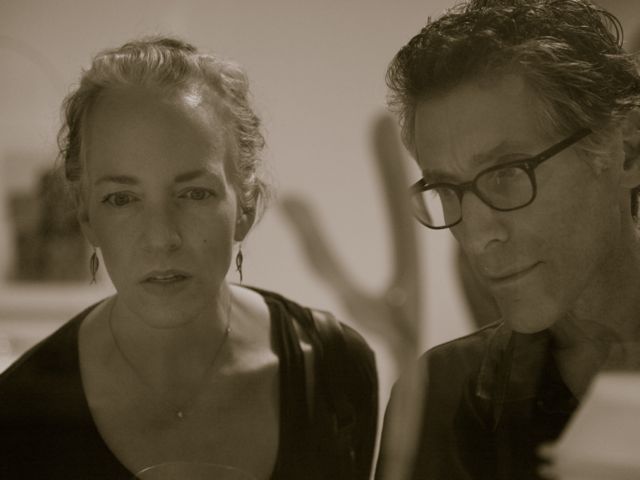 My friend Andy Jacobson died on Saturday. He was only 52, and he left behind an incredible wife and two amazing teenagers. I saw it coming but I wasn't prepared. I wanted more time with him, a chance to fix him the Brussels sprouts salad that was the subject of his last tweet to me. In response to my posting this video on the subject, he wrote: "Looks so good! Will you make them???? Pleeeeeze." I never got around to it. Like my father, he had stomach cancer, so he might not have been able to eat it anyway. But still. I'm making it now, Andy, and I'm hoping that whoever else tries the recipe below will think of you, too. An aesthete, a mensch, a quibbler, a devoted father and husband, a loyal friend, a merry prankster. One of G's pals from way back, and like family to us, he got himself licensed so he could perform our wedding ceremony, and he milked that crowd for laughs. The gods are surely smiling today.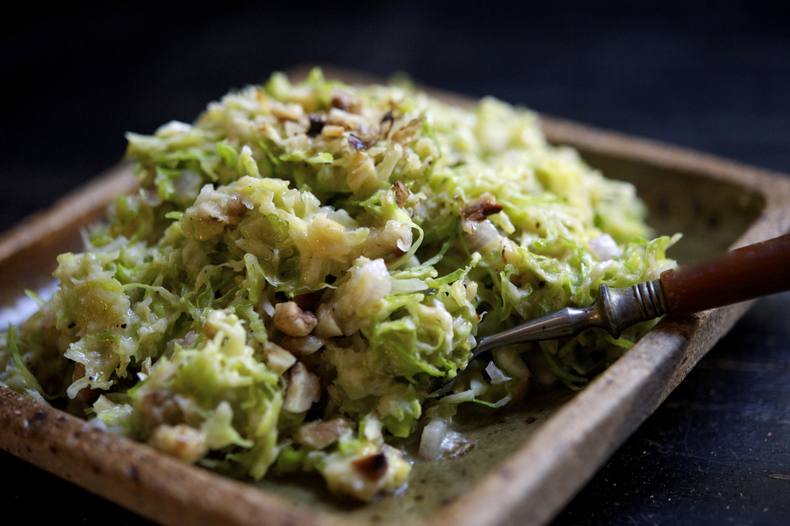 The Fudehouse video pretty much says it all as far as a shaved Brussels sprout salad goes, but I'm also including my own version, which includes minced shallots. Feel free to substitute pecorino for the Parmesan. Make sure to shave the sprouts very finely—a super-sharp knife works well if you don't have a mandoline—and then add a pungent dressing. I like a combination of walnut and olive oils, the tartness of lemon, the bite of mustard and the tang of pecorino. But I've also used capers, pine nuts, olives, champagne vinegar and even mustard oil (not all at once). As with everything, once you learn the basic technique, you're free to experiment.

I'll miss Andy terribly and my heart feels as heavy as a knish. But I've learned that grieving takes place while life continues on, and sooner or later it's time for dinner.
Shaved Brussels Sprout Salad
serves 6
— 1/2 cup

minced shallots

— 3 tablespoons

fresh lemon juice

— 1 teaspoon

raw honey

— 2 teaspoons

Dijon mustard

— 2 tablespoons

extra-virgin olive oil

— 1 tablespoon

walnut oil

— 3 cups

Brussels sprouts (use larger ones if possible)

— 3/4 cup

chopped toasted walnuts

— 1/2 cup

finely grated Parmesan
Soak the shallot in a small bowl of cold water for 15 minutes while you prepare the rest of the ingredients.


In a small bowl, whisk together the lemon juice, honey, mustard and a pinch of salt and pepper. Whisk in the oils until the dressing is emulsified. Set aside.


Trim the Brussels sprouts, slicing off the root end and removing any bruised outer leaves. With a very sharp knife or a mandoline, finely shave the sprouts.


When you're done, use your fingers to gently separate the leaves.


Drain the shallots.


Pile the shaved sprouts into a serving bowl and toss gently with the shallots and three-quarters of the dressing. Fold in the nuts and cheese, taste and adjust seasonings, drizzling with additional dressing if needed. Serve immediately.



Download Recipe