10.3.11
Road Food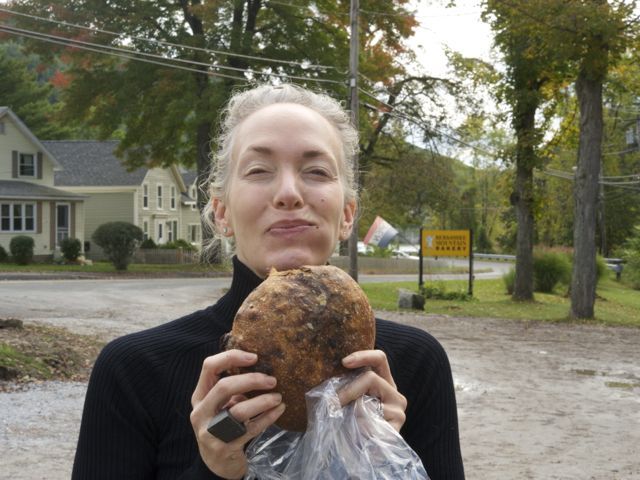 Isn't it wonderful when the stars align? Sometimes things just come together as though they're fated. I chanced across
this video
from Food Network on Facebook, I think it was on the Saveur page, and was instantly entranced. The miraculous marriage of bread and chocolate, writ irresistibly large—and lo! I was headed to the Berkshires for a visit with G's parents, not more than 15 minutes from the source of this manna from heaven: Berkshire Mountain Bakery. Within a week of seeing it, I was actually biting into this crusty, melty, tangy concoction and truly living the fantasy. And let me tell you, it did not disappoint.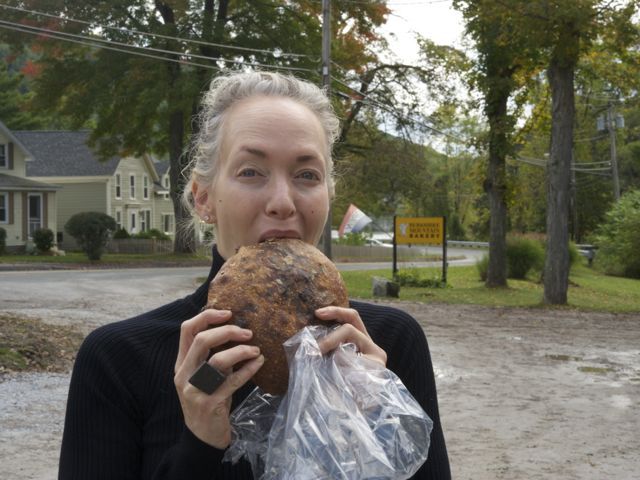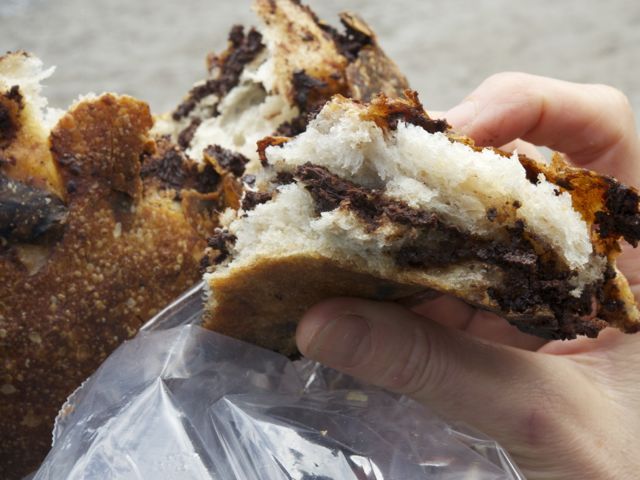 I couldn't even wait to get into the car to break into this decadent loaf. All the breads at this artisanal bakery are made with natural starters, so they have that wonderful slightly sour flavor. And this one is loaded with Callebaut chocolate. There's literally chocolate in every bite, not like those other stingy versions you may have tried elsewhere. The dark, crunchy crust, the chewy, tangy crumb and the rich bittersweet chocolate, still soft, come together in your mouth in a blissful combination. G and I actually rhapsodized about the possibility of sticking skewered chunks of this into the fire, then drizzling it with a little olive oil and salt. We didn't do it...yet.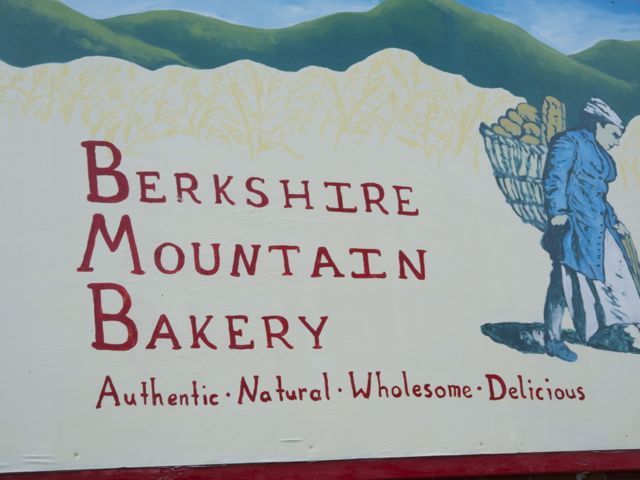 Berkshire Mountain Bakery was founded by a Frenchman, Richard Bourdon, in the small Massachusetts village of Housatonic. He was once the head of a bakery in Holland, one of the first to revive the old-style manner of baking with natural sourdough starters. For thousands of years, our ancestors practiced this process of fermentation, soaking their grains before cooking or baking with them. The way it works is that lactic bacteria and wild yeasts occurring naturally in the environment feed on nutrients in the flour and begin to multiply. These organisms break down food components in the flour producing carbonic gas that causes the dough to rise, but also making it easier to digest. When untreated, phytic acid—which is present in all grains in the bran (outer layer)—can combine with calcium, magnesium, copper, iron and especially zinc in the intestinal tract and block their absorption. Soaking, fermenting or sprouting grains allows enzymes, lactobacilli and other helpful organisms to break down and neutralize this acid. A diet high in unfermented whole grains, particularly high-gluten grains like wheat, puts an enormous strain on the whole digestive system. This is one reason why so many people have allergies or sensitivities to gluten, which can produce uncomfortable bloating and gas in the system.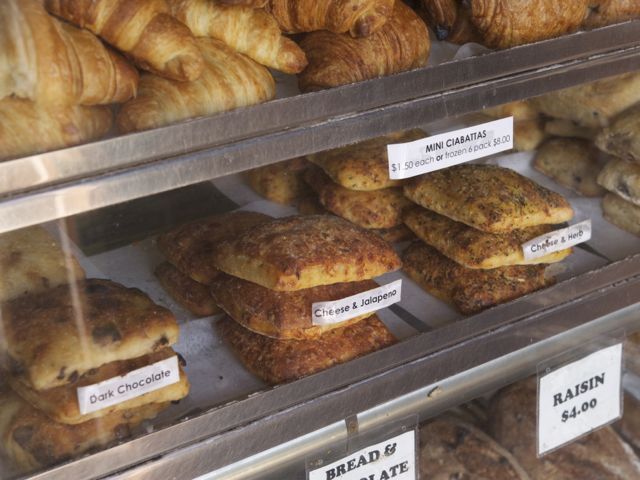 I mentioned wanting to take some loaves home to freeze, and the helpful and cheery server told me that day-old is much better for that. I'm assuming it's because it contains less moisture. (It also costs less!)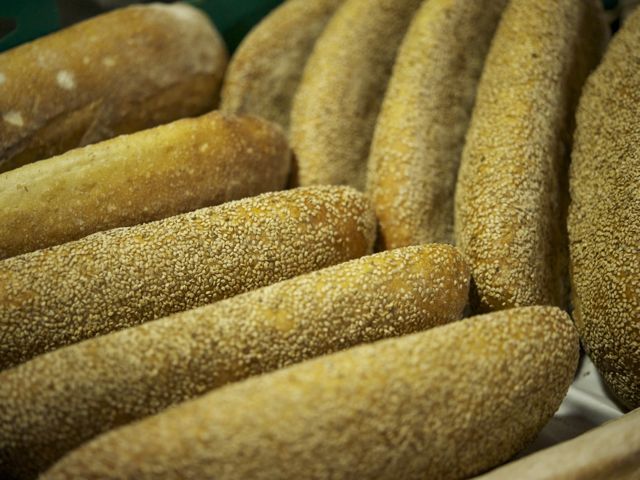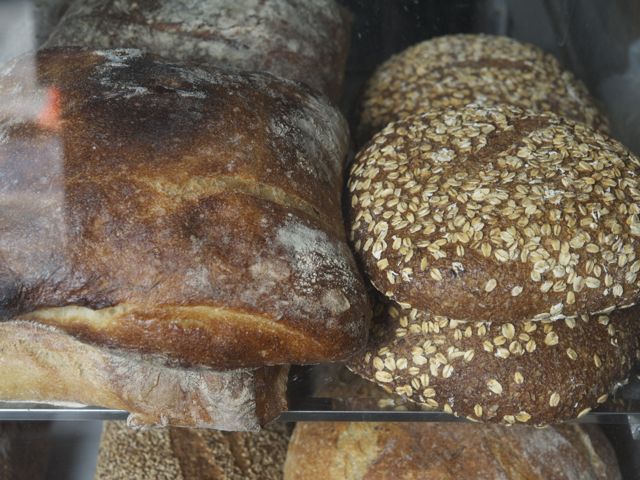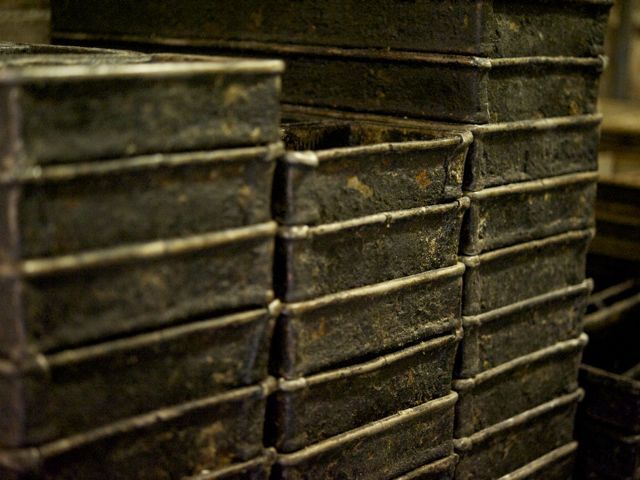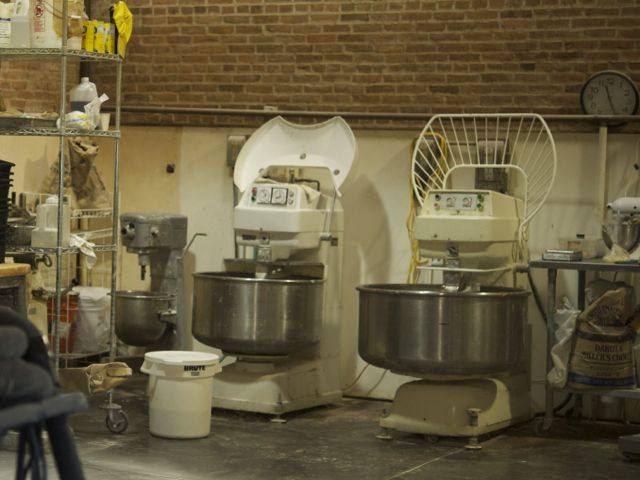 In business for more than 25 years, the bakery is located in a 7,000-square-foot brick warehouse that was once part of a paper mill, and has sales of greater than $1 million every year.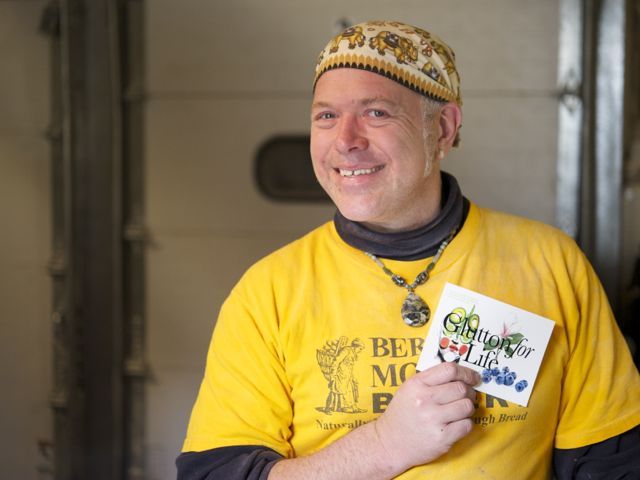 With that wonderful experience literally under our belt, we hopped back in the car and drove south toward Sullivan County. We passed quite a few small towns that had been savagely flooded during the recent hurricane. You could clearly see where the waters had run amok over trees and vegetation, washing out roads and leaving muddy areas behind.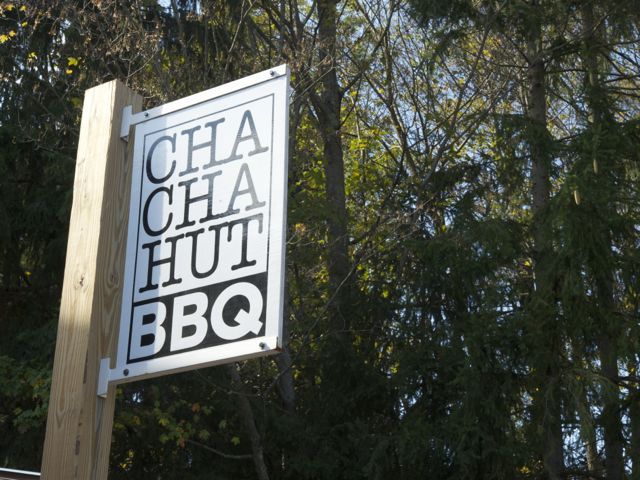 Fortunately, the town of Andes seems to have recovered. We stopped for a late lunch at
Cha Cha Hut BBQ
, a local joint specializing in "a unique hybrid style based on Texas and Carolina BBQ traditions as well as experimental and cutting-edge grill techniques." They even smoke their macaroni-&-cheese! It was some fine BBQ. I enjoyed my turkey, and G didn't complain about the pulled pork.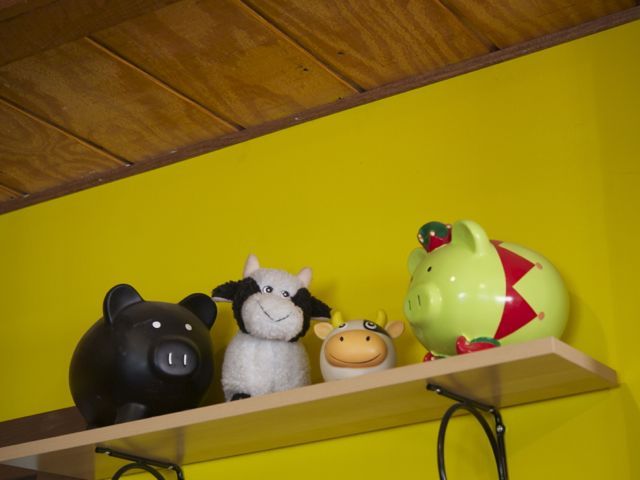 The place is pretty bare bones but has just the right amount of kitsch. We ate at a picnic table outside under the trees, alongside a little creek.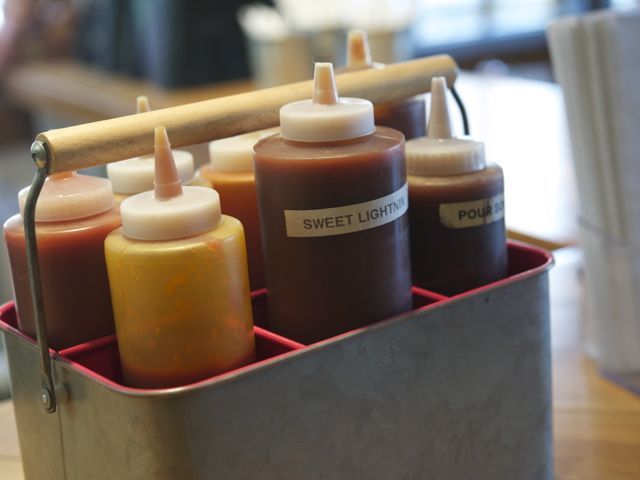 One thing that makes this place a standout is definitely their sauces. They include Thundernagi, a zingy, sweet and spicy tomato-based sauce, named for their two cats, Thundercleese and Unagi; South Carolina Mustard with a Dijon kick; North Carolina Vinegar, with cider vinegar and cayenne; Sweet Lightnin' with brown sugar and jalapeño; Go Go, which is boldly spicy; and more...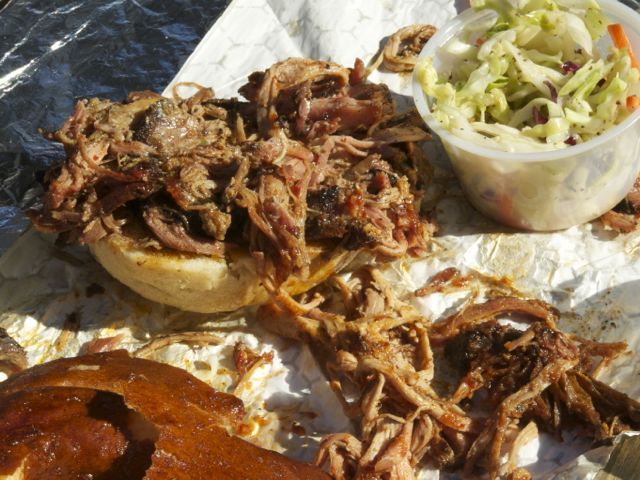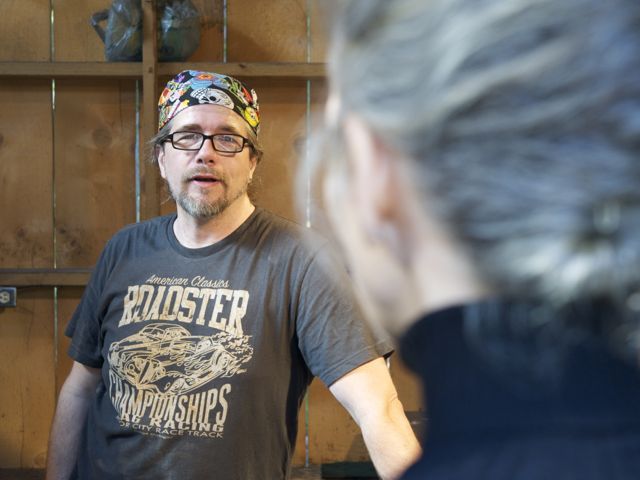 Cha Cha Hut is run by master smoker Frank Davis. He's no amateur, smoking all year round, even in the bitter cold of winter. His wife Cherie handles the copious sides and allegedly makes some mean ice cream, in flavors ranging from tea infusions to Maple Apple Bacon.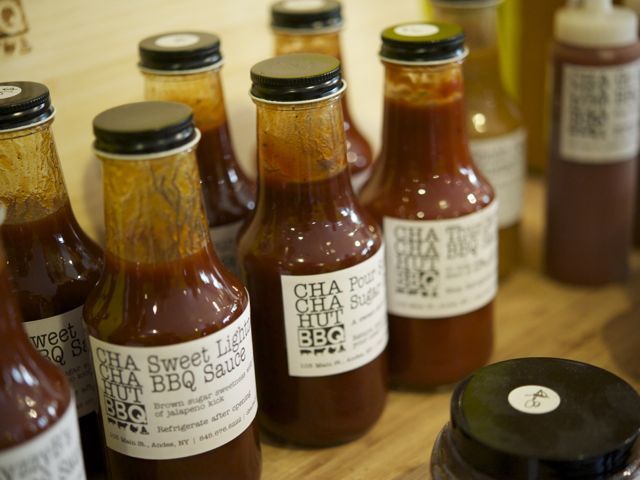 Need to taste it for yourself? Maybe you can mail order one of those sauces, bottled up in small batches once a week or so. We'll definitely pay another visit to Andes for lunch at the Cha Cha Hut, and more shopping for vintage artifacts and clothes at
Kabinett and Kammer
, and
Clementine Vintage Clothing
(where we scored some excellent sweaters). Who says you can't have fun in the sticks?