9.30.11
Wildly Edible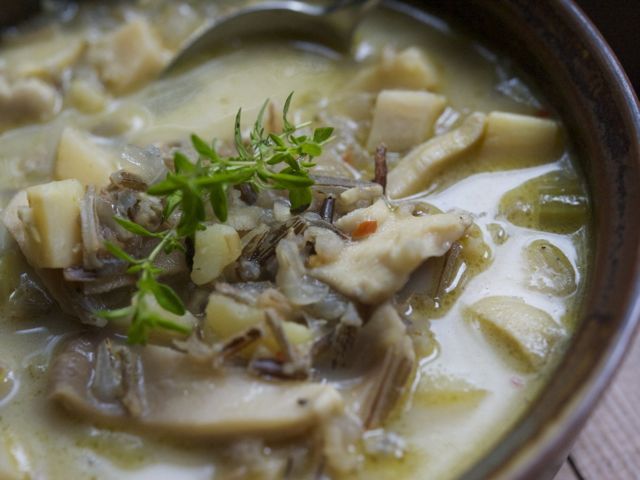 Oh yes, more mushrooms! And it's raining like the devil in these parts, so probably more yet to come. I'm still not complaining. G found a brilliant orange chicken mushroom growing on the split trunk of the oak tree that crashed through our back fence during Irene and it went right into a pot of soup. I have so much maitake (aka hen-of-the-woods or grifola frondosa) in my freezer—and dried, too—that I'm set for hot pots for the rest of the winter. All this bounty has led me to invent a delicious soup: wild mushroom made with wild mushroom stock. The only other wild thing I had on hand (other than my imagination, of course) was some wild rice, so I threw that in, too. It turned out wildly earthy, nutty, chewy—more of a stew, really. Perfect for these days of incipient fall, and for October 1st which is World Vegetarian Day. In fact, I think I read somewhere that October is Vegetarian Awareness month. Meaning that we're supposed to notice they exist? Whatever, it seems like a good excuse to whip up lots of vegetable-centric dishes. Hey, flavor them with bacon, I don't care. But let's explore a few we may not cook on a regular basis: kohlrabi, parsnips, mung bean sprouts, jerusalem artichokes, turnips, puntarelle. It's a wild world but somebody's got to eat it.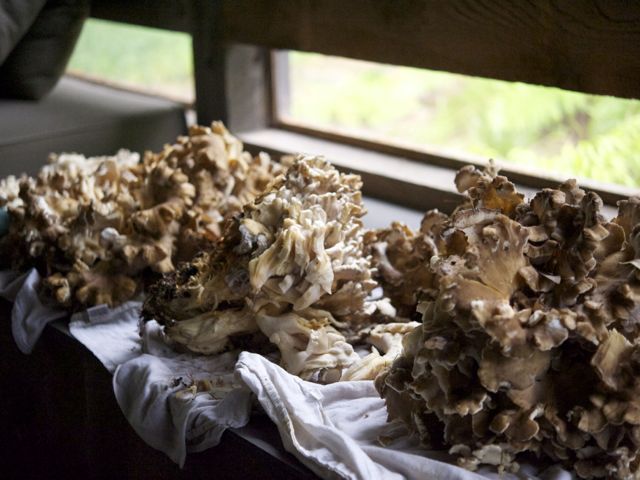 Our dear friend pulled up in his pick-up to offload this monster maitake he'd found while gallivanting deep in the woods on his 4x4. It was about 30+ pounds and rather water-logged but totally edible. I immediately called my friend Tomo (the one with all the Japanese chef pals) to come take most of it away. It was just too overwhelming.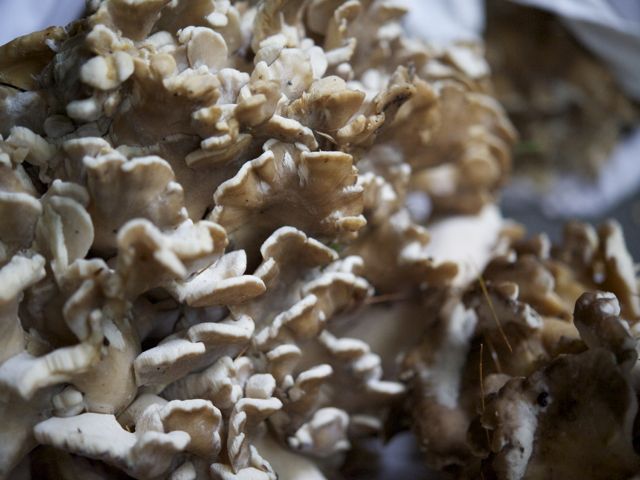 I kept a chunk for myself, which meant cleaning it. It's mostly about cutting away anything that's gotten too woody or started to rot, but sometimes the mushroom actually grows around twigs that you just pull out. Invariably there are pine needles galore, and you have to steel yourself for the occasional spider, beetle, worm or earwig that comes wriggling out. I reserve the big meaty chunks for stock, and the more delicate ruffled parts for the soup itself.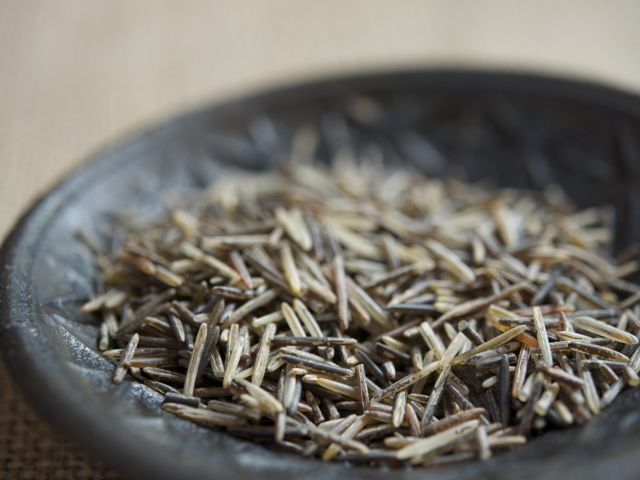 Wild rice is actually a grass, historically eaten by Native Americans. The Ojibwas consider it to be a sacred component of their culture. It's sold as a dried whole grain, and is quite high in protein, the amino acid lysine and dietary fiber, and low in fat. It's also a good source of potassium, phosphorus, thiamine, riboflavin and niacin. If you're looking to cut back on carbs like white rice or potatoes, wild rice, along with quinoa and yams, is a very satisfying alternative.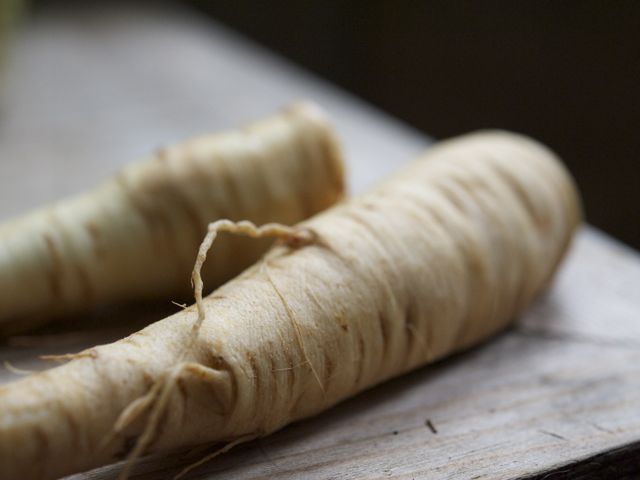 The parsnip is not as commonly eaten here as in Britain, for some reason. It's related to the carrot but is sweeter and starchier, though also richer in vitamins and minerals, especially potassium. This particular specimen, from my friends at River Brook Farm, reminded me of that freaky "baby" under the bed in
Pan's Labyrinth
. If you haven't seen this film, you must immediately remedy that. (
Here
.) It's extraordinary.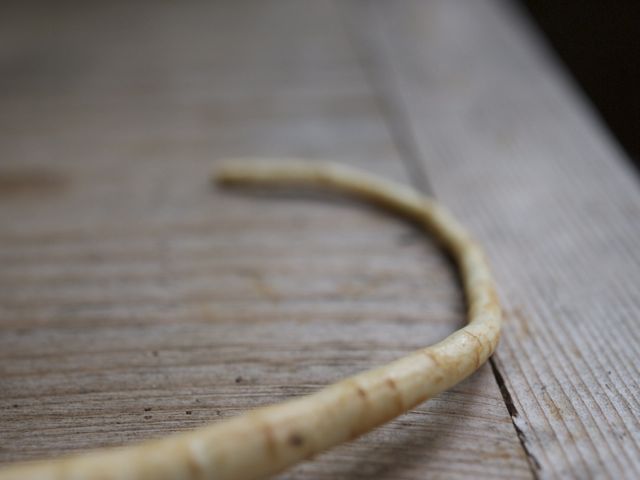 When I lived in
Silverlake
, a possum frequently breached our laundry room, scarfing down the dry cat food and then hiding behind the machines. The telltale sign? It's creepy, rat-like appendage sticking out from under the dryer. This parsnip kind of skeeved me because it looked so much like that possum tail.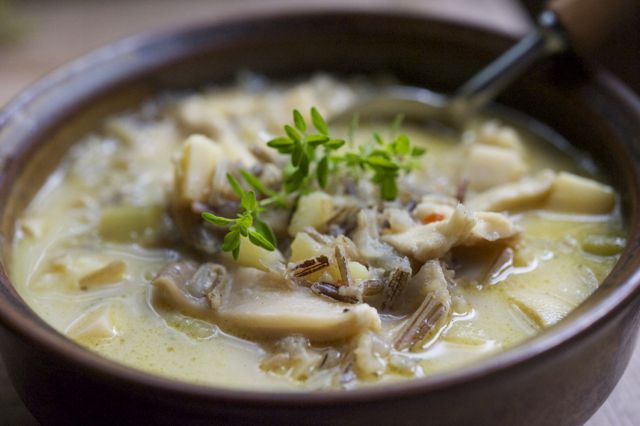 But in the end, it all came together in a very delicious pot of soup/stew that was soulful, nutritious and hearty without being at all heavy. You can certainly make this with a combination of fresh (cremini, shiitake) and dried (porcini, chanterelle) mushrooms, and substitute a nice vegetable stock for the mushroom, and still have something wonderful, if not entirely wild.
Wild Mushroom Soup
serves 4
— 1

large yellow onion, diced

— 2 stalks

celery, diced

— 2

cloves garlic, minced

— 1 tablespoon each

olive oil and butter

— 2 teaspoons

curry powder

— 2

parsnips, peeled and diced

— 3-4 sprigs

fresh thyme, or 1 teaspoon dried

— 2 cups

fresh wild mushrooms, in bite-size chunks

— 6 cups

wild mushroom stock (or vegetable or chicken stock)

— 1/2 cup

wild rice, raw

— 1/2 cup

buttermilk

— 1/4 cup

heavy cream, optional

—

sea salt and pepper, to taste
Combine olive oil and butter in a heavy stockpot over medium-high heat, then add onion, celery and garlic and cook until wilted. Stir in curry powder and a pinch of salt and cook for a couple of minutes.


Add parsnips, thyme, mushrooms and stock and bring to a boil, then lower and gently simmer, partially covered for about 30 minutes.


Add wild rice and simmer for another 30 minutes, partially covered.


Stir in buttermilk and cream, adding a little water if you want it soupier, then salt and pepper to taste. Heat thoroughly and serve.



Download Recipe