10.18.11
Southern Style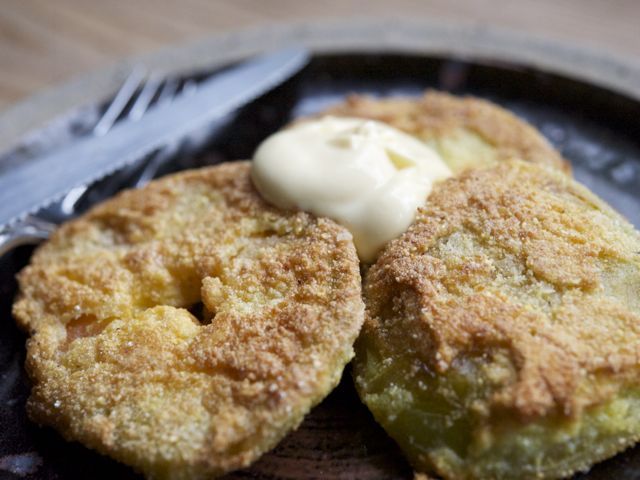 My first apartment in New York was on Avenue A and 3rd Street, at a time when the East Village was a rather seedy no-man's-land where you couldn't score much more than smack and a good bialy. There were no gourmet stores, no coffee bars, not even an ATM within blocks. But there was the original Two Boots pizza parlor and, for a short and very blissful time, a little joint called Southern Style where you could get some clean and tasty down-home cooking for cheap. To my knowledge, they never served fried green tomatoes but that alone is not enough to explain why I'd never eaten any before making them myself recently. Thanks to new restaurants like
this
, or
this one,
Southern food seems to be having quite the renaissance these days, so I'll probably end up sampling someone else's fried green tomatoes soon. But until that day, mine will have to set the standard.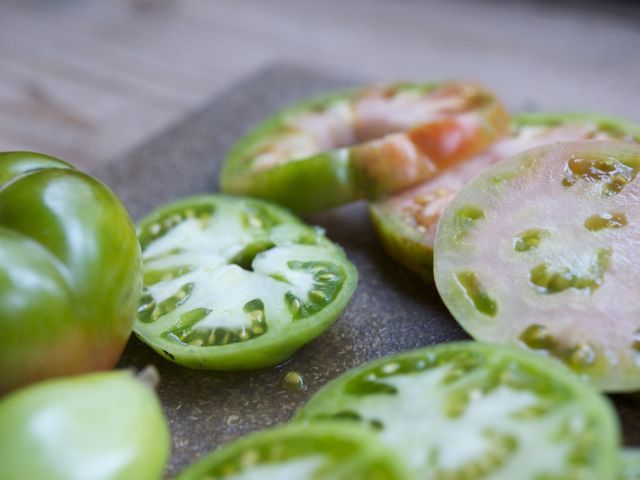 What makes a green tomato ideal for frying is its firm texture. Juicy but crisp, it holds up to the batter and the high heat, retaining its toothy quality. Don't get confused and use green heirloom tomatoes. The whole point is that these are unripe.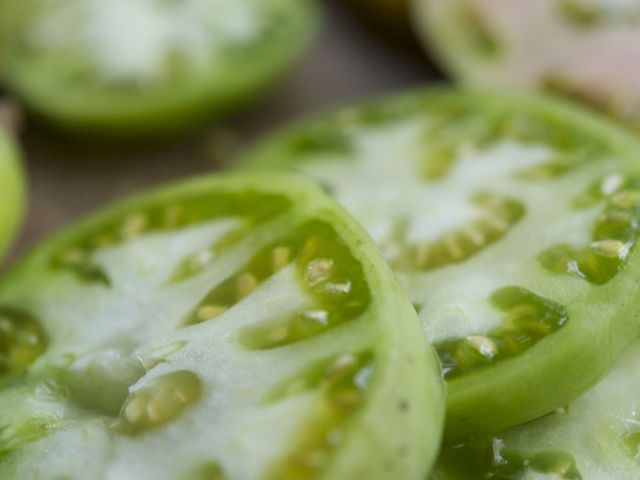 Green tomatoes have a nice tart taste that's a good counterpoint to the cornmeal crust.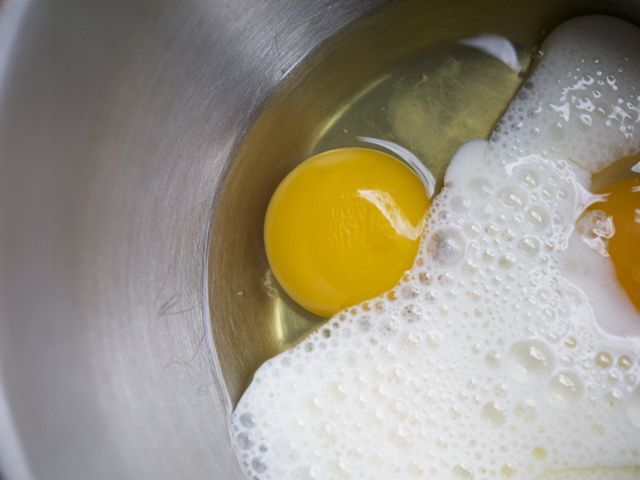 I like to use a 3-step batter that calls for dredging the slices first in flour, then in a mixture of egg and buttermilk, and finally in cornmeal which adds a thick and crunchy sweetness.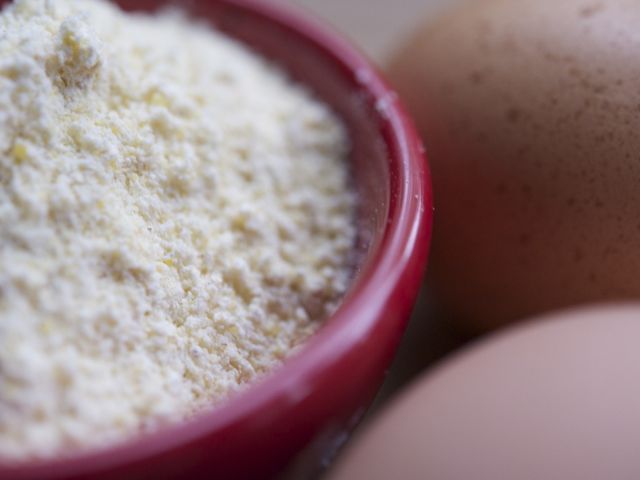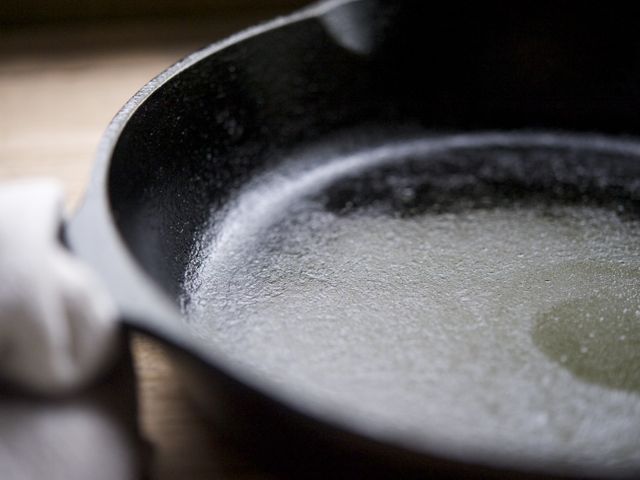 A well-seasoned cast-iron skillet is an asset in the kitchen. I don't believe in non-stick pans, since there's no question that they release toxic fumes, so I rely heavily on my copper and cast-iron skillets. For more information on cast-iron pans, including how to season them, see
here
.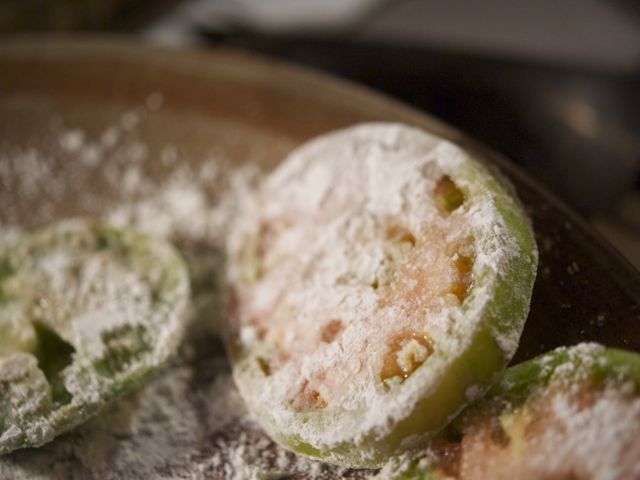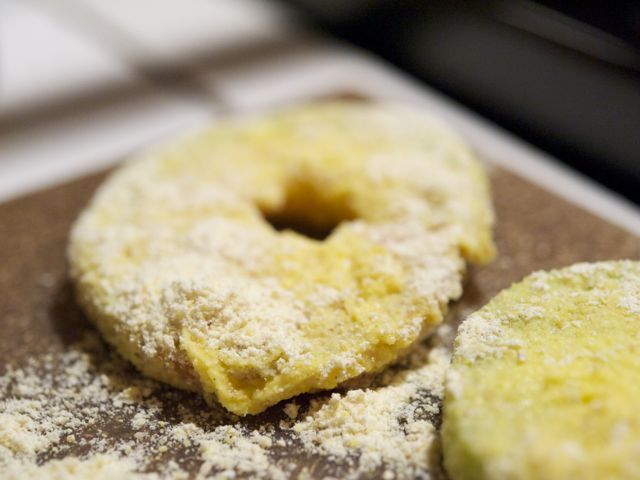 I know this next photo will be controversial. Mayonnaise is so polarizing! So many people absolutely loathe it and can't even stand to have it on their plate, much less their palate. But for the rest of us, it's a creamy, dreamy delight that, in moderation, enhances everything from tomato sandwiches to poached chicken.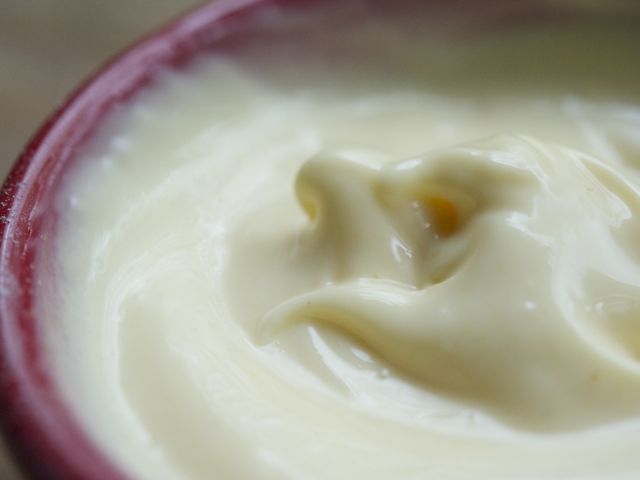 Crunchy fried foods pair well with something tart and/or creamy—french fries with ketchup, fried fish with tartar sauce or a squeeze of lemon—and these fried green tomatoes are no exception. Recently I fell in love with the smoked mayonnaise that David Chang slathers on his pulled duck buns at Momofuku Ssam. I happen to know he uses Kewpie mayonnaise a lot, so I grabbed one of the funny-looking squeeze bottles when I was at Fairway. Wow, what a revelation. I love this stuff! Made in Japan since the 1920s, it's lighter, tangier and more deliciously savory than traditional store-bought mayo (aka Hellman's), thanks to the use of rice vinegar and MSG. Yes, MSG, a compound that has been unduly villainized. To learn more about why it's actually not toxic or bad for you, read
this
. Anyway, by stirring a little
smoked salt
and a couple of splashes of Tabasco into some
Kewpie
, I jerry-rigged a version of Chang's smoked mayo that sends these fried green tomatoes into the stratosphere.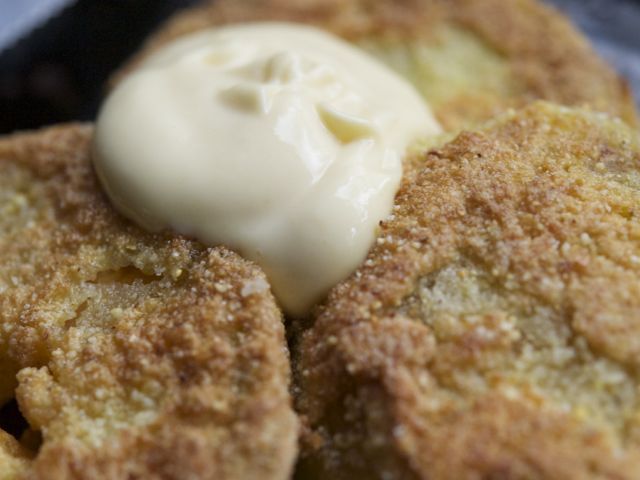 Fried Green Tomatoes
serves 4-6
— 1/2 cup

organic buttermilk

— 2

farm-fresh eggs

— 1 cup

all-purpose flour (rice or gluten-free mix is fine)

— 4

large, firm green tomatoes

— 1 cup

organic cornmeal

—

lard or vegetable oil
Core tomatoes and cut into ½"-thick slices. Sprinkle with sea salt and pepper and set aside.


Spread the flour on a large plate. Beat the eggs with the buttermilk in a medium bowl. Spread the cornmeal on another plate.


Heat about ½" of lard or vegetable oil over medium-high heat in a cast-iron skillet until almost smoking.


Meanwhile, dredge the tomato slices in the flour, shaking off any excess. Next, dip them in the egg mixture, letting excess run off. Then dredge them in cornmeal.


Slip slices into the hot pan in batches, so as not to crowd them. Cook about 2 minutes per side, until nicely browned.


Transfer to a paper-towel lined plate. Serve immediately with smoky mayonnaise.



Download Recipe