9.21.11
Vegging Out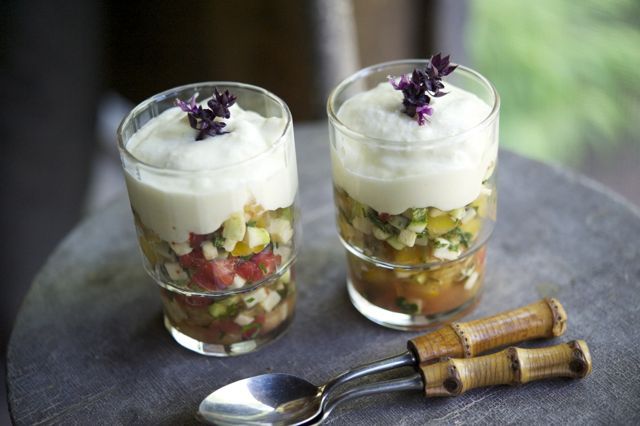 Fall is here—already. It's brought with it beautiful cool sleeping weather and that poignant quality, a tender melancholy. This is my favorite season, bittersweet and poised so precariously between the royal flush of summer and the dark abyss of winter. Time now to squeeze every last drop of warmth and sweetness from the world. In the garden, tomatoes, zucchini, basil and herbs are performing a glorious swan song. It's the perfect moment for one of these verrines, a French bistro staple that I learned about in the October issue of Food & Wine, which is dedicated to the new French classics. You're undoubtedly familiar with parfaits, those gorgeous layers of fruit, cream and frozen delights showcased so perfectly in clear footed glasses. Well, this is sort of a vegetable version of that. A fresh, chunky salad topped with a creamy layer of whipped mascarpone, and garnished with a crispy slice of prosciutto. It's an ideal lunch, or a lovely way to welcome guests for a casual dinner party.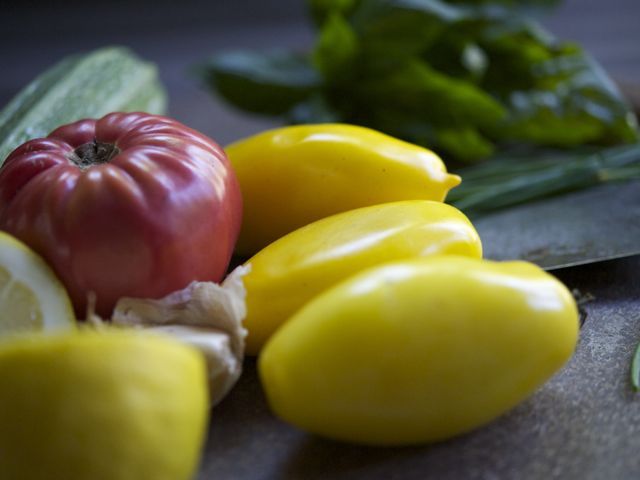 Although it wasn't a great year for gardening—cold snaps followed by blistering heat and then way too much rain—G still managed to raise lots of lovely tomatoes, including these gorgeous yellow Romas, and enough zucchini and cucumbers that I would actually despair when he crept into the kitchen with his daily harvest. It was zucchini fritters and pickles galore over here.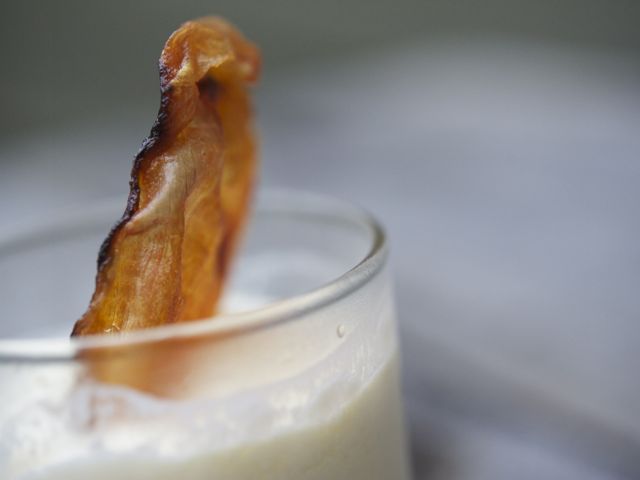 Such a revelation to discover that you can fry up slices of prosciutto to a wonderful crackly crisp. They're almost like pork chips! And they stand at attention like little soldiers in the verrines, where they add a savory, salty crunch to the mix.
Zucchini-Tomato Verrine
from La Tartine Gourmande (Béatrice Peltre)
serves 6
— 2

eggs, yolks & whites separated

— 1 tablespoon

chopped chive

— 1 tablespoon

chopped dill

— 1 tablespoon

chopped basil

— generous pinch

ground cumin

— 1 tablespoon

fresh lemon juice

— 1

garlic clove, minced

— 3/4 cup

zucchini, finely diced

— 4

tomatoes, peeled, seeded & diced

— 1/2 cup

mascarpone

— 1/3 cup

Parmesan, finely grated

— 6 slices

prosciutto

— 2 tablespoons

pine nuts, toasted (optional)
In a bowl, toss together tomato, zucchini, garlic, lemon juice, cumin and chopped herbs. Mix well and add a little sea salt. Divide among 6 glasses.


In a medium bowl, beat egg whites with a pinch of salt until soft peaks form. In a separate bowl, mix mascarpone with the yolks and Parmesan. Fold in the whites and then spoon on top of the vegetables. Chill for 4 hours.


In a non-stick or well-seasoned skillet, over moderately low heat, cook the prosciutto slices, turning once, until crisp.


To serve, scatter each verrine with pine nuts, if using, garnish with a couple of small basil leaves and slide in the crispy prosciutto.



Download Recipe