6.27.11
Wings of Desire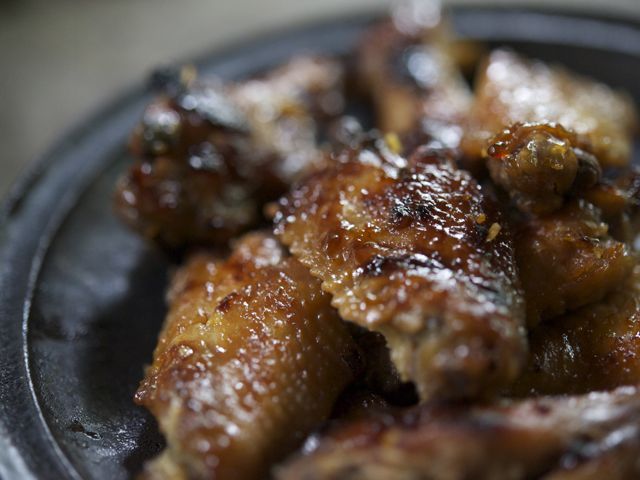 I never was much into wings. My friend Busby always sang their praises when she wasn't going on about California Pizza Kitchen or Popeye's fried chicken. They just never seemed meaty enough to me, and I hadn't yet developed a fondness for eating things off the bone. But G has a passion for wings, and in learning to make them for him, I fell for them. That happens sometimes, doesn't it? Indifference turns to pleasure and life just gets that much better. Now I understand how succulent, how crispy yet gooey, how caramelized and packed with flavor are these little wings. No wonder they make such great stock. Did you ever sample David Chang's wings at Momofuku Noodle Bar? I'm not sure he still serves them but they were insane. I think they were poached, then smoked and then finished on the grill. (
Here's
an adapted recipe which I may try sometime.) The point is, don't just throw your wings under the broiler and expect them to be great. They have a fair amount of fat, so one great technique is to poach them first and then finish them in a very hot oven. Marinating them overnight or even for a few hours does wonders. They pair beautifully with strong flavors like garlic, ginger and chile, and a little something to help them caramelize like soy sauce, honey or maple syrup.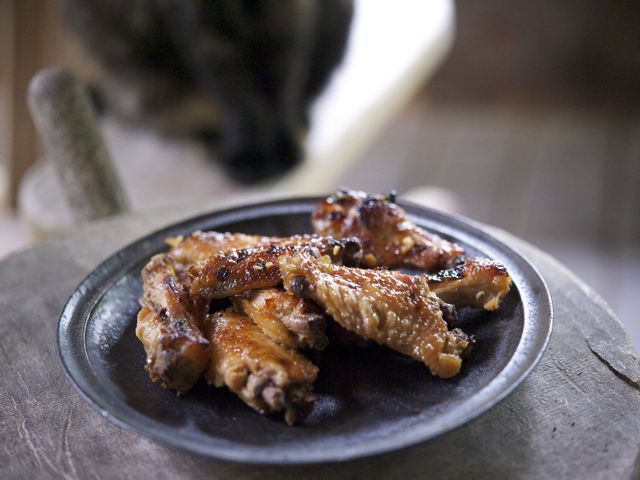 Wings are very popular with guys. And with kitties. There's the Buffalo wing, of course, but that's a bit over the top. Fried and then sauced and then doused with blue cheese? Not my style. I do a version marinated in sherry vinegar, garlic and spicy smoked paprika that is divine. But lately we tried some with ginger and miso that were really good.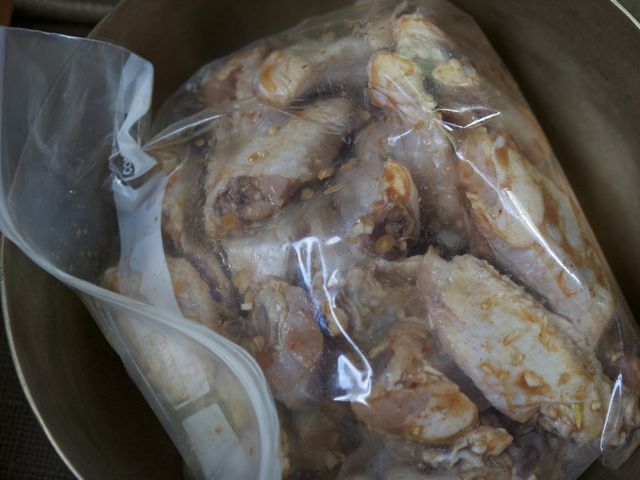 Large Ziplocs are great for marinating because they let you rearrange the wings easily so every surface gets coated. Put the whole thing in a bowl, though, in case of any leaks. Another tip is to line your baking sheet with parchment paper. This makes clean-up much more pleasant. And, finally, for recipes that don't include a step that uses the wing tips, be sure to save them in your freezer and add them to your homemade stock.If you haven't made wings before and are uncertain how to break them down,
here
is a great step-by-step diagram from Cook's Illustrated.
Ginger-Miso Chicken Wings
from aargersi on Food52
serves 6 as a snack, or 3 for a more substantial meal

— 2 tablespoons

ginger, finely minced

— 1 tablespoon

fresh lemon juice

— 1/2 cup

honey

— 2 tablespoons

soy sauce

— 1 teaspoon

ground white pepper

— 3-4 tablespoons

red miso

— 1

large carrot

— 1 stalk

celery

— 12

ginger coins, about 1/2" thick

— 6 cups

water

— 3 pounds

organic chicken wings

— 4

scallions, minced
Trim and cut the wings. Put the tips in a stockpot with the water, miso, ginger coins, white pepper, carrot and celery. Simmer for an hour.


Now add the wings and poach them for about 10-12 minutes, just until they are done. Turn the heat off and let them rest in the stock for another 15 minutes; then remove them from the stock with a slotted spoon. Strain the stock and save it for another use, like some noodle soup.


Heat the oven to 450º. Toss the wings with the remaining ingredients. Spread the wings on a parchment-lined baking sheet. Bake until crispy and caramelized, turning a couple of times as they cook. You may finish them under the broiler, but watch them carefully!



Download Recipe