6.23.11
Flower Power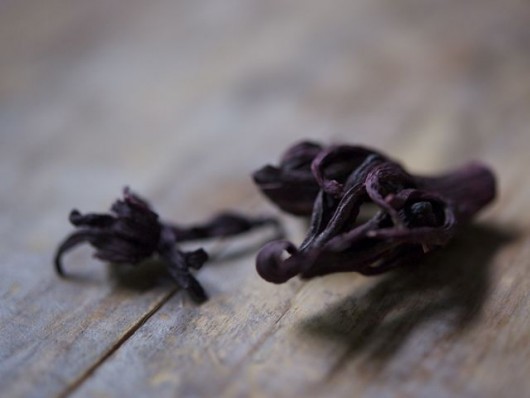 You're sitting in your screened in porch, or on your tiny terrace, front lawn or tar roof. The sun is high in the sky. Maybe you've worked up a sweat gardening or playing badminton or thinking about your in-laws' visit. What you need is a nice cool glass of something. Not a soda, for crying out loud. Those eat the enamel off your teeth and cause osteoporosis. Not lemonade which is, frankly, too much work on a day like this, what with all that squeezing. Need some new ideas? Pick up Fany Gerson's latest book, 
Paletas: Authentic Recipes for Mexican Ice Pops, Shaved Ice and Aguas Frescas
, recently published by Ten Speed Press. You may remember I referenced her book on Mexican sweets,
here
and
here
. Not only does this popsicle queen of the Hester Street Market have loads of great recipes for cooling ice pops—like pineapple-chile; fresh coconut; and sour cream, cherry and tequila—but you can also learn how to make
raspados
, Mexico's answer to Italy's granità, and some wonderful traditional drinks called
aguas frescas
. These are essentially fruit or herbal infusions in water; not too sweet and very refreshing. This one, called
agua de jamaica
, is made from dried hibiscus flowers, also known as Jamaican sorrel.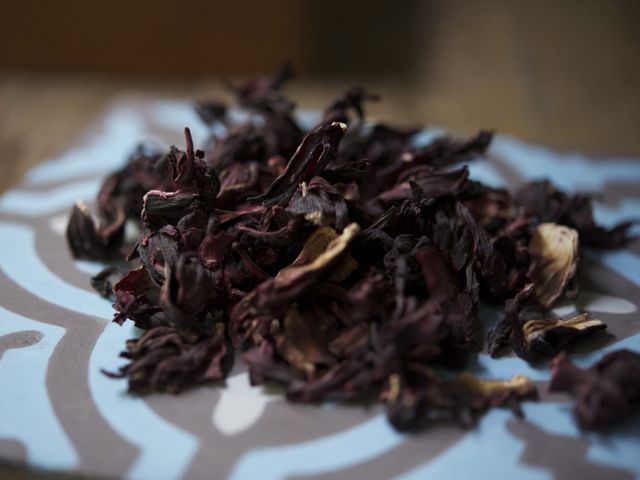 Both yesterday and today I arose with the intention of taking a photo of the amazing, deep purple brew that you make with these flowers. Both mornings dawned stormy and dark. Since I shoot with natural light, it's been just too dark to take a photo that does it justice. So you'll have to use your imagination to picture a tall, frosty glass of
agua de jamaica
, much like I'm using mine to picture a warm sunny summer day.Dried hibiscus flowers are relatively easy to find in any Hispanic market, or you can order some
here
. It's the outer circle of the flower that's dried and used to make this infusion. Hibiscus is a good source of vitamin C and calcium, and is rich in antioxidants. Studies have also shown that drinking hibiscus tea can lower blood pressure, triglycerides and overall cholesteral levels. The beautifully tinted liquid has a tart, subtle flavor reminiscent of berries. This recipe calls for a bit of sugar, but you can try substituting agave if you like, or use no sweetener at all. It doesn't really
need
it.
Agua de Jamaica (Hibiscus Cooler)
from Paletas by Fany Gerson; makes 4 cups

— 1/3 cup

organic cane sugar, or to taste (or substitute raw agave nectar)

— 1 cup

dried hibiscus flowers

— 4 cups

water
Rinse the flowers in cold water and drain thoroughly. Put them in a saucepan, cover with the water, and steep for at least 4 hours, or overnight.


Bring the mixture to a boil over medium heat, then lower the heat and simmer for 10 minutes. Stir in the sugar and continue to cook, stirring until the sugar has dissolved. Let cool to room temperature.


Strain through a fine-mesh sieve into a pitcher, pressing on the solids with the back of a wooden spoon to extract as much liquid as possible. Add water to bring the volume up to 4 cups. Taste, and if the flavor is too intense, add more water as needed. You can also adjust the sugar at this point.


Refrigerate until completely chilled. Serve as is or over ice.

*To make a concentrate, double the amount of hibiscus, eliminate the sugar, and cook the mixture down until the liquid is reduced to one-third. This will keep for several weeks in the refrigerator. To make a beverage, simply put about ¼ cup of the concentrate in a glass, add about 1 cup water, and sweeten with sugar or agave to taste.



Download Recipe