6.15.11
Rhubarb: Fruit or Vegetable?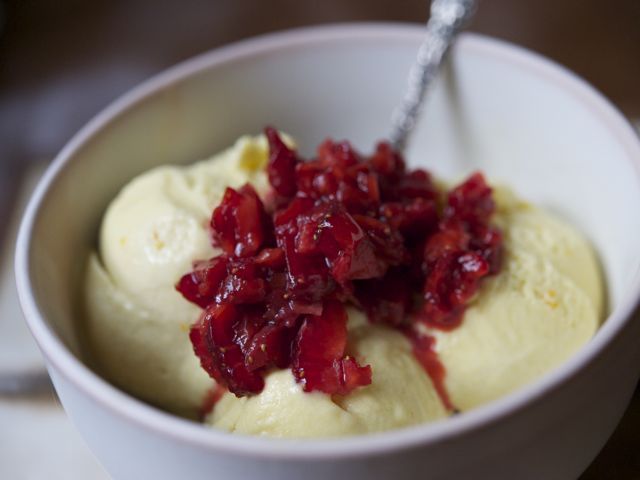 Consider rhubarb: long, ribbed, celery-like stalks and not a seed or rind in sight. This is a vegetable, right? But in 1947, a New York court decided that since it's used as a fruit, it is  to be counted as such for the purposes of regulations and duties. Thus, with one wave of a bureaucrat's hand, does a vegetable become a fruit. Although its leaves are toxic, rhubarb's tart stalks have a long history of medicinal and culinary uses. The stuff grown in hothouses tends to be redder and sweeter than what you find in the gardeny. My big, bushy plants are of the Victoria variety—named for the British queen, whose countrymen tend to love a bit of rhubarb fool—and they are predominantly green. A clear, true, vegetal green with a flavor to match. Rhubarb is often combined with apples or strawberries. Their sweetness helps temper its rather aggressive bite, but can also overwhelm its delicate flavor, described by Alice Waters as "the smell of the earth in the spring." Wanting to showcase that, and armed with rhubarb from the garden and fresh milk from the farm, I decided to make rhubarb ice cream.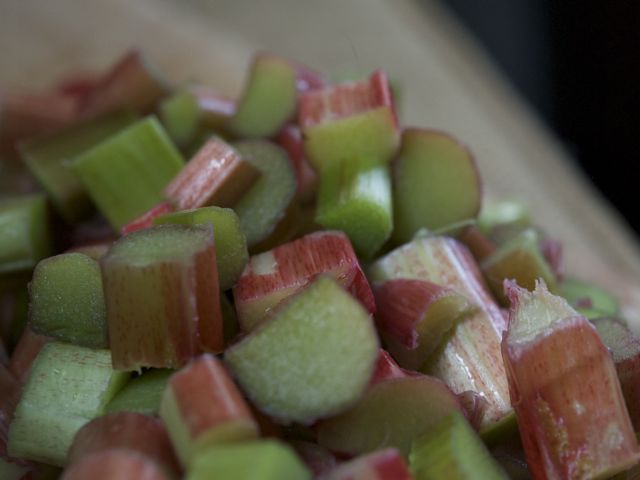 If you still haven't acquired an ice cream maker, maybe this is the season? It's also great for making sorbet and frozen yoghurt, as well as margaritas and daiquiris. And this incredible
basil pomada
. My machine always gets a big workout in the summer.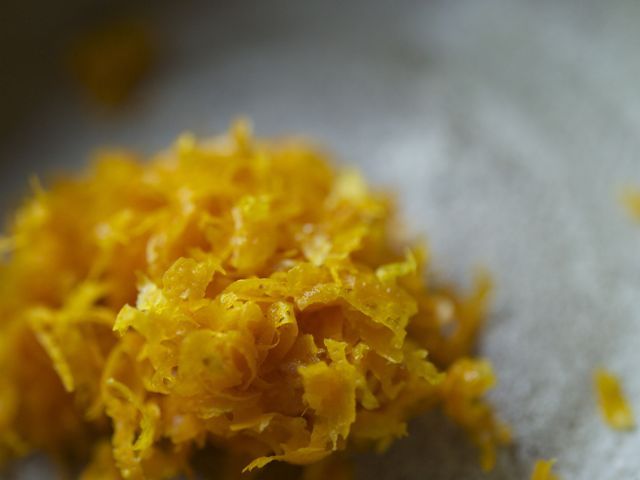 In addition to strawberries and apples, oranges, raspberries, grapefruit, ginger, vanilla and almonds also go beautifully with rhubarb. Have you made my
rhubarb chutney
? It's laden with ginger and spices and pairs insanely well with pork and with cheese.I used honey in this ice cream, and a bit of orange juice and zest, and I have to say, it really did retain a rather pronounced vegetable characteristic. Maybe this is because it was not overloaded with sweetness, or because the rhubarb's distinctive flavor was not masked by a companion fruit. It was...interesting. And good. But in the end, I preferred it paired with a simple sauce of finely chopped fresh strawberries macerated with a little sugar and vanilla. It tasted of my garden, of summer days to come and, yes, just a little of vegetables.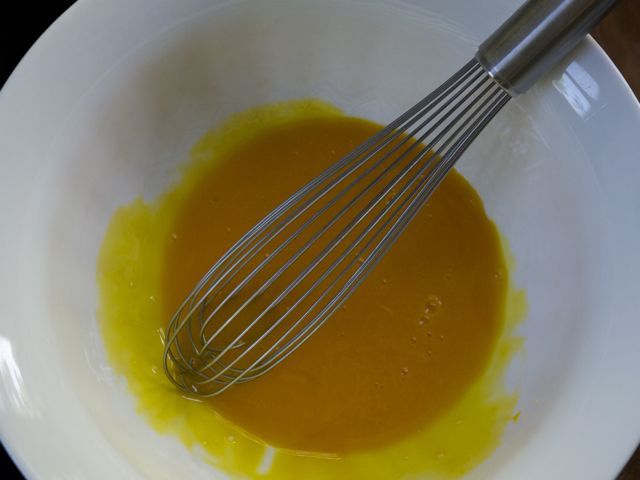 Whenever you make ice cream, opt for the very best quality ingredients: fresh, organic eggs and cream; pristine fruit; organic cane sugar or local honey.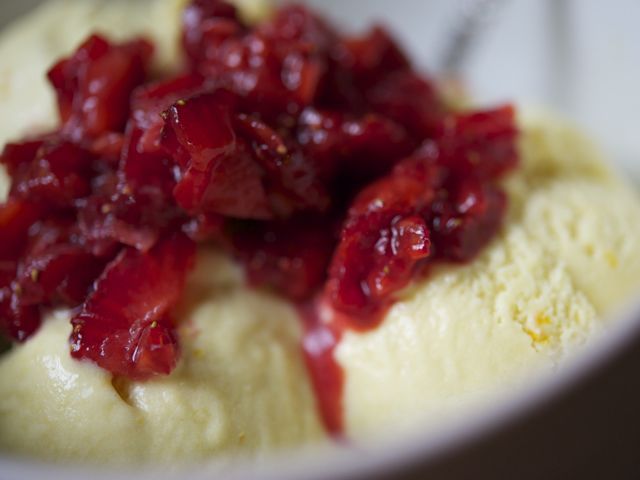 Rhubarb Ice Cream
makes 1 quart
— 1 pound

rhubarb, cut into 1/2" pieces

— 1/4 cup

fresh orange juice

— 1 3/4 cup

heavy cream, divided

— 3/4 cup

whole milk

— 3/4 cup and 2 tablespoons

local honey, divided

— 1 tablespoon

orange zest

—

sea salt

— 5

egg yolks (large), beaten in a medium bowl
In a medium saucepan, combine rhubarb, 2 tablespoons honey and orange juice. Bring to a boil, then reduce heat and simmer for 15 minutes. Puree mixture in a blender or using an immersion blender. Allow to cool, then cover and refrigerate.


In a medium saucepan, combine 1 cup of the heavy cream, milk, honey and a pinch of salt. Place over a medium burner and heat, stirring, until sugar is dissolved and temperature is 175 – 185º.


In the meantime, place a 2-quart mixing bowl in a larger bowl filled with ice.


Slowly pour half of cream mixture into eggs, whisking vigorously to avoid curdling eggs. Whisk egg mixture back into saucepan and return to heat. Cook, stirring constantly, until mixture coats the back of a spoon (if you draw your finger through it the line will remain).


Pour remaining heavy cream and rhubarb mixture into the bowl on ice. Strain custard through a fine mesh sieve, adding it to cream-rhubarb mixture and stir to mix thoroughly. Add cold water to ice in outer bowl, and allow mixture to cool. Cover and refrigerate until very cold, about 3-4 hours.


Process in your ice cream maker according to directions, and freeze to firm before serving.



Download Recipe