6.10.11
Chow(der) Down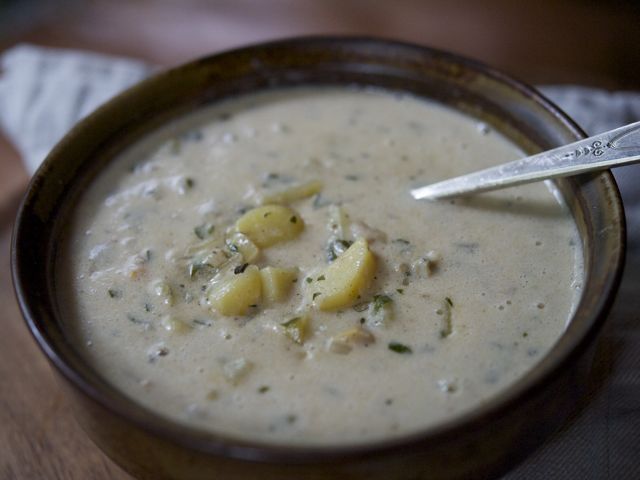 Call me crazy, but in the midst of this heat wave, when the plants themselves seemed to cry out from thirst beneath their green ultrasuede coats of pollen, I got a craving for clam chowder. I guess it was because I happened across a recipe for it on
Tasting Table
("the free daily email for adventurous eaters everywhere"). Also, it's a bit like my own Proustian madeleine, because it takes me right back to my first job as a hostess at Gilda's seafood restaurant on the pier (or the wharf, as it was called) in Santa Cruz. I love the seafood tang against the richness of fresh cream and buttery potatoes, and the hint of salty pork. So there I was yesterday, sweat pouring off me (I had actually closed the kitchen windows in an attempt to keep out the pollen and the dust and noise of the guys working on our roof), temperatures soaring towards 100º, boiling potatoes and steaming clams. And then, you'll never guess—the skies began to darken, the ominous rumble of thunder approached from a great distance, a breeze kicked up and suddenly it was pouring. By evening the air was clean and cool, perfect chowder weather.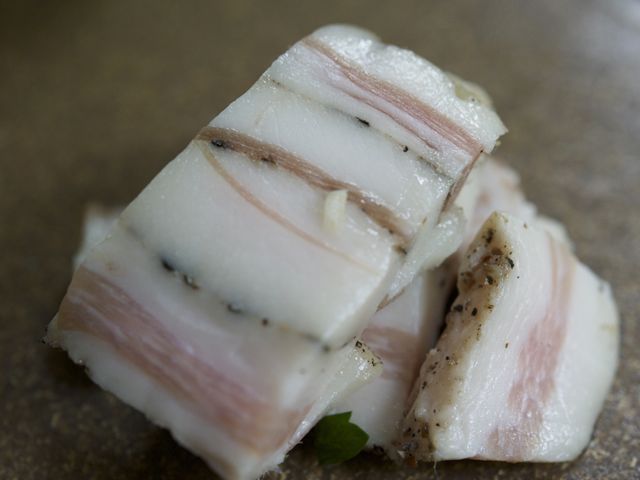 Traditional chowders are thickened soups, often featuring seafood and/or vegetables. The New England clam version is cream-based, as opposed to Manhattan-style which has tomatoes. I don't think I've ever had a really good version of the latter, so may experiment with that at some point. But my heart lies with New England clam chowder. A secret ingredient is salt pork; it adds a note of umami, rich and salty. Salt pork is really just unsmoked bacon. I didn't have any on hand, so I used guanciale, which is cured, unsmoked pig's jowl. You could use pancetta, and even smoked bacon wouldn't do much harm. At the end of cooking, you pull it out so you're not chewing on large gobs of fat; it's really about the flavor.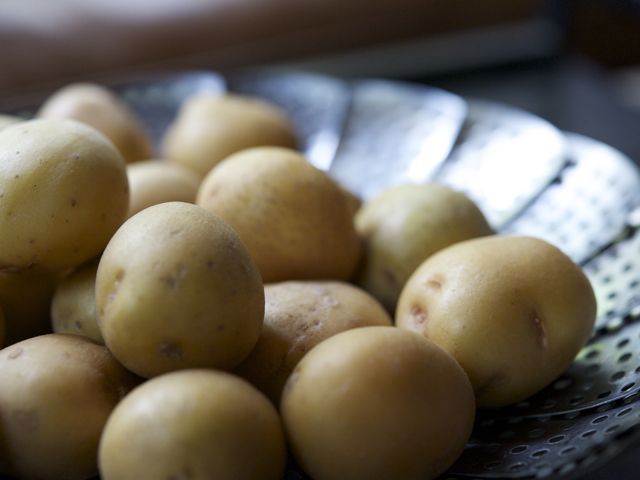 Making a proper chowder requires a few steps, but it's so worth it. First, you have to peel and boil the potatoes. Then you have to steam and chop the clams; make the roux (just a little butter and flour stirred together); and heat the cream. Yes, you'll get a few pots dirty, but that first bite is nirvana.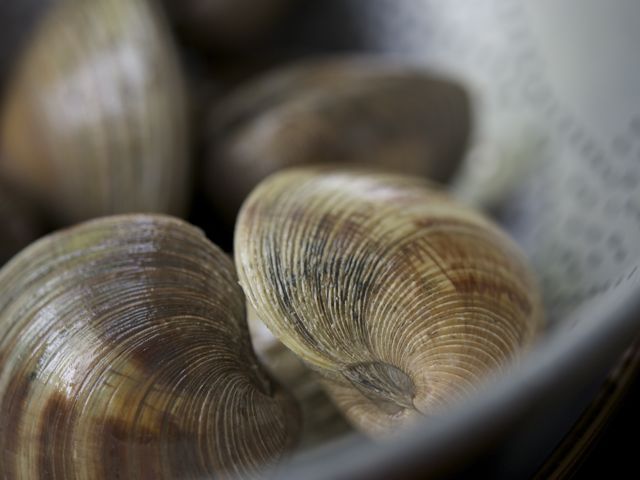 Cherrystone clams are called for in this recipe, but they weren't available at my fishmonger so I used a slightly larger local clam. I'm usually not a big fan of the clam. I like the flavor but that gummy chew really gets me down. For this chowder, you steam the clams and chop them up, thereby bypassing the having-to-chew-a-hockey-puck syndrome.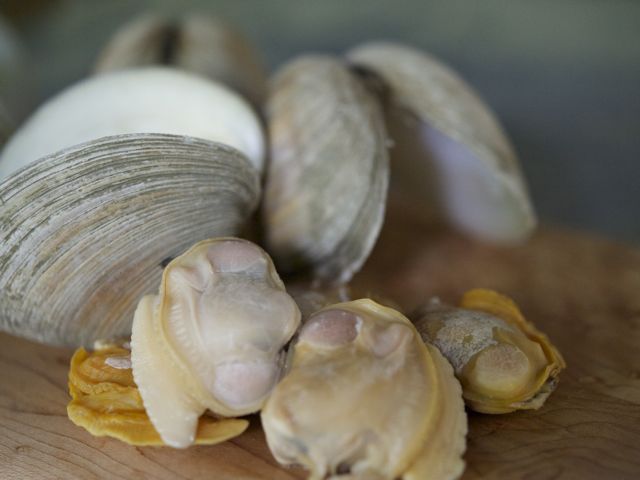 Serve your chowder with crunchy little oyster crackers or homemade buttermilk biscuits. From far off, you'll hear the cry of gulls and the nostalgic moan of a foghorn.
Clam Chowder, New England Style
from Michael Kornick of Chicago's Fish Bar
serves 8 to 10
— 1 1/2 quarts

heavy cream

— 2

garlic cloves, minced

— 1

Spanish onion, chopped (about 2 cups)

— 3

celery ribs, chopped (about 1 cup)

— 4 ounces

salt pork or unsmoked bacon, sliced into 3 long strips

— 20

Cherrystone clams, or other meaty clams

— 1/4 cup

all-purpose flour (gluten-free is fine)

— 6 tablespoons

unsalted butter, divided

— 1 pound

new or Yukon gold potatoes, peeled

— 1/2 cup

parsley, chopped

— 2 tablespoons

thyme leaves

—

salt and freshly ground black pepper

—

cayenne pepper
Bring a large stockpot full of salted water to a boil. Add the potatoes and boil until tender, about 13 minutes or less depending on size. Drain the potatoes and let them cool slightly, then dice and set aside.


In a small saucepan, melt 2 tablespoons of the butter over medium-low heat. Whisk in the flour and cook, whisking frequently until thickened, about 4 minutes. Set the roux aside.


Fill a large stockpot (can be the same one you used for the potatoes) with enough water to come 1?2" up the side. Add the clams and cover the pot. Turn the heat to high and cook until the clams open, about 12-14 minutes. Remove the clams from the pot and strain the remaining liquid. Reserve the clams and strained liquid separately. Let the clams cool for a few minutes, then pull the meat from the shells and dice into small cubes. Place the diced clams in a bowl, cover with foil and set aside.


In a large stockpot (I kept using the same one), melt 4 tablespoons of the butter over medium-low heat. Add the salt pork and cook until brown and crispy, about 4 minutes. Stir in the celery, onion and garlic and cook until the onion is translucent, about 5 minutes.


Meanwhile, heat the cream in a medium saucepan over medium heat until just below a boil.


Add the parsley, thyme and reserved clam broth to the onion mixture and bring to a boil. Gradually whisk the roux into the broth mixture. Once all the roux is added, stir in the hot cream. Bring the chowder to a boil, then quickly reduce to a simmer. Remove the salt pork and season to taste with salt, pepper and cayenne pepper. Stir in the reserved potatoes and clams and serve hot.



Download Recipe