5.5.11
Condimental: Salsa Lessons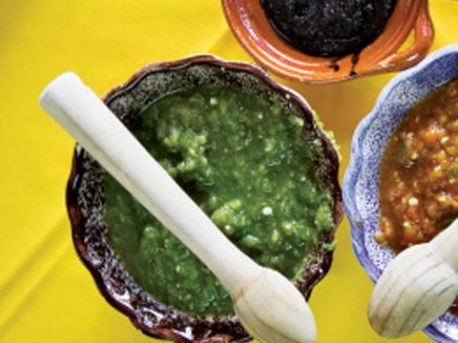 It's hot and rainy here in Indonesia, and so far I haven't managed to do more than catch up on sleep and wander around the hotel. Any hopes I had of going sight-seeing with G were dashed the moment I clapped eyes on his leg: scarily mottled and swollen, his toes like little sausages. Not to mention the 8" incision through which they inserted two titanium plates and seven screws. I'll venture out into the city on my own eventually but for today, the 5th of May, I'm content to do a little armchair traveling to another part of the globe: Mexico. It's
Cinco de Mayo
,
not
Mexican Independence Day as so many seem to believe (that's September 6th), but a date observed in the United States as a celebration of Mexican heritage and pride, and in one part of Mexico as a commemoration of the army's unlikely 1862 victory over French forces at the Battle of Puebla. If you lack the time or inclination to make something like my mother's
chile relleno casserole
or my
green chicken enchiladas
, but still want to skew south of the border, maybe you'll try one of these salsa recipes from
Saveur
magazine. (This month's issue is devoted to Mexican cuisine.) 
Salsa
simply means "sauce," and variations extend well past the fresh-tomato-onion-chile-cilantro
pico de gallo
we all know (and love) so well. They're quick and easy to throw together, pack a huge punch of flavor and are endlessly versatile. Beyond scooping them up with tortilla chips, you can serve them with grilled chicken or fish, stir them into scrambled eggs, spoon them into quesadillas, or whip them into mayonnaise to slather on fresh seafood or a steak sandwich.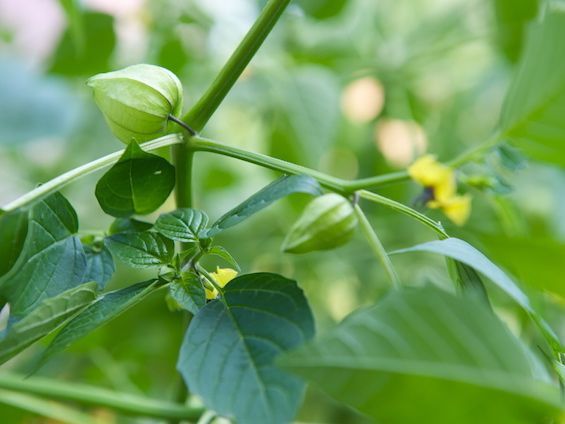 Tomatillos—not tomatoes at all, but related to gooseberries—have a tart, fresh taste that makes a bright, citrusy salsa. It pairs beautifully with chicken, cheese and seafood. You can also use it dress a cabbage slaw or an avocado salad.Big note: Please remember to handle chiles very carefully. Their skin and seeds exude a powerful oil that can be very painful on the lips or in the eyes. Many people like to use rubber gloves when handling chiles. I find that with careful knife work and tongs I can avoid touching anything, but this requires some practice.SALSA VERDEmakes 1 ½ cups 1⁄2 lb. fresh tomatillos1 garlic clove, peeled and chopped4 fresh serrano chiles, stemmed and choppedsea salt2 tablespoons minced white onion2 tablespoons roughly chopped fresh cilantroRemove papery husks from tomatillos, rinse and quarter. Place in a blender or food processor with garlic, chiles, a pinch of salt, and 1⁄3 cup water. Pulse until finely chopped.Transfer to a bowl and stir in onions and cilantro. Season with salt.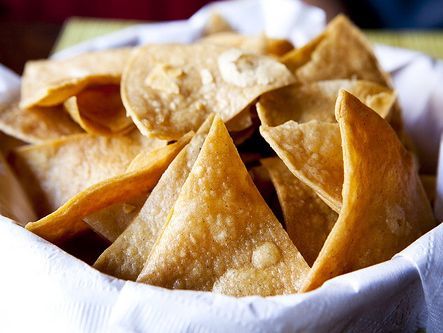 The juices released when you broil tomatoes are incorporated into this red salsa. It's slightly smoky sweetness is excellent with tortilla chips, but is also perfect for a Mexican-style shrimp cocktail. SALSA ROJAmakes 1 ½ cups 2 large, ripe tomatoes2 garlic cloves, unpeeled1 large fresh serrano chile, stemmed1 tablespoon roughly chopped fresh cilantropinch of sugarsea saltPreheat broiler. Place tomatoes on a baking pan lined with aluminum foil. Char, turning to blacken all over, about 15 minutes.Heat a cast-iron skillet over medium heat. Add garlic and chile, and toast, turning frequently, until soft, 10–15 minutes. Set aside to cool.Peel garlic, then place in a blender or food processor with chile and pulse until chopped. Core tomato (blackened skin will lend a slightly smoky flavor), add to purée, and pulse until blended. Transfer to a bowl. Stir in cilantro and sugar. Season with salt.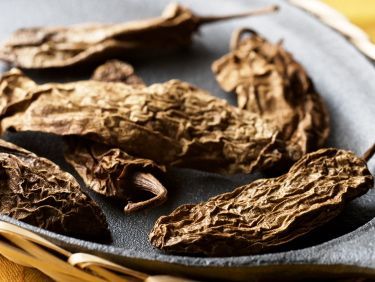 Chipotles are smoked and dried jalapeño chiles that have a very spicy, complex flavor. Try a little of this intense black salsa stirred into hot rice or drizzled over caramelized grilled pineapple. Whip a few teaspoons into mayonnaise to make the rich sauce found in restaurants in Veracruz, where it's used as a dip for grilled or poached shrimp, lobster and crab claws.SALSA NEGRAmakes 1 ½ cups 3 oz. dried chipotle mora chiles7 tablespoons vegetable oil12 garlic cloves, peeledsea saltRinse chiles. Heat 3 tablespoons of the oil over medium heat in a cast-iron skillet. Add chiles and garlic and cook, stirring, until chiles are puffed and garlic is brown, about 5 minutes. Transfer chiles to a bowl; set garlic aside.Soak chiles in hot water until soft, about 15 minutes. Drain, and carefully remove stems, veins, and seeds. Purée chiles, garlic, and 2 cups water in a food processor or blender. Heat remaining 4 tablespoons oil in skillet over medium heat. Add chile purée and cook, stirring with a wooden spoon, until mixture begins to stick to pan, about 10 minutes. Season with salt. CHIPOTLE MAYONNAISEmakes 1 cup1 cup mayonnaise4 teaspoons Salsa Negra1 garlic clove, peeled and mincedjuice of 1 limeIn a medium bowl, whisk the Salsa Negra, garlic and lime juice into the mayonnaise. Refrigerate to chill and allow flavors to meld. Can be stored in fridge for up to 1 week.