5.24.11
Cookbook Review: Super Natural Every Day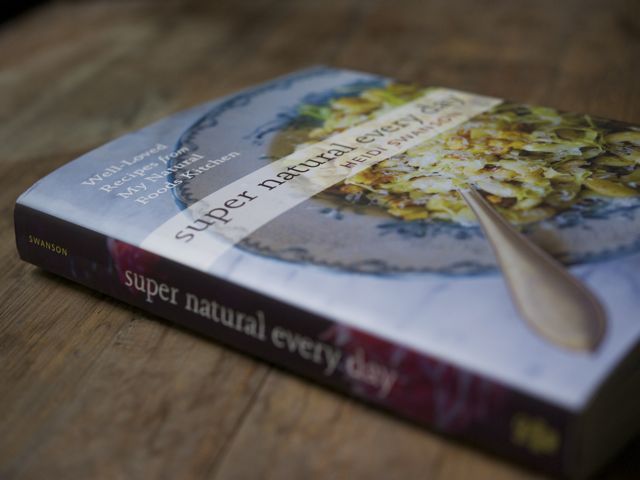 Much has been said already about Heidi Swanson, a talented writer, photographer and designer with a popular blog,
101 Cookbooks
, and cookbook,
Super Natural Cooking
. With its gorgeous visuals and original approach to healthy eating, her blog really inspired me to create my own. It helped me realize that there is an audience out there of people eager to forgo fast foods and trendy diets in favor of sophisticated cooking with whole foods. Heidi's got a great aesthetic, an earthy NoCal sensibility and a soulful approach to living. She's vegetarian but not in a preachy way, and many of her recipes are easily adapted to include meat (or chicken or fish). She likes bright flavors, seasonal produce and ethnic cuisines. In short, a girl after my own heart. So it was with great pleasure that I received a review copy of her new cookbook,
Super Natural Every Day: Well-Loved Recipes from My Natural Foods Kitchen,
already highly acclaimed in the blogosphere and climbing the ranks at Amazon and on 
The New York Times'
bestseller list.
It's a beautifully photographed compendium of her favorite everyday preparations, most of them pretty quick and easy.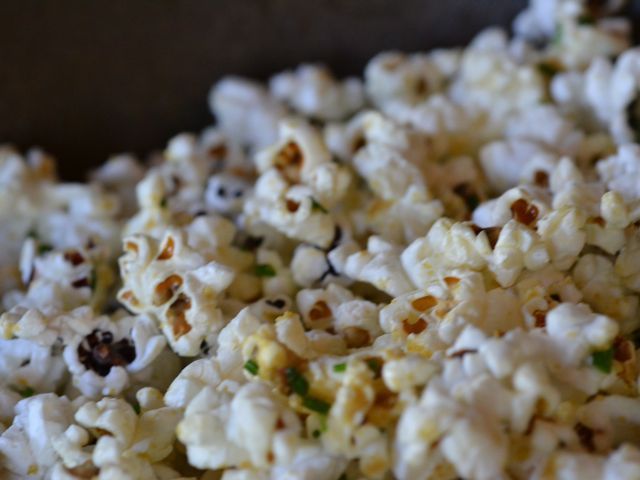 Looking for a quick snack fix one afternoon, the first recipe I tried from Heidi's book was for popcorn—popped in olive oil and tossed with Dijon mustard, salted butter and fresh herbs. Simple, yes, but also a new combination for me and wonderfully savory (and addictive).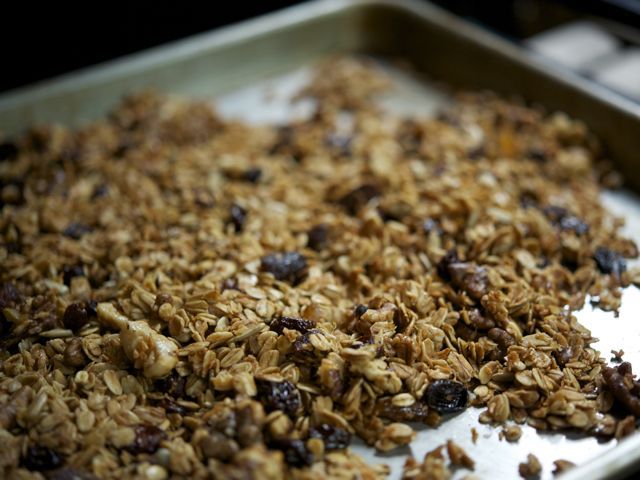 Next I tried her granola with walnuts and orange zest. It calls for currants, but I used some beautiful dried strawberries I had on hand. I've been enjoying the pleasantly sweet, toasty and crunchy results with fresh raw milk from the farm and with my beloved labne.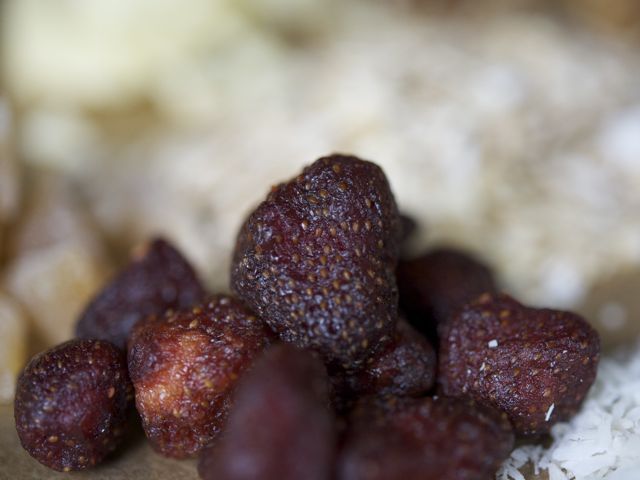 One of my favorite things about Heidi's cooking is that she uses lots of fresh vegetables, whole grains and minimally processed sweeteners, like maple syrup and honey. Since we're gluten-free however, her abundant use of pasta, whole wheat and bread makes a number of the recipes off limits. Plus, I'm not that into eating a lot of baked goods like muffins and scones. That said, this lovely book is full of nutritious one-dish meals and some great-looking snacks and drinks, and the few things I've made thus far have been memorable. If you're looking to incorporate less meat and more whole grains into your diet (and I know you are!) this is a good choice for your cookbook collection.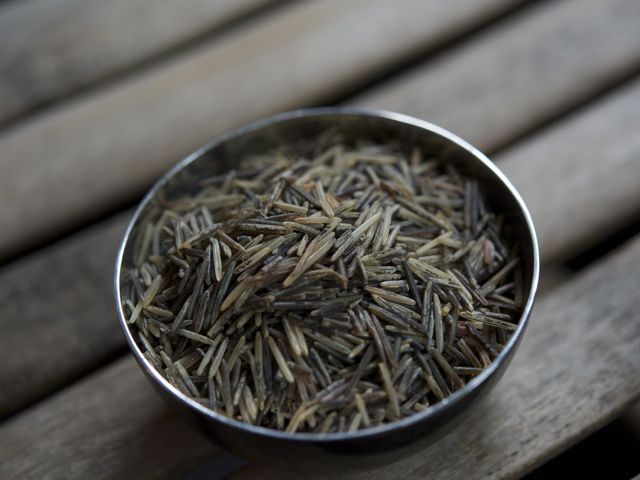 Heidi's first book,
Super Natural Cooking
, is a wonderful introduction to alternative grains, like amaranth, quinoa and millet. In the new one, I found an interesting recipe for a Wild Rice Casserole. I've never really cooked with wild rice, but I happened to have some on hand that I had ordered
here
. You sautee some mushrooms and onions, stir them into cooked wild rice along with some cottage cheese, top it with a sprinkling of Gruyere and bake. The finished dish was hearty but not heavy and, with some cooked greens or a big salad, would make a great weeknight dinner.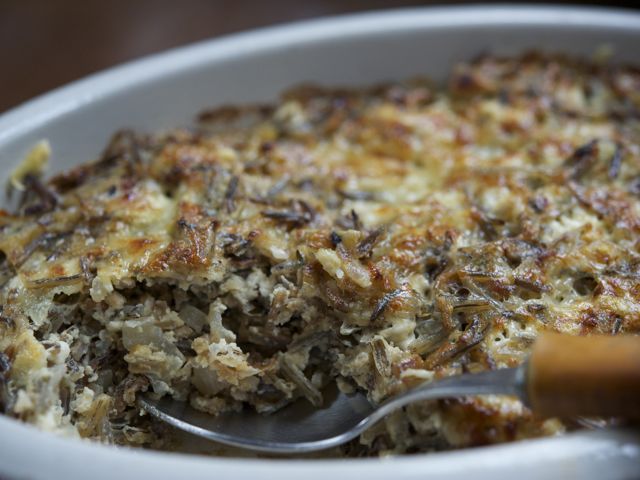 There are nearly 100 recipes in the book, so I've scarcely scratched the surface, but I can say I'll be going back time and again for buttery oatmeal baked with berries and bananas; soba noodles with black sesame paste; and sparkling panakam with fresh lime juice and cardamom.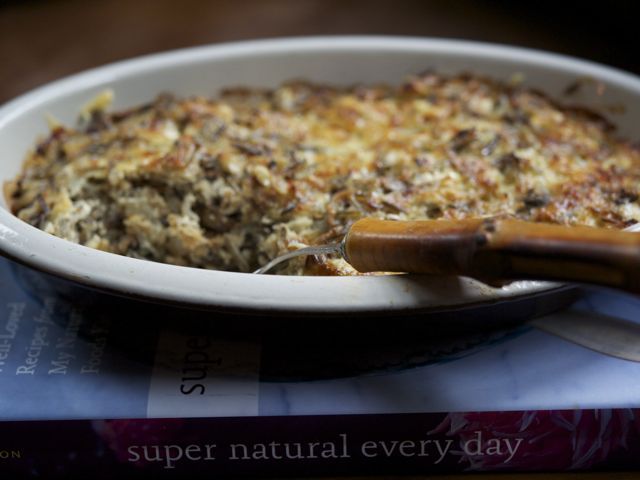 Reprinted with permission from
Super Natural Every Day: Well-Loved Recipes from My Natural Foods Kitchen
by Heidi Swanson, copyright © 2011; published by Ten Speed Press, a division of Random House, Inc.
Wild Rice Casserole
serves 6
— 3

cloves garlic, finely chopped

— 1

large yellow onion, finely chopped

— 8 ounces

cremini mushrooms

— 1 tablespoon

extra-virgin olive oil or unsalted butter

—

fine-grain sea salt

— 1 teaspoon

Dijon mustard

— 1/2 cup

sour cream

— 1 cup

cottage cheese

— 2

large eggs

— 3 cups

cooked wild rice and/or brown rice, at room temperature

— 1/3 cup

freshly grated Gruyere cheese

— 1 teaspoon

chopped fresh tarragon or thyme
Preheat the oven to 350º with a rack in the top third of the oven. Rub a medium-large baking dish with a bit of butter or olive oil. The pan I use is slightly smaller than a classic 9 by 13-inch baking dish. Alternatively, you can also use individual baking dishes.


In a large bowl, whisk together the eggs, cottage cheese, sour cream, mustard and a scant ½ teaspoon salt.

In a large skillet over high heat, combine the olive oil with a couple pinches of salt. Stir in the mushrooms. After the initial stirring, leave the mushrooms alone until they release their water and the water evaporates, about 5 minutes. Continue to cook and stir every couple minutes until the mushrooms are browned. Add the onion and cook until the onion is translucent, another 2 or 3 minutes. Stir in the garlic, cook for another minute, and remove from the heat. Add the rice to the skillet and stir until combined.


Add the rice mixture to the cottage cheese mixture, stir until well combined, and turn into the prepared baking dish. Sprinkle with two-thirds of the grated cheese and cover with aluminum foil.


Bake for 30 minutes. Remove the foil and bake for another 20 or 30 minutes, until the casserole takes on a lot of color. If you are in a rush, you can finish it under a broiler for a couple of minutes, but watch carefully so the top of your casserole doesn't burn; it can happen quickly. The finished casserole should be hot throughout and golden along the edges. Serve sprinkled with the chopped tarragon or thyme and the remaining cheese.



Download Recipe