5.23.11
Squid Pro Quo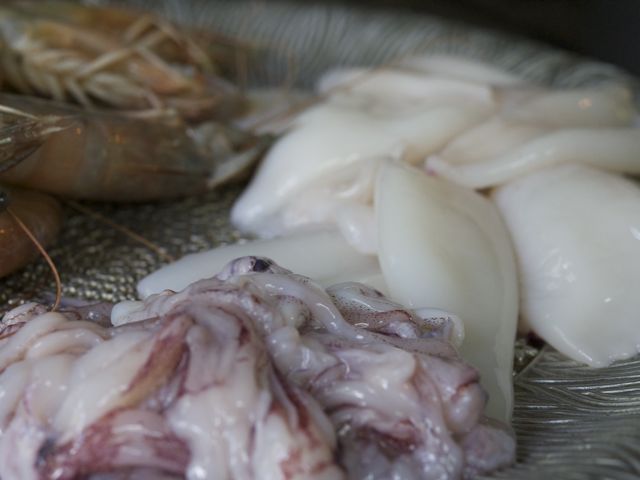 There's no place like home. It may be true that absence makes the heart grow fonder, but returning to a world rendered lush by endless spring rains, to lilacs in bloom, chipmunks underfoot and jubilant birdsong, turned this into an especially sweet homecoming. Jet lag notwithstanding. G, the world's most stoic man, is in considerable pain, not even able to be up on crutches much yet. He's eager to begin rehab and, in the meantime, being from the food-is-love school of cooking, I'm trying to distract him with a steady flow of treats from my kitchen. At first, after a month in Southeast Asia, big green salads were quite the novelty. But the guy loves squid—something I've rarely cooked with—so I decided to attempt the
ne plus ultra
rendering of this sea creature. Even the very squeamish tend to forget all about about gooey tentacles when presented with a plate of hot, crispy, melt-in-your-mouth fried calamari. With a blitz of sea salt and a spritz of lemon juice, what's not to like? And when I came across a recipe recently on
Food52
from the venerable
Mrs. Larkin
, I decided to give it a go. Some friends were coming over for a visit, and I thought it would be just the thing to serve with a nice cold glass of local riesling.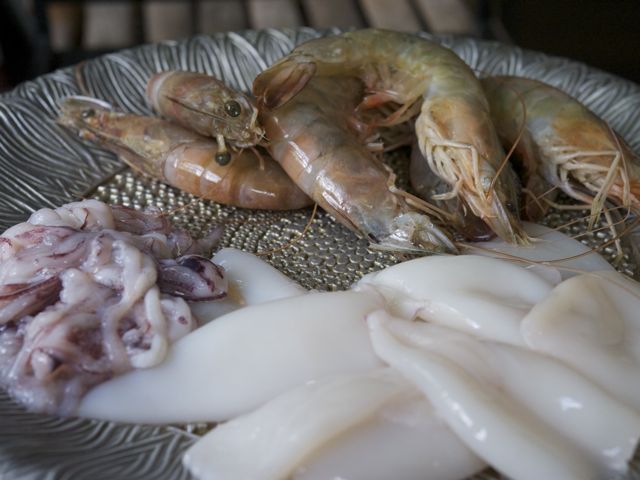 I wasn't wrong. It was a big hit all around. It's a little scary at first, and a little messy, but trust me, you can do this. Once you get going, it all happens rather fast, and you need to scarf down those piping hot nuggets right away so, guess what? No photos. I might have been able to get G to snap a few but he was too busy stuffing his mouth (and putting his leg up). So you'll just have to imagine a big platter of golden, perfectly rendered fried rings and tentacles next to thin slices of fried lemon and a pile of fried parsley.

Do you have fear of deep frying? Get over it. And if it's calories you're worried about, fuggedaboutit. The moisture in the food actually repels the oil. As long as the oil is hot enough (around 350º) and the food is not in it for too long, the oil will be confined to the outer surface. Because of the gluten-free thing, I used rice flour instead of the all-purpose in this recipe. A combination of that and masa harina (or you can use fine cornmeal) created a very thin, lightly crispy coating that was nothing like that bready, shaggy stuff you often get in cheapo restaurants. Although frying the parlsey and lemon is optional, I think you should go for it. Both were delicious, but the parsley especially was a revelation. And aside from salt and lemon you don't really need any condiment, but I could see how some homemade mayonnaise or even some Tabasco could be quite nice.

Fried Squid (Calamari), Lemon & Parsley
lightly adapted from Mrs Larkin on Food52; serves 4 as an appetizer
— 4 cups

high-heat neutral vegetable oil (like peanut or safflower)

— 1 pound

cleaned small calamari (squid), tubes and legs, rinsed well and drained

— 1 cup

rice flour (or substitute all-purpose)

— 1 cup

masa harina, or fine cornmeal

— 1 handful

parsley leaves, clean but well dried

— 1 large

lemon, thinly sliced

—

sea salt

—

lemon wedges
Over medium-low heat in a medium stock pot, heat oil to 350º. (A candy thermometer is very useful here.) Slice squid tubes into ½" rings. Set aside. Mix flour and masa harina in a medium bowl. Set aside.

When oil has reached temperature, carefully and quickly drop some parsley leaves in the oil. Stand back as they will sputter and hiss like hell. Wear long sleeves and use a splatter screen, if you have one. Fry in small batches for a few seconds and remove parsley with a spider strainer or slotted spoon to a paper towel-lined cooling rack.
Dredge lemon slices in flour mixture. When oil comes back up to temperature, shake off excess flour and fry lemon for a minute or so, until just beginning to brown. It's important not to crowd the pan, so do this in batches if you need, letting the oil come back up to temperature each time. Remove fried lemon to the paper towel-lined cooling rack.
Dredge a small handful of calamari rings and legs in the flour mixture. Shake off the excess and, using the spider strainer, gently lower the calamari into the hot oil, making sure to separate the pieces. Fry for about 2 minutes, or until golden and crispy. Remove to the paper towel-lined cooling rack. Season right away and generously with salt. Repeat with the remaining calamari. SERVE IMMEDIATELY.

Download Recipe