4.25.11
Meaty Monday: Tender Loin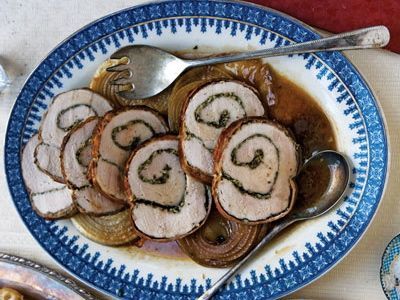 Back from a restful week in Antigua—sadly without G, who is currently climbing palm trees in the Philippines. I went solo to a wonderful Easter lunch at Stephanie's yesterday. Took lots of photos of the beautiful table and the delicious pork roulade, and then promptly forgot my camera! But I'm sharing it with you nonetheless, recipe and photos courtesy of
Saveur
. This was perhaps the best pork loin I've ever eaten, juicy and flavorful, perfumed with herbs and sauced with a savory onion
jus
. The pork came from
Fleischer's
, a fantastic upstate resource for organic and grass-fed meat. Also on the menu: frisée salad with preserved lemon and asparagus tips; pea soup with tarragon; mashed potatoes; roasted carrots; baked Alaska. On a lark, I made some carrot marshmallows with honey, cumin and chile salt. More about those, and photos, later this week.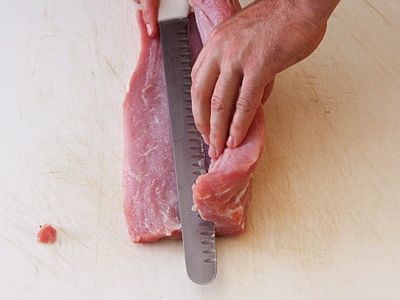 If you don't want to deal with it, you can get your butcher to butterfly the pork loin for you, but it's really not that hard. All you're really doing is creating one flat piece so that you can roll it up.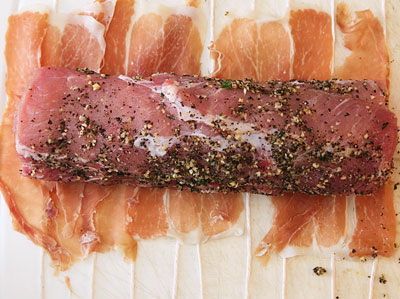 Once you've chopped up the ingredients for the herb paste (garlic, rosemary, sage, lemon zest), you smear it on both sides of the loin. As indicated in the photo, above, lay out lengths of butcher's twine, place slices of prosciutto on top, and then position the rolled loin in the middle.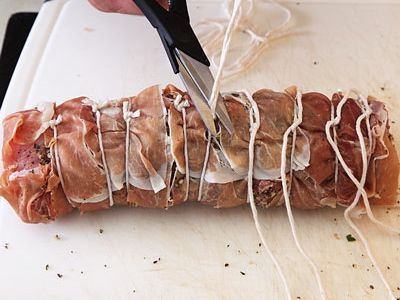 Then you simply tie the prosciutto onto the loin to make a nice, tight bundle. For more explicit instructions and photos, refer to the original recipe
here
.Next, you brown the roulade well and then nestle it over a mess of sliced onions before roasting it to a lovely rich brown. Thinly sliced and topped with the onion
jus
, this makes a homey yet still rather glamorous dish.
ROAST PORK LOIN ROULADE
from
Saveur Magazine
serves 8-10
1 lemon5 tbsp. chopped fresh rosemary25 fresh sage leaves, minced12 cloves garlic, finely chopped4-lb. boneless pork loin, trimmedKosher salt and freshly ground black pepper, to taste12 thin center-cut slices prosciutto di Parma (3 oz.)2 tbsp. extra-virgin olive oil1 large onion, cut into thick ringsHeat oven to 375˚.Zest lemon, slice in half, and set aside. Pile zest, rosemary, sage, and garlic on a cutting board; chop together with a knife until combined; set herb mixture aside.Using a knife, butterfly pork loin. Season both sides with salt and pepper; rub both sides with herb mixture; roll loin. Wrap pork in prosciutto; tie with kitchen twine.Heat oil in a 12" skillet over medium-high heat. Cook pork roast, turning occasionally, until browned on all sides, about 12 minutes. Transfer pork to a plate. Nestle onion slices in skillet and pour in 1⁄2 cup water; put pork on top of onions. Roast, basting occasionally with pan juices, until an instant-read thermometer inserted into middle of roast registers 140˚, 45–50 minutes. Transfer pork to a cutting board; let rest for 20 minutes. Slice pork; transfer to a platter along with onions. Squeeze juice of reserved lemon into skillet; whisk. Serve pan juices with the pork and onions.