4.11.11
Meaty Monday: A Passover Classic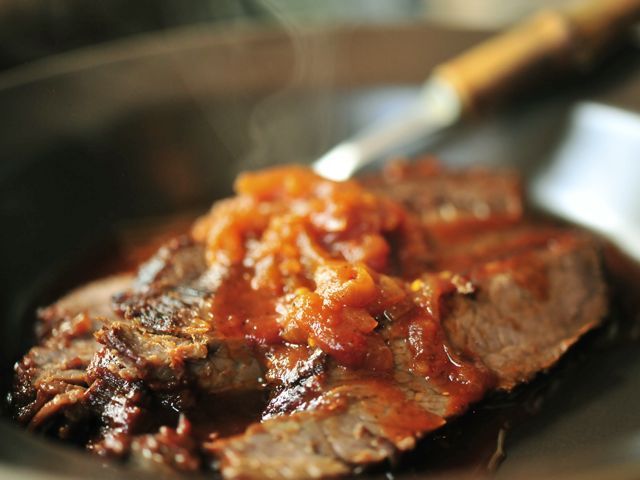 Passover is coming up next week, and more than one person has already asked me for a good brisket recipe. It's a classic Jewish holiday dish, especially among the Ashkenazi, perhaps simply because it's economical and delicious. It's also incredibly easy to make, and turns out best if you braise it, especially if you're using a "first cut" which has less fat. Passover, for the goyim among you, commemorates the story of the Exodus, in which the Israelites were freed from slavery in Egypt. Because the Jews had to flee quickly—is there any other way?—matzoh (unleavened bread) is eaten to remind us that there was no time for the bread to rise. This does not explain why brisket, which requires such long cooking, is also on the menu. Beef jerky would really be more like it. Anyway, this recipe comes from Martha Stewart, who is most definitely not of the tribe, but knows her way around a good pot roast.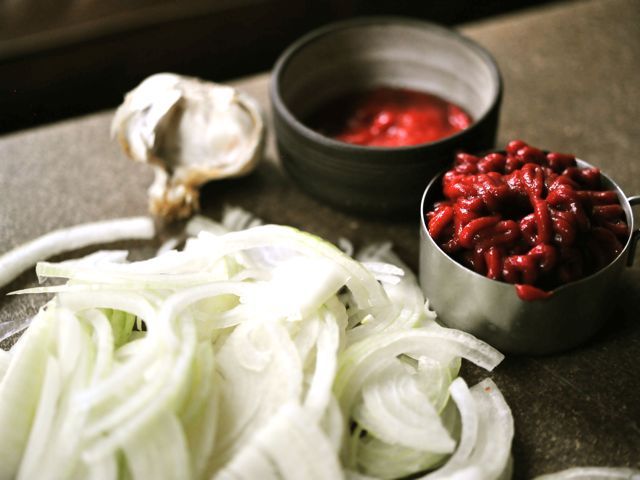 I love that this is a one-pot meal—if your Dutch oven is big enough to accommodate such a large cut of meat. Mine was not, so I seared it in a big skillet and transferred it to a casserole before baking. Either way is just fine. Once it's seared on both sides, you whisk together some strongly flavored ingredients—hot coffee, Worcestershire sauce, honey, ketchup, chile sauce, soy sauce and garlic—for a sweet-sour brew that coats the meat. I added a bunch of sliced onions to this recipe, because I like both the flavor and the body they add to the sauce. I use my own
homemade ketchup
(still have some left from last summer's batch) and I encourage you to make some, or at least avoid the high-fructose-corn-syrup-laden major brands in favor of something more artisanal. I did not have chile sauce on hand, so used 1/4 cup spicy Sriracha and a few tablespoons of tomato paste. It came out a bit too hot, so I would go easy on the Sriracha. (I toned it down by adding chicken stock and some tomato sauce.)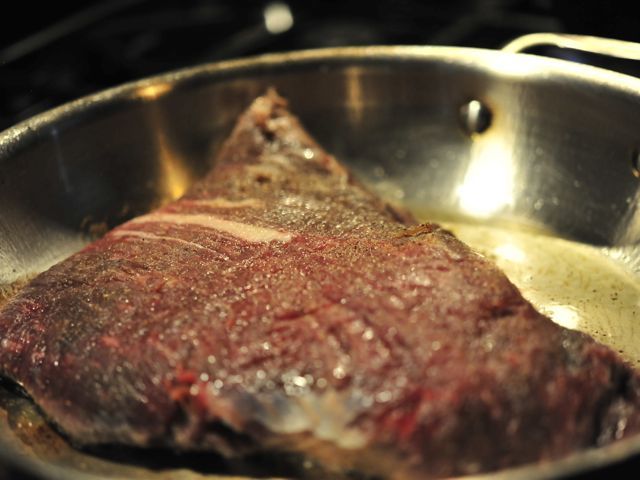 Once you've browned the meat, cook the onions in the fat, scraping up any brown bits. If you're not using just one pot, you might want to add a splash of water to the onions so none of the good caramelized bits are left in the skillet when you change pans. Then you just lay the meat on the bed of onions, smother the whole thing in sauce, cover it (with a lid or foil) and slide it into the oven. You flip it once, and it's done in about 3 hours.
Latkes
would be a typical (and delicious) accompaniment, and don't forget some fresh horseradish sauce on the side. Something green would not go amiss here. Gobs of spinach or a big, crisp salad, while not necessarily traditional, would add a little yang to the yin.
Brisket with Coffee Glaze
adapted from Martha Stewart
serves 6-8
— 3 pounds

humanely raised beef brisket (first-cut)

—

sea salt & freshly ground black pepper

— 2 tablespoons

mild olive oil

— 1

large yellow onion, peeled and thinly sliced

— 1/2 cup

freshly brewed black coffee

— 1/2 cup

ketchup, preferably homemade

— 1/2 cup

chile sauce

— 1/2 cup

honey

— 1/3 cup

Worcestershire sauce

— 2

garlic cloves, minced

— 1 tablespoon

soy sauce

— 1 tablespoon

Sriracha (hot chile sauce), optional
Preheat oven to 325º.


Season brisket with salt and pepper. In a large Dutch oven over high heat, warm oil. Add brisket, fat side down, and cook until well browned on both sides, 4-5 minutes each. Remove brisket to a plate and add onions, sautéing until golden. Turn off heat and replace brisket on top of onions.


In a small bowl, combine coffee, ketchup, chile sauce, honey, Worcestershire sauce, garlic, soy sauce and Sriracha, if using. Pour over brisket.


Cover and bake in oven, flipping halfway through, until meat shreds easily with a fork, 2 ½-3 hours. Remove from oven. To serve, slice brisket against the grain, drizzle with sauce and pass the extra.



Download Recipe