3.7.11
Meaty Monday: Corned Beef with Vegetables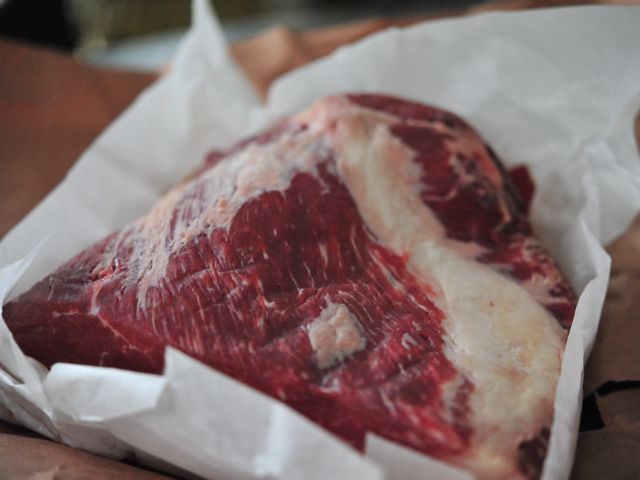 You don't have to be Irish to love corned beef. Eastern European Jews are great connoisseurs of all manner of boiled meat, and New York deli is renowned for its sandwiches piled high with thin slices of this pink, juicy meat. But St. Patrick's Day is coming up a week from Thursday, and that gives you plenty of time (you only need about 5 days, which means you should get started by Saturday at the latest), and the perfect reason, to make your own this year. In its original, peasanty guise, this traditional fodder is as much about the vegetables: turnips, rutabagas, carrots, onions, parsnips, cabbage and plenty of spuds, of course. Not to mention delicious mustards and horseradish sauce. It's a dish meant to usher in spring by using up all those roots stored for the winter. The date for celebrating St. Patrick—a 5th-century English missionary who converted a load of pagans to Christianity—fell during the fasting season of Lent, but prohibitions against eating meat were lifted so the Irish could celebrate their patron saint with dancing, drinking and feasting on the traditional meal of Irish bacon and cabbage. If you make a big hunk of meat, you can share it with lucky friends, or hoard it to make such delectable offshoots as red flannel hash (with beets) and Reuben sandwiches (with homemade sauerkraut).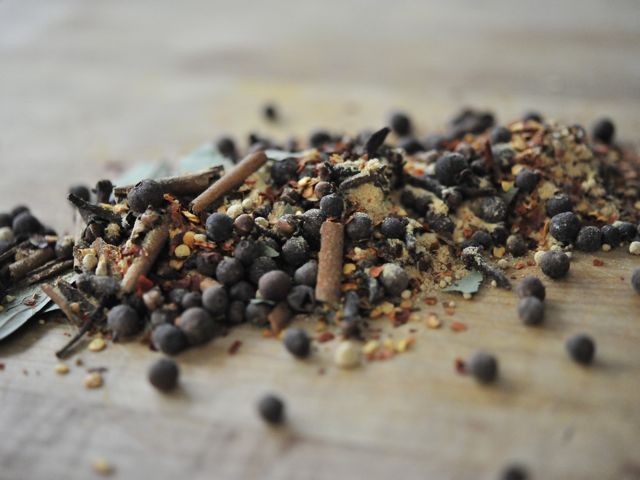 Corning means to preserve something in a salty brine; corn was a generic term for grain and, in this instance, refers to the coarse grains of salt used for curing. In the days before refrigeration, it was an essential process for storing meat, especially from large animals like cows. Any cut of beef can be corned, but a tougher, well-marbled brisket is the ultimate choice. The recipe below, adapted from Michael Ruhlman and Brian Polcyn's Charcuterie, calls for you to brine the meat for 5 days. The brine is flavored with a rich mix of aromatic spices, including whole clove, black pepper, coriander, mustard, bay leaf, allspice, red chile, cinnamon and mace.
Mace is the bright red, lacy covering (the "aril") of the nutmeg seed shell. Because the yield of mace is much less than that of the seed, it's more highly valued. A pile of fruit large enough to make one hundred pounds of nutmeg produces just a single pound of mace. This outer covering is removed and broken into parts known as "blades." As it is dries, it loses its bright red color and develops a sweet fragrance and a warm, sharp and highly aromatic flavor, more intense and slightly sweeter than nutmeg. The best quality mace will retain some pliability and release a little oil when squeezed. As with all spices, it's best to buy it whole and grind your own. I use my coffee grinder.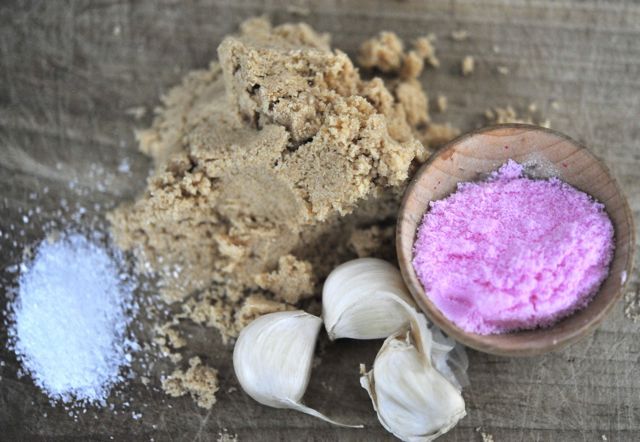 You may want to ask your butcher if he can spare you a little pink salt (you'll need just 6 teaspoons), or order some
here
or
here
. (In New York City, it's available at
Kalustyan's
.) Pink salt is a cooking term for sodium nitrite, a chemical formula used as a color fixative and preservative in meats and fish; it also prevents the growth of
Clostridium botulinum
, the bacterium responsible for botulism. In very high doses, sodium nitrite is actually quite toxic, so it is dyed pink in order to avoid confusion with other substances in the kitchen. Make sure you use it carefully and only in designated amounts.
A common concern about sodium nitrite is the formation of carcinogenic nitrosamines when exposed to high temperatures. However, our bodies are full of nitrites, as much as 93% of which come from green vegetables, including spinach and celery. We naturally convert nitrate into nitrite, which works as a powerful antibacterial agent, particularly in an acidic environment like our stomachs. That said, you can choose to leave it out of the recipe, but your corned beef will not have the pink color, firm texture or precisely the flavor you might be expecting. Which is not to say it won't be delicious. For a more detailed discussion of pink salt, and curing safety in general, see Michael Ruhlman's post for Charcutepalooza
here
.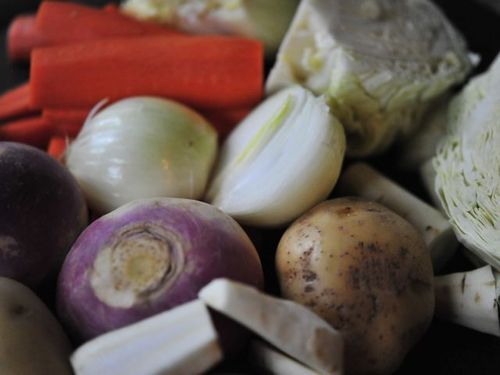 A gorgeous selection of root vegetables gets poached in the beef broth, emerging beautifully tender and nicely flavored from the pickling spices. You can make just potatoes and cabbage, but I encourage you to branch out and incorporate parsnips, carrots, onions, and turnips or rutabagas. You could even add daikon or kohlrabi. Be sure you've got some sharp, grainy mustard on hand, or whip up one or both of these piquant sauces. The demise of winter is nigh, slain by the fair hand of spring.
Corned Beef & Vegetables
adapted from Charcuterie by Michael Ruhlman and Brian Polcyn
serves 8, with leftovers
— PICKLING SPICE:

— 2 tablespoons

black peppercorns

— 2 tablespoons

mustard seeds

— 2 tablespoons

coriander seeds

— 2 tablespoons

hot red pepper flakes

— 2 tablespoons

allspice berries

— 1 tablespoon

ground mace

— 2

small cinnamon sticks, broken into pieces

— 2-4

bay leaves crumbled

— 2 tablespoons

whole cloves

— 1 tablespoon

ground ginger

— BRINE:

— 8 cups

water

— 2 cups

lager

— 1 1/2 cups

coarse kosher salt

— 1/2 cup

light muscovado sugar

— 5 teaspoons (1 ounce)

pink salt, optional

— 3

garlic cloves, minced

— 3 tablespoons

pickling spice

— 4-5 pounds

well-marbled first cut beef brisket

— * * *

— One

12-oz bottle of Guinness

— 3 tablespoons

pickling spice, plus cheesecloth or spice bag

— 3

medium turnips or rutabagas

— 8

unpeeled medium white- or red-skinned potatoes

— 6

medium carrots, peeled

— 4

medium onions, peeled, halved through root ends

— 4

medium parsnips, peeled and cut into 2" lengths

— One

2-lb head of cabbage, quartered
Lightly toast the pepper, mustard and coriander in a hot, dry skillet, then smash them with the side of a knife to crack them. Combine these with the remaining pickling spice ingredients, mixing well. Store in a tightly sealed plastic container or glass jar.


Pour water and beer into a non-reactive container or roasting pan deep enough to contain the meat and brine. Add coarse salt, pink salt and sugar, stirring until dissolved. Mix in pickling spices.


Pierce brisket all over with the tip of a small, sharp knife. Completely submerge brisket in liquid, then top with a heavy platter to weigh it down. (I needed two cans of tomatoes on top of the platter to keep my brisket submerged.) Cover and refrigerate 5 days.


Remove corned beef from brine and rinse well. Then place directly in a very large, wide pot. Add stout and enough water to cover by 1 inch. Wrap pickling spice mixture in cheesecloth or spice bag, enclosing completely, and securing with kitchen string. Place spice bag in pot. Bring just to a boil, skimming as needed, then reduce heat to medium-low, cover, and simmer until beef is tender, about 2 1/4 hours. Transfer beef to large baking sheet. *At this point, you can cool the meat, then wrap in plastic wrap and refrigerate for a couple of days.


Add vegetables to liquid in pot; bring to boil. Reduce heat to medium and boil gently until all vegetables are tender, about 40 minutes. Using slotted spoon, transfer vegetables to baking sheet with beef. Discard spice bag. Return beef to pot and re-warm for 5 minutes.


Cut beef against grain into 1/4-inch thick slices. Arrange beef and vegetables on platter. Serve with Horseradish Cream and Guinness Mustard.



Download Recipe
Horseradish Cream
makes about 1 1/2 cups
— 1 cup

sour cream or crème fraîche

— 6 tablespoons

prepared white horseradish

— 1 tablespoon

finely chopped dill pickle

— 1 tablespoon

chopped fresh chives or green onion
Whisk all ingredients in small bowl to blend. Cover and refrigerate at least 2 hours. (Can be made 2 days ahead.)



Download Recipe
Guinness Mustard
makes about 1 cup
— 1/2 cup

coarse-grained Dijon mustard

— 2 tablespoons

regular Dijon mustard

— 2 tablespoons

Guinness stour or other stout or porter

— 1 tablespoon

minced shallot

— 1 teaspoon

golden brown sugar
Whisk all ingredients in small bowl to blend. Cover and refrigerate at least 2 hours. (Can be made 2 days ahead.)



Download Recipe