2.14.11
Meaty Monday: Heart on Sleeve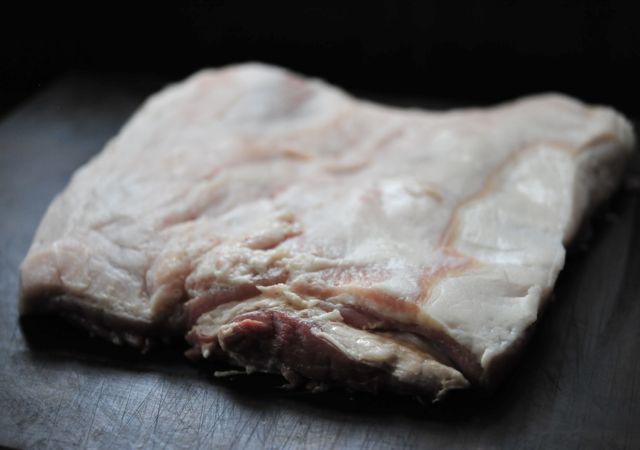 Even though it ends with me cooking dinner for my husband, I believe this to be a feminist post. After committing to joining in the year-long fun at
Charcutepalooza
, I promptly fell behind in procuring and curing the requisite first couple of challenges: duck prosciutto and pancetta. I'm pleased to say that here, today, on Meaty Monday, I can present the results of both completed endeavors.The day I found myself rubbing spices into 5 pounds of fresh pork belly, I happened to be tuned into Terry Gross'
Fresh Air
interview
with historian Stephanie Coontz on the subject of her new book about revisiting Betty Friedan's seminal "The Feminine Mystique." Friedan's book, published 47 years ago, ignited the contemporary women's movement, appealing to all those busy and domestically accomplished stay-at-home moms who were mystified by their utter despair and unhappiness. Cut to 2011: I am standing in my kitchen in the middle of a weekday, contentedly massaging a piece of meat with freshly ground nutmeg and feeling no pain. As we post-feminism feminists understand, it's all about choice.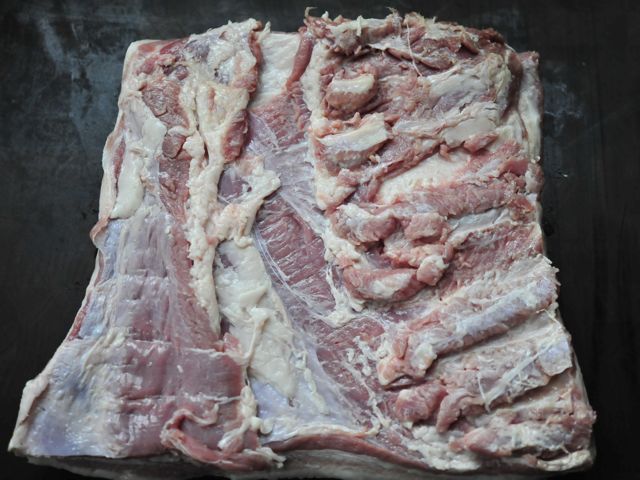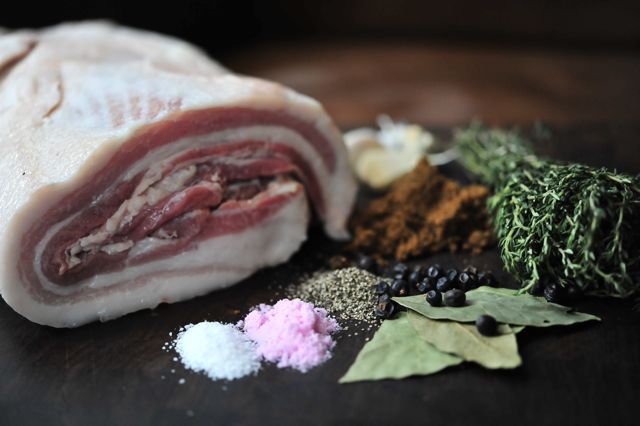 One of the great things about abandoning city life to become a country bumpkin is that I am not distracted daily by shopping, lunch out, the gym, errands and socializing like I once was. These are things I still enjoy, but they have taken a back seat to more writing, more yoga, more cooking and experimenting in the kitchen, more nature, more introspection. It's ironic that many women of our mothers' generation were pining to get out of the kitchen, and so many of us are obsessed with getting back into it. Anyway, you get the point. So on with the charcuterie.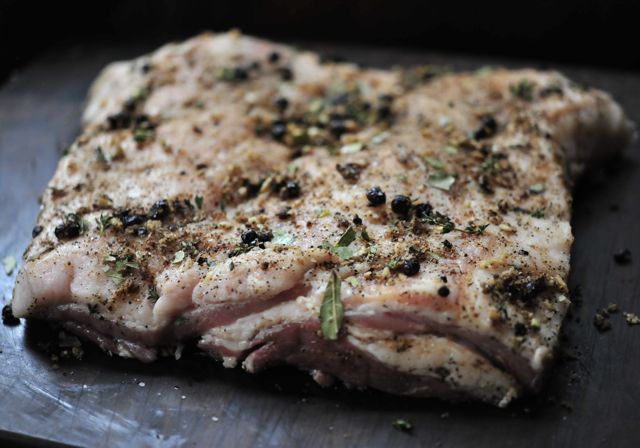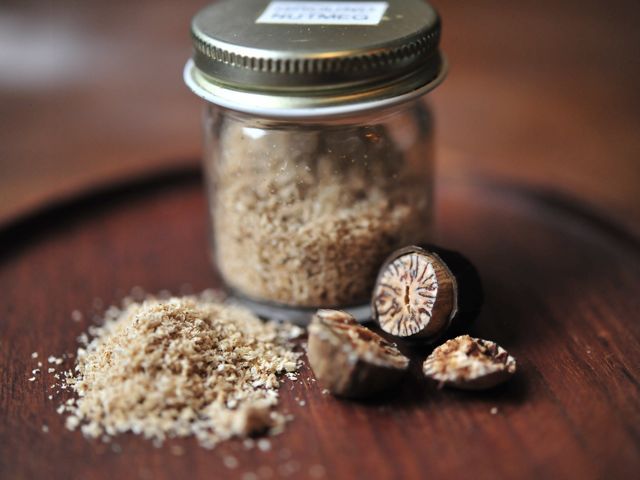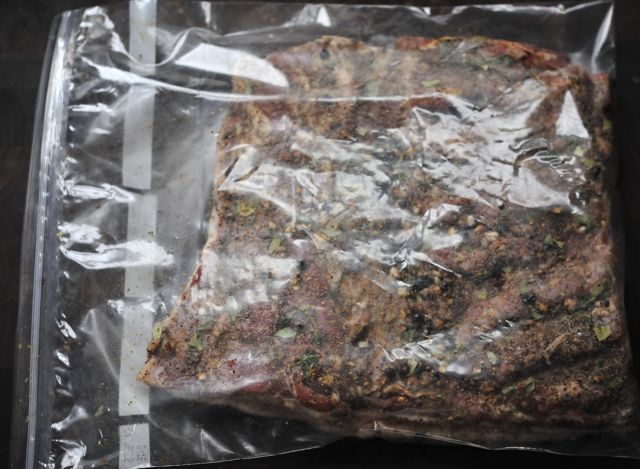 Jake
Dickson
told me that my pork belly came from a pig that had been raised on a diet of acorns at its Hudson Valley farm, so the fat might be slightly softer. In the end, I wound up curing the belly for 10 days instead of a week. Was it because of this? Not sure, but maybe.Here comes the embarrassing part: I couldn't figure out how to properly tie the pancetta. I rolled it beautifully but when it came to getting those butcher's knots going, I was a total flop. I even watched a couple of how-to videos, but they kept going too fast and I just couldn't get it. Have you figured out yet how much of a perfectionist I am? Well, this failure was challenging for me. In the end, I was grateful to read in our guiding tome, Michael Ruhlman and Brian Polcyn's
Charcuterie
, that it's permissible to wrap the belly in cheesecloth and hang it flat. So that's what I did. But I was too ashamed to take pictures of it. I wound up creating a sort of truss out of kitchen string and hanging it in our "basement" (pretty close to a root cellar) where the temperature seems to hover around 53 degrees. It worked out!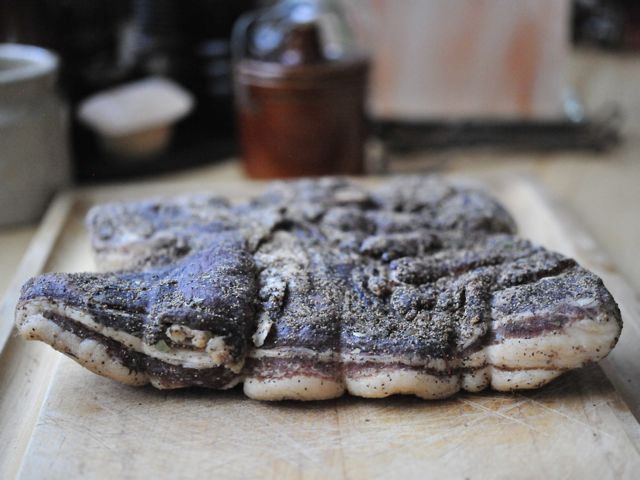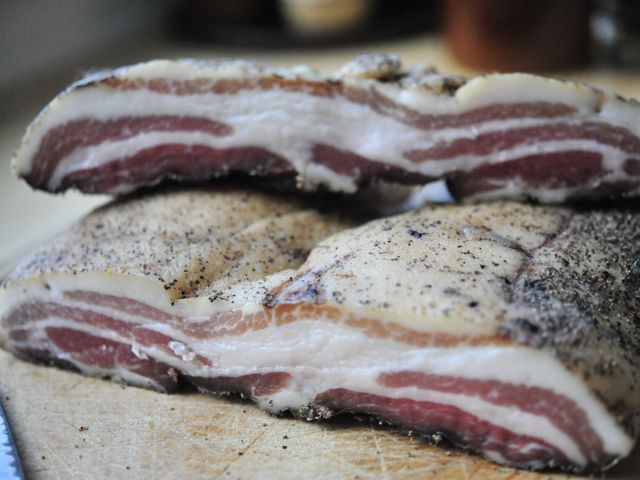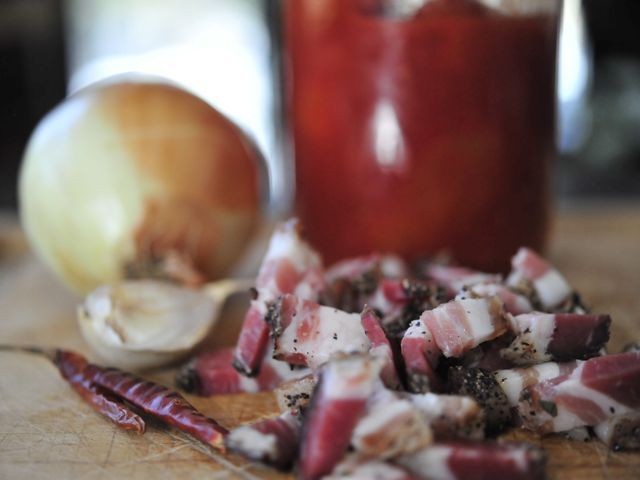 I could think of no better purpose for this gorgeous pancetta than one of G's most favored dishes: buccatini all'amatriciana. It's named for the tiny town of Amatrice, where shepherds have long eaten this spicy pasta after a day on the chilly mountain slopes. It can be made with guanciale (maybe I'll try that next) but pancetta also does nicely. In addition, it calls for onion, garlic, tomatoes, chile and pecorino.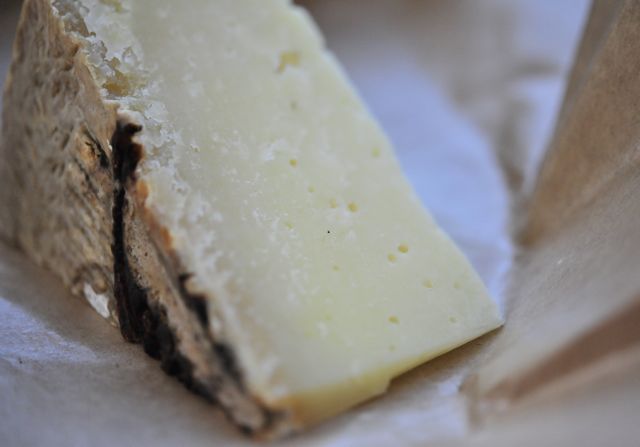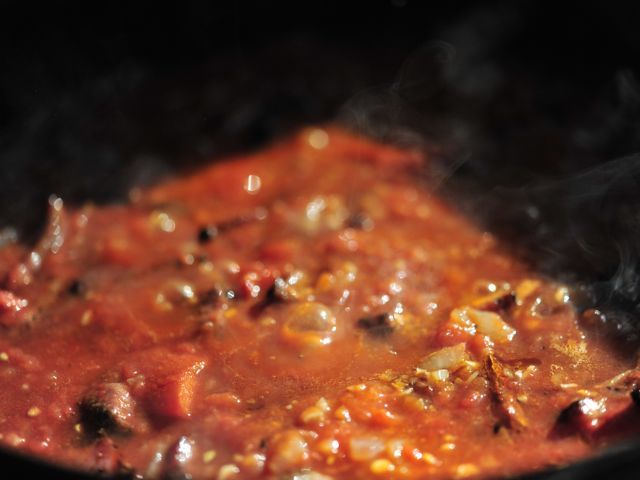 I wanted to start the meal with something special (it's Valentine's Day, after all), so I thought why not feature the duck prosciutto as well? Is there such a thing as too much charcuterie? In reality, these highly flavorful preparations are an excellent means of consuming very small portions of meat. They add a lot to vegetable-centric dishes like the pasta, and this frisee salad I came up with.The duck curing process was no less traumatic, by the way.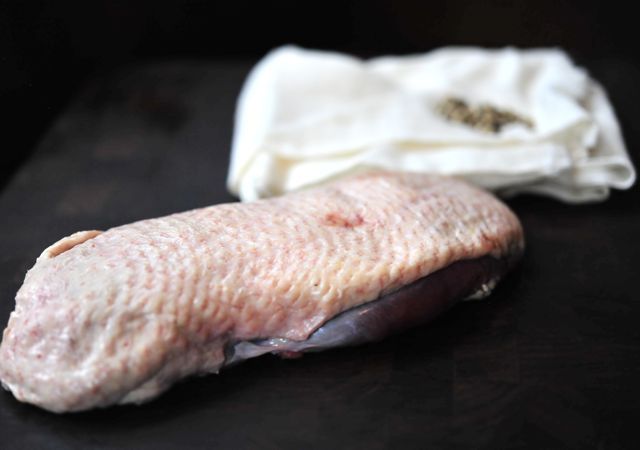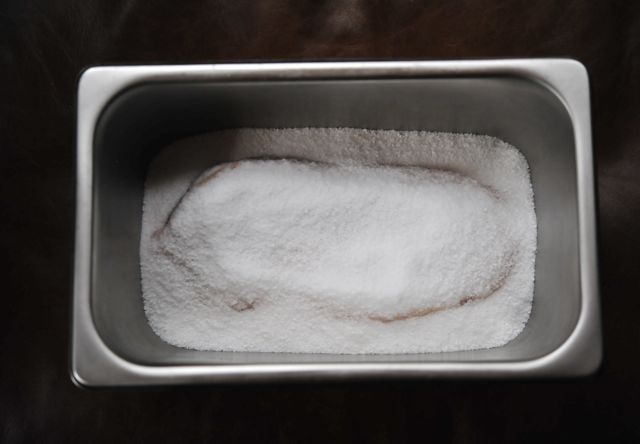 I added some of my (fabulously expensive) fennel pollen and a little smoked salt to the recommended white pepper rub.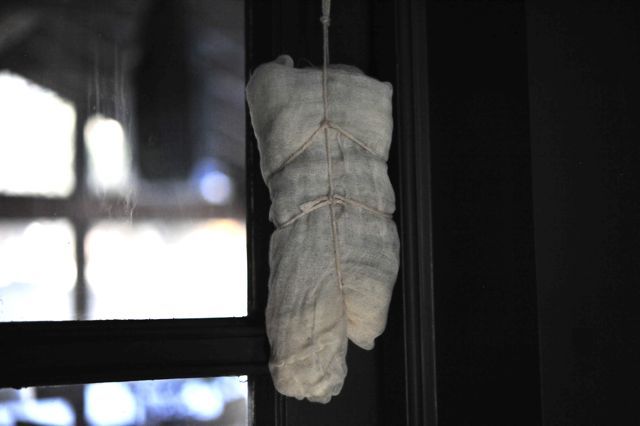 I made the duck first, before the pancetta, and was too terrified of the enormous snow drifts to take it to the cellar (it has an outside entrance). Plus, I kept forgetting to buy a thermometer so I could register the proper hanging temperature and humidity. So I winged it, hanging it next to the (freezing) French doors that lead out to the porch. Every day I would anxiously feel it up to see if it was firmer and lighter. It needs to lose about 30% of its original weight. (Who doesn't?) In the end, I'd say I left it to hang about a day too long. There's a thin strip along the bottom that is slightly chewier than optimal, but I've actually grown to quite like that. It's almost a little hammy.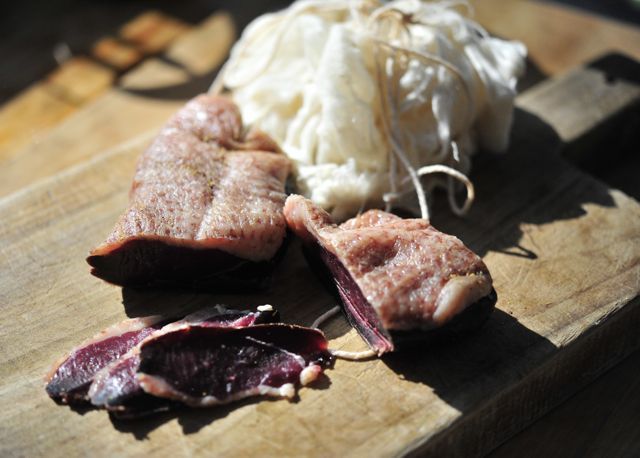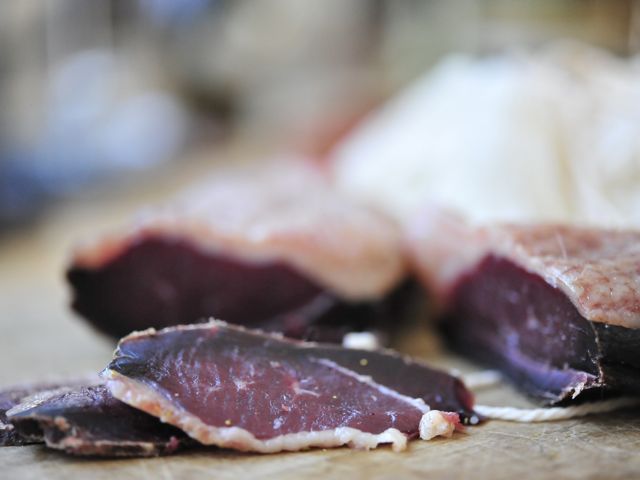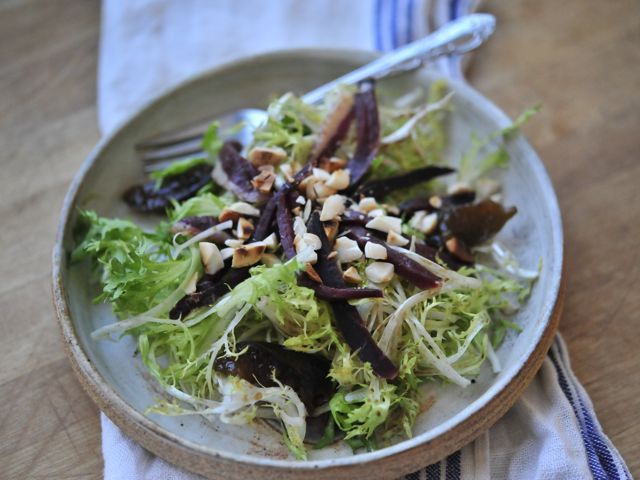 I'm serving it sliced into thin strips atop lightly dressed frisée, garnished with some pickled red jacket plums and a sprinkling of chopped toasted almonds. That ought to capture anyone's heart.I am woman, hear me roar.BUCATINI ALL'AMATRICIANAadapted from Mario Batali and Marcella Hazanserves 43/4 lb pancetta, in thin 1" batons 
3 garlic cloves, minced
1 onion, diced
3-4 whole dried chiles de árbol, crumbled
sea salt and freshly ground black pepper, to taste
1 large can peeled whole tomatoes
1 pound bucatini
Pecorino Romano or Siciliano, for gratingBring 6 quarts of water to a boil and add 2 tablespoons of salt.Place the pancetta slices in a large, heavy saute pan in a single layer and cook over medium-low heat until most of the fat has been rendered, turning occasionally. Remove the meat to a plate lined with paper towels and discard half the fat, leaving enough to coat the garlic, onion and chile pepper. Cook vegetables over medium-high heat for 5 minutes, or until light golden brown, then add the tomatoes, breaking them up with your spoon. Reduce the heat, and simmer for 20 minutes. Stir the pancetta back in and simmer for another 10 minutes. Taste for salt and pepper.Cook the bucatini in the boiling water until just al dente. Drain the pasta and add it to the simmering sauce. Increase the heat to high and toss to coat. Divide the pasta among four warmed bowls. Top with plenty of freshly grated Pecorino and serve immediately.