2.11.11
I Heart You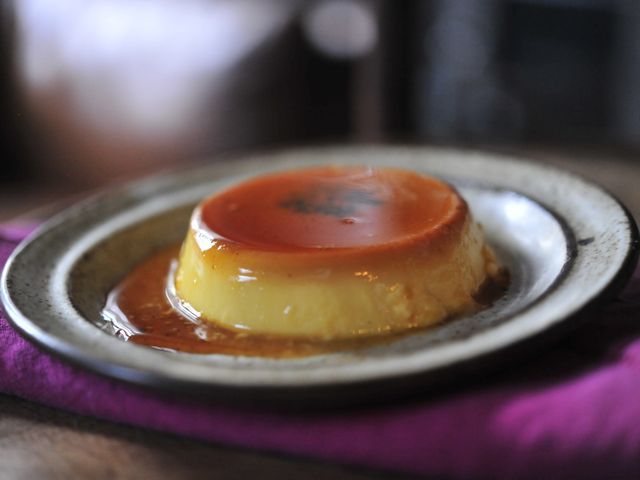 We're so bombarded with commercialized holidays that I'm loathe to even mention Valentine's Day again, but it's hard to be completely cynical about a day that's all about LOVE. Of course we've all been programmed to think of candy, flowers and—for the really optimistic among us—jewelry as expressions of love. But remember how exciting it was in elementary school to open those teensy envelopes with your name clumsily scribbled in grubby little-boy script? (I was popular until I moved to Spain in the 4th grade, and so can remember 3 blissful years of adoration before it all went to shit.) Those days may be over, but I know the die-hard romantics among you are already planning something special for Monday night. How about a delicious and heart-warming dinner, lovingly whipped up without too much bother? Does it really need to include cheese, beef and chocolate? How about something that takes into consideration your beloved's heart—in the high cholesterol sense?
Let's start with dessert, because I've actually planned ahead so I could post these options in time for you to be inspired, shop for the ingredients and try something new this year. My pals at
The Dog's Breakfast
were waxing poetic about the divine flan they ate in Mexico, and we all decided to order Fany Gerson's
My Sweet Mexico
in order to try her take on this custardy classic. I'm kicking myself that I don't have my mother's recipe, but I'm pretty sure hers used condensed or evaporated milk, giving it a slightly different taste than this one, which is all half-&-half. I remember as though it were yesterday sitting on the floor of the kitchen and chipping away with a spoon at the hardened caramel on the bottom of the bundt pan in which she made a large flan for dinner parties.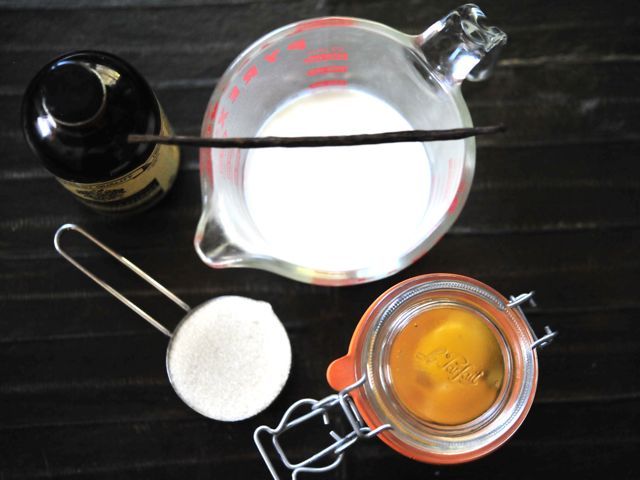 As an alternative, since I'm always interested in exploring promising, nutritionally rich alternatives, I thought I would try a version of the coconut custard known in Latin America as tembleque. (Temblar means "to tremble.") It seemed like a good place to use the coconut sugar that's been calling to me from the back corner of my baking cupboard. (Can we talk about the surplus of ingredients I have accumulated? I think I might have a serious problem. As in rehab.)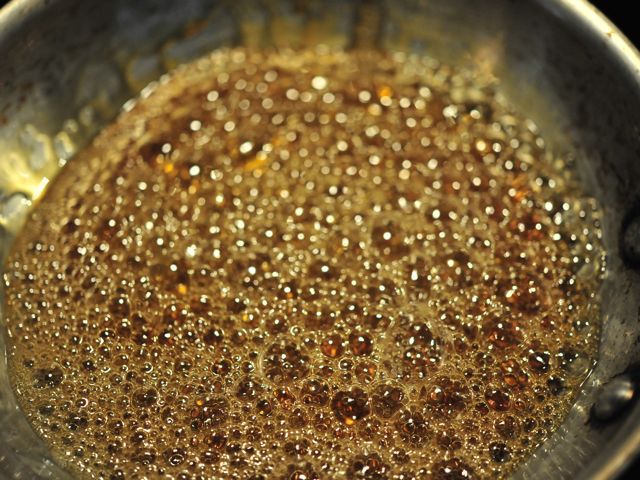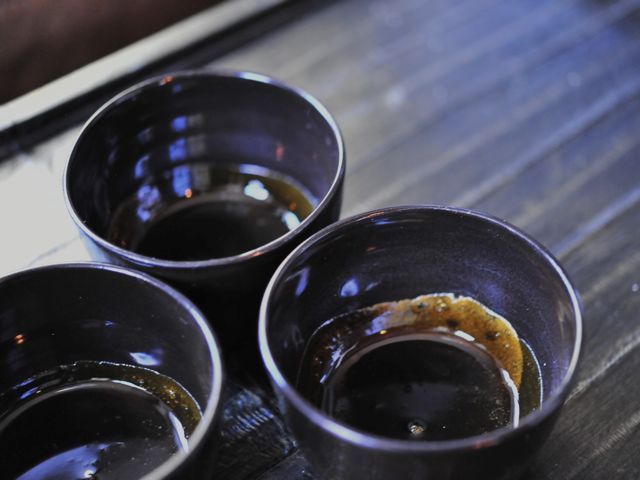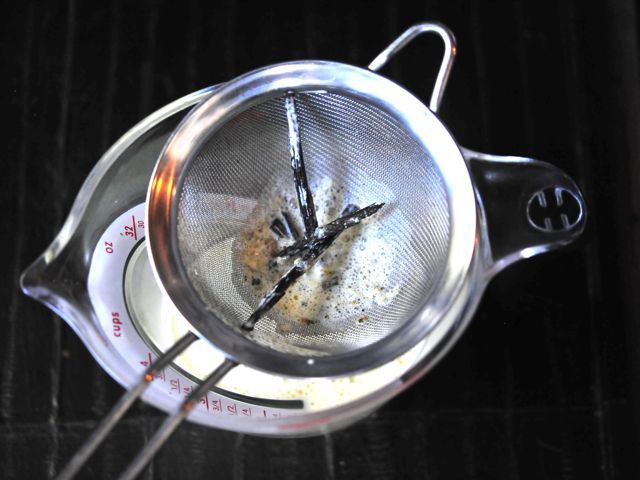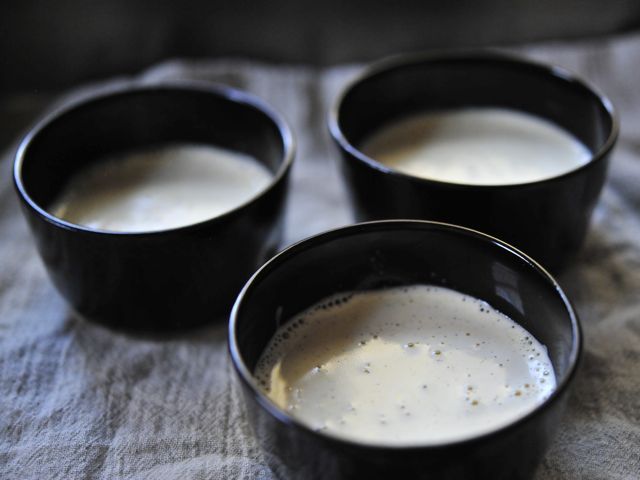 The verdict? Both are delicious. The flan is smooth and velvety, like a Barry White song. (Btw, those little speckles you see on top in the first photo? The vanilla bean seeds that made it through the strainer. I like how they add just the tiniest crunch, but they're definitely not traditional.) The tembleque is rich but delicate. But neither one is chocolate. So if you truly insist on those individual molten chocolate cakes, the one popularized by Jean Georges Vongerichten and emulated by every restaurant from here to Kansas City, you can have them.
Here's the recipe.
Having recently made them to honor a dear friend's birthday request, I have some advice for you. Instead of using flour with the butter to prepare your molds or ramekins, use cocoa powder. It's genius. They're ready to come out of the oven when the sides are set and a bit puffed up and only the center is still liquidy. Not before, or you'll be eating them out of a bowl with a spoon. (Which is not such a bad thing either.) I served mine with a dollop of crème fraîche and some candied kumquats, as you really do need something to cut the extreme richness.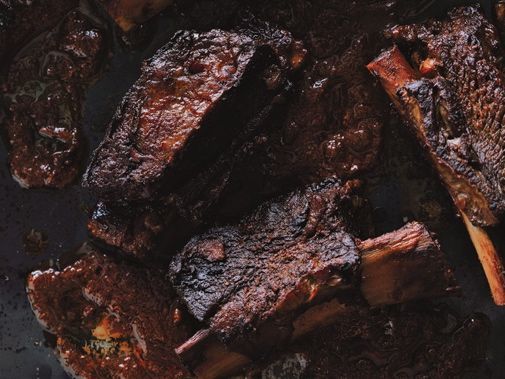 Now, to the rest of the meal. I'll admit, there's nothing like slow-cooked and succulent short ribs. Try
these
, à la Suzanne Goin. Or
these
, with red daikon and miso, à la moi. Remember, it's best to start a day ahead so you can skim the fat. The
whole fish in a salt crust
, from my spring dinner party, could also be a nice choice as it has a very sexy presentation. Or make some duck legs, either braised
like this
—or just pick up some confit legs (even
less
work)—and serve them atop a melting puddle of polenta or some creamy celeriac mash. Or maybe you just want to cut right to the cheese fondue.
Here's
a classic recipe. You can dip things other than bread into that—sausage, lightly roasted Brussels sprouts, radishes. And don't forget to serve it with a few crisp and vinegary cornichons.
A little wine, a loaf of bread and thou
—since when is
that
enough?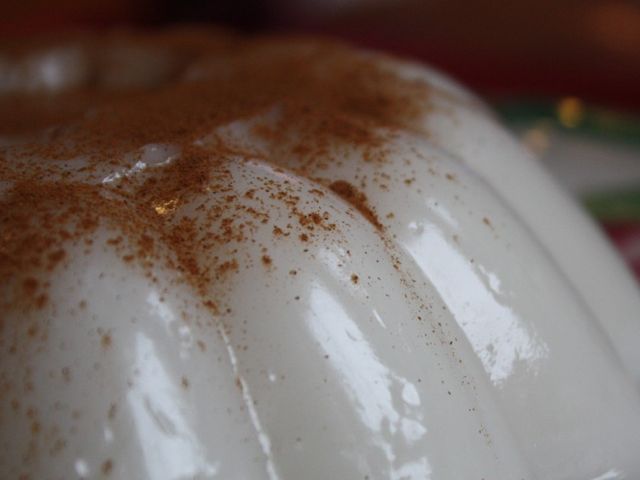 Flan a la Antigua (Old-Fashioned Flan)
from Fany Gerson's "My Sweet Mexico"
serves 6

— 1 3/4 cups

sugar

— 1/2 cup

water

— 2 cups

half-&-half

— 1 large piece

canela (Mexican cinnamon), or 1/2 vanilla bean (your preference)

— 5

large egg yolks

— 1 teaspoon

pure vanilla extract

—

pinch of sea salt
Preheat the oven to 350 degrees.


Combine 1 cup of the sugar and the water in a small, heavy saucepan and cook over low-medium heat until the sugar dissolves and turns a dark golden color (once it starts changing color, swirl it around so it caramelizes evenly). Working quickly, pour the caramel into 6 ramekins and swirl around to coat the bottoms.


Combine the half-&-half and canela (if using vanilla, slit the bean lengthwise with the tip of a knife and scrape in the seeds and add the pod) in a saucepan and bring to a simmer over medium heat. Remove from the heat and cover. Allow to steep for 15 minutes to extract the flavor.


Meanwhile, mix together the egg yolks, the remaining 3/4 cup sugar, the vanilla and the salt in a large heatproof mixing bowl placed on a towel to keep it from wobbling while you whisk in the hot liquid. Slowly ladle about 1 cup of the hot infused cream into the egg mixture while whisking. Then add the egg mixture back to the cream while you whisk gently (try to prevent excess air bubbles from forming). Strain and use right away, or chill it over an ice bath to use another day (can be made up to 3 days ahead).


Place the prepared ramekins, evenly spaced, in a baking dish lined with a towel to keep them from sliding. Divide the mixture among the ramekins and pop any bubbles with a spoon (or chopstick). Carefully pour hot water to fill three-fourths of the way up the side of the ramekins, and cover the pan with aluminum foil. Make a few holes in the foil to prevent steaming. Bake until the flans are set around the edges but slightly jiggly in the center, about 30 minutes.


Remove the baking dish from the oven and take out the ramekins with a towel or tongs. Let cool, uncovered, until they feel cool to the touch, and then chill in the refrigerator for at least 6 hours (overnight is fine).


To unmold, fill a bowl with 2-3 inches of very hot water. Dip in a small, sharp knife, dry it quickly and run it around the edges of the ramekins. Dip the bottom of each ramekin in the hot water for about 20 seconds, then unmold unto a plate. The flan should slowly release. Spoon out any caramel left in the ramekin on top. Serve chilled or at room temperature.



Download Recipe
Tembleque (Caribbean Coconut Pudding)
serves 4
— 4 cups

organic coconut milk

— 1/2 cup

sugar

— 1/2 cup

cornstarch

— 1/4 teaspoon

sea salt

—

ground cinnamon, for garnish

—

toasted coconut flakes, for garnish
In a saucepan, mix together the cornstarch, sugar and salt. Whisk in the coconut milk and simmer over low to medium heat. Stir constantly until the mixture is thoroughly cooked and thickens. Remove the saucepan from the heat and pour pudding into ramekins.


Allow the pudding to chill in the refrigerator for at least 3 hours. Garnish with a pinch of ground cinnamon and a sprinkle of toasted coconut flakes.



Download Recipe