1.25.11
Fish Tales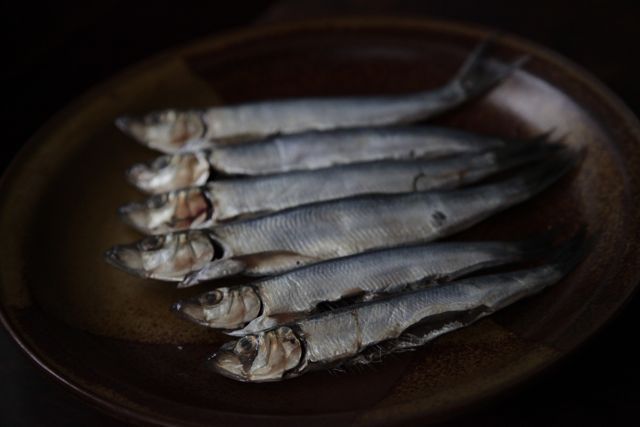 Sardines are like the girl who is considered frumpy and uninteresting in high school, and then suddenly becomes a hot anchorwoman or a triathlete. Familiar but surprising. They've always been there, hanging out in the cupboard in their dusty can with the peeling label, but guess what? It's time to tuck in to those silvery little fish. They've got game. Because they occupy the bottom of the aquatic food chain and feed solely on plankton, sardines don't carry the high concentrations of heavy metals and contaminants that other fish can. And they're brimming with nutrition. Not only that, they've got culinary cred. Gabrielle Hamilton, the chef of Prune, in New York City, serves canned sardines on Triscuits with Dijon mustard and cornichons. She swears by  the Ruby brand from Morocco. I've had good luck with Matiz Gallego from Spain, Angelo Parodi from Portugal and Bar Harbor from Maine. For other recommended brands, see
here
.
Sardines are great for your heart and your bones. They are one of the most concentrated sources of the omega-3 fatty acids EPA and DHA, which lower triglycerides and cholesterol levels. They are also an excellent source of vitamin B12, which is intricately tied to balancing levels of homocysteine (elevated levels of which are a risk factor for atherosclerosis). Sardines are rich in bone-building calcium and in vitamin D, a nutrient not so readily available in our diet, and one that we're all supposed to be getting more of these days since it helps increase the absorption of calcium. And sardines pack a wallop of protein, which provides us with the amino acids we need to create most of our bodies' cells and structures.In general, sardines go well with other strong flavors, like capers, green herbs, citrus and chile. Think black olive tapenade, smoked paprika, preserved lemons or 
chimichurri
sauce
. If you're not eating them atop a Triscuit, the canned ones can be flaked into a pasta sauce with fennel, capers, breadcrumbs and saffron; or piled atop grilled country bread with some cannelini beans and a load of parsley.I recently made a traditional Venetian preparation with fresh sardines. (Last year, I posted
this
simple pasta dish.) They are quickly fried and then marinated in a sweet-&-sour dressing with saffron, raisins and pine nuts. I think Mario Batali does a version of this with Champagne vinegar and a touch of cinnamon, but let's not get too carried away. If you're not a sardine fan, or have never cooked them before, this is an easy and highly palatable recipe. Sort of a gateway dish.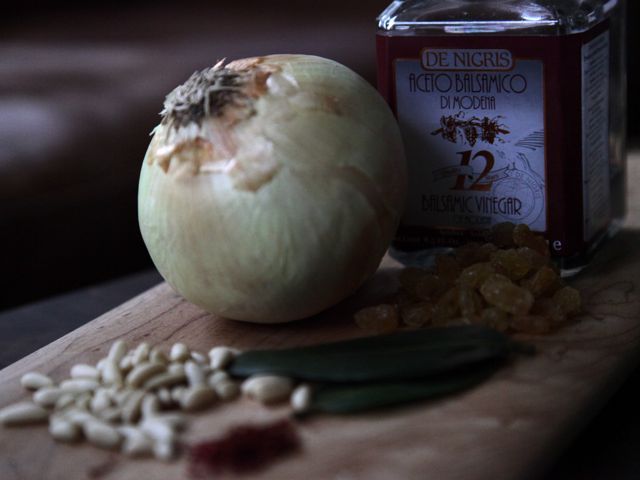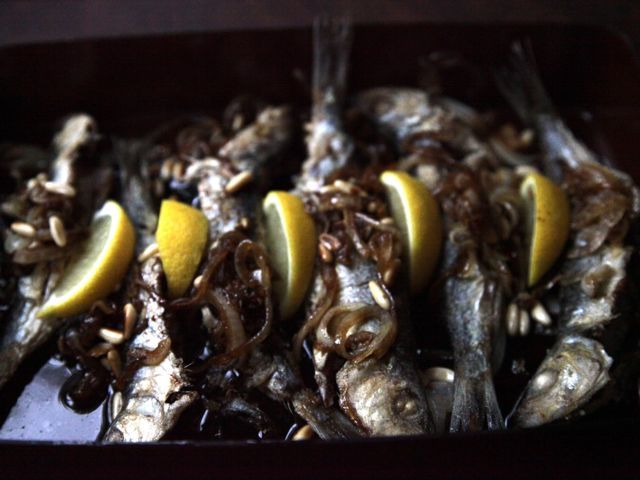 SARDE EN SAOR (VENETIAN-STYLE SARDINES)serves 2MARINADE2 tablespoons olive oil1 cup thinly sliced onions2/3  cup balsamic vinegar2 generous tablespoons sugar2 tablespoons golden raisins, chopped1 bay leaflarge pinch saffron¼ cup pine nuts, toastedSARDINES6 whole fresh sardines, cleaned, gutted and scaledall-purpose flour (I used rice flour to good effect)olive oil, for fryinglemon wedgesHeat the oil in a sautee pan and cook the onions until they are soft and pale gold. Remove from heat and transfer to a large shallow bowl.Combine vinegar, sugar, raisins and bay leaf in a small saucepan and crumble in saffron. Heat over low flame, stirring until sugar is dissolved, reducing slightly. Pour over onions. Stir in pine nuts.Wash your sardines and pat dry. Salt them and lightly dredge in flour. Heat a generous amount of oil in a large skillet and, when oil is hot but not smoking, fry sardines until golden brown, about 2 minutes per side. Don't crowd pan; fry in batches if necessary.Place the fried sardines in the marinade and spoon it over so they are well covered.The sardines can be eaten now, with a squeeze of lemon, alongside a simple fennel salad and grilled white polenta. Or they can continue to marinate in the refrigerator for a day or two and be served cold as part of a larger antipasto.