1.18.11
Little Green Monsters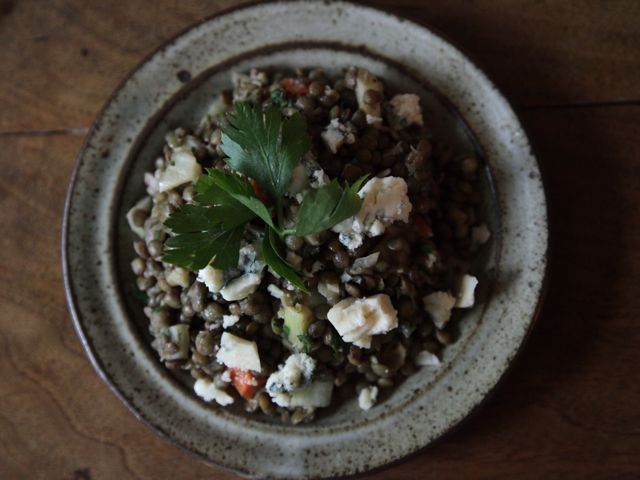 This post is a command performance.
I need a recipe for lentils
, said Stephanie. Madam, this one's for you. Before I get down to it, I'm going to interject a bit of shameless self-promotion. (And now, a word from our sponsor, or something like that.) There is a sweet little review of GFL on the Be@Home section of the Pocket Change shopping blog. Take a gander, 
here
.Now, back to business: the lentil. I'm a big fan. I like the khaki brown ones in a creamy soup garnished with spiced yogurt; I like soupy yellow dals with Indian food; I like the orange ones pureed with coconut milk and garnished with cilantro. They are all nourishing and satisfying and delicious. But I especially love the Puy lentils (
lentilles de Puy
), the small, blackish-green legume (aka pulse) that hails exclusively from the Auvergne region in France. Somewhat similar to the black beluga variety, Puy lentils are less starchy than brown lentils and retain their form when cooked. Their nutty, mineral-rich flavor is attributed to the way they are grown: in volcanic soil, without watering or fertilizer. They carry the AOC (
appellation d'origine controlée
) that guarantees their provenance and quality. (For a look at other types of lentils, see
here
.) Puy lentils' firmness makes them ideal for salads, and they are delicious eaten with sausages or salmon or cheese.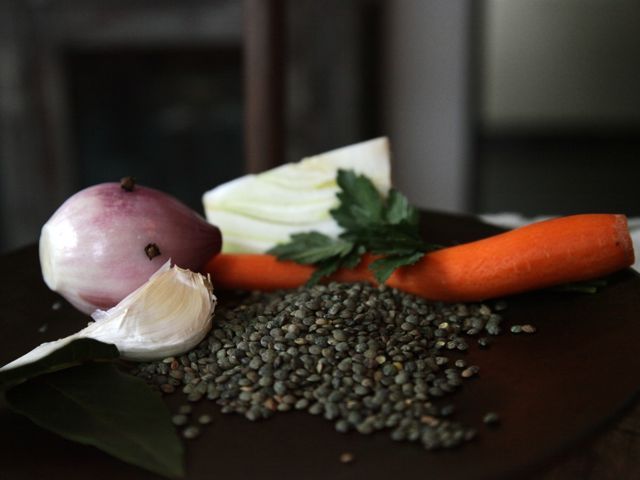 An excellent source of nutrition for vegetarians and those who don't eat much meat, lentils are low in fat and high in protein. With their essential amino acids, dietary fiber and good amounts of vitamin A, calcium and folic acid, they definitely qualify as a super food.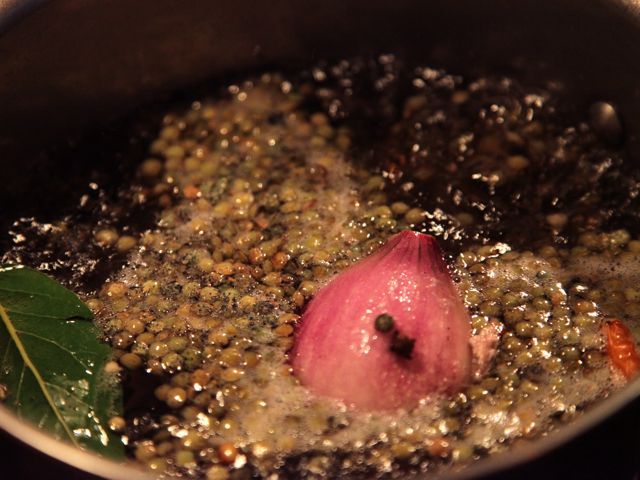 Lentils go well with rice and other grains like farro and barley. Make sure you combine them with plenty of fresh herbs, crunchy counterpoints and sprightly dressings lest you wind up with the sort of drab little dish you might find at your local hippie food co-op. (No disrespect to hippie food co-ops, home to my all-time favorite sandwich of avocado, sprouts and cheese on multigrain bread!) Other things that pair well with lentils: walnuts, sausage, duck, beets, roasted red peppers, mint, cumin, cucumbers. They're a very welcoming canvas.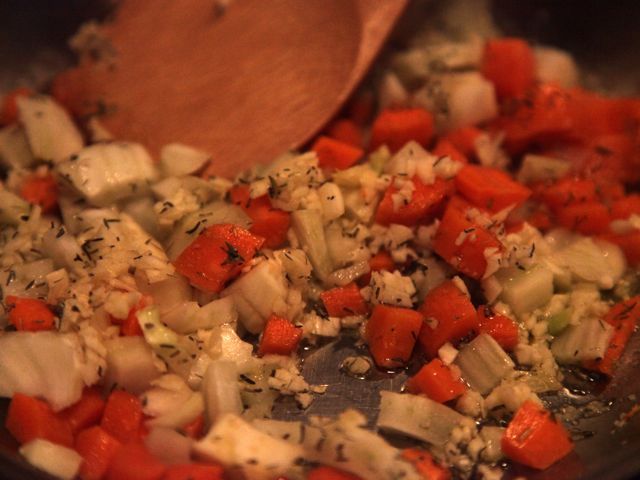 You can garnish this versatile salad with bits of cooked sausage, crumbled goat cheese or even hard-boiled egg. It's also nice served atop a bed of peppery greens, like arugula or endive.WINTER LENTIL SALADserves 41 cup French green lentils (lentilles de Puy)1 small yellow onion2 cloves1 bay leaf1 whole dried red chile de árbol3-ounce piece smoked bacon, optional½ cup diced carrot½ cup diced fennel1 large clove garlic, minced2 pinches dried thyme2 tablespoons red wine vinegar1 shallot, minced1 tablespoon Dijon mustard3 tablespoons olive oilsea saltfreshly ground black pepper3 tablespoons chopped fresh parsleyPeel the onion and push the cloves into it. In a heavy saucepan, place the lentils, onion, bay leaf, chile and bacon, if using, and cover with water by 3". Bring to a boil, then turn down to a simmer and cook until tender (adding more water as necessary), about 30 minutes. Drain well, discarding the bay leaf, chile and onion. Remove the bacon and dice it. Mix diced bacon and lentils in a medium bowl and set aside.While lentils are cooking, heat a glug of olive oil in a small skillet and sauté the carrot, fennel, garlic and thyme with a dash of salt until just tender, about 5 minutes.Combine vinegar, shallot and mustard in a mug. Gradually whisk in 3 tablespoons olive oil.Toss cooked lentils with the vegetables, vinaigrette and bacon, if using, and let stand until cool. Stir in parsley and season to taste with sea salt and pepper.