12.7.10
Get Baked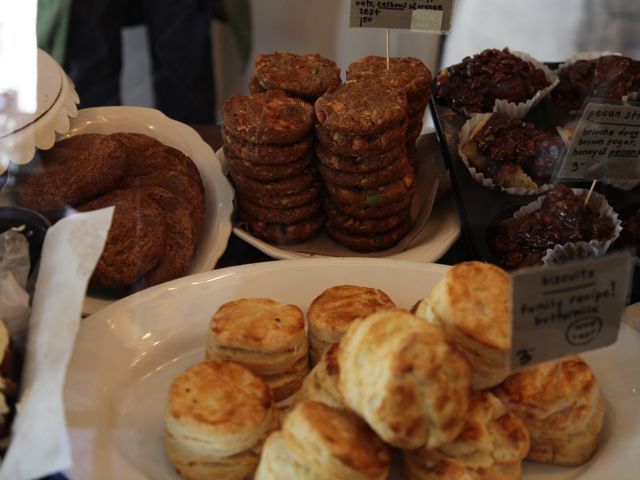 Have you been to
Peels
yet? It's the new restaurant from the people behind Freemans, that early proponent of old-timey-taxidermy-comfort-foody hipness, where downtowners still go for their mac 'n' cheese and hot artichoke dip. Owner Tavo Somer has described his new venture as "kind of supposed to be Freemans' girlfriend. He's all old New England, and she's like a feminine, Southern girl." Hmmm. Not sure if that really comes across since I haven't had a proper meal there, but I did pop in early one morning for a cup of tea and really liked the cozy atmosphere downstairs in this 2-story restaurant.
Nowness
, LVMH's über-coolness blog, featured the place on Thanksgiving; check out their
photos
. It turns out that pastry chef Shuna Lydon, whose
blog rants
are as amusing as her desserts are divine, has taken up residency here and is overseeing a baking extravaganza of homey treats that elevates Peels way above your average downtown cafe. I had a buckwheat muffin flavored with rosemary and lemon marmalade that was truly delicious.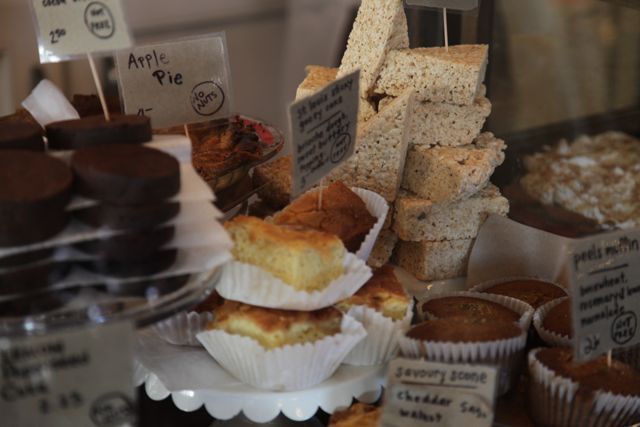 There is a rotating assortment of pecan sticky buns, monkey bread with mascarpone frosting, spicy ginger cake, granola biscuits, savory scones and all manner of delectable brownies, cookies, cakes and pies. Most have a rustic look that belies their sophisticated flavorings and flawless execution. Grab a mug of Stumptown coffee or Earl Grey, a newspaper and a stool at the counter, and make the most of your East Village morning.Since my visit there, I have been haunted by memories of their graham crackers: dark rectangles of buttery crispness that are definitely a grown-up version. (Which is not to say any self-respecting child wouldn't instantly demand a glass of milk and sit down to a plateful of these.)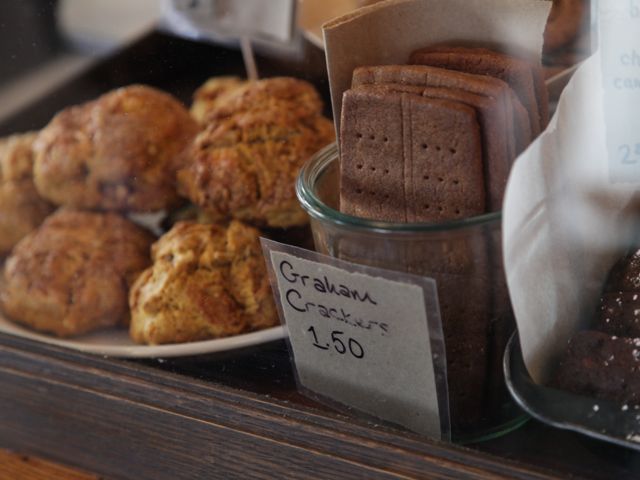 Obsessed with replicating them so G could also indulge, I found a gluten-free recipe from Shauna at
gluten-free girl
,
here.
Let me know if you try it before I do. For those of you who can eat wheat flour,
here
is another gorgeous recipe, adapted from Nancy Silverton by Deb at
smitten kitchen.
As she says, making your own graham crackers allows you to avoid the hydrogenated fat and corn syrup in the store-bought kind. I'm thinking s'mores in front of the fire (homemade marshmallows are next!); I'm thinking Meyer lemon cheesecake; I'm thinking a thick swirl of fresh ricotta and a drizzle of honey; or simply dunking them into a nice hot, milky cup of tea. Thanks, Peels, for the inspiration.