12.26.10
Snow Day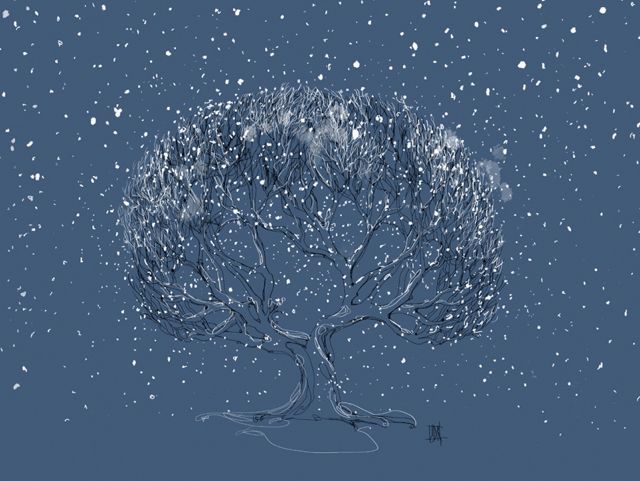 Wouldn't you know, on the day we leave the country to spend time in the city, here comes the snow?! It hasn't quite started yet, but G says we even need to be prepared for the possibility that the Broadway show for which we have tickets tonight may be cancelled. I don't feel bad for my sake, especially since we already saw
Fela
last year, but it was to be a special treat for my sister and niece. Fingers crossed. We're expecting
feet
of snow. G and I are on our way to Todos Santos, on the Baja peninsula for a little R&R. I'll be sorry to miss the snowshoeing and cross-country skiing possibilities, but I can't really complain. There will be more snow in our future. In the meantime, a few suggestions for keeping warm as you huddle indoors, safe from the biting winds and plummeting temperatures.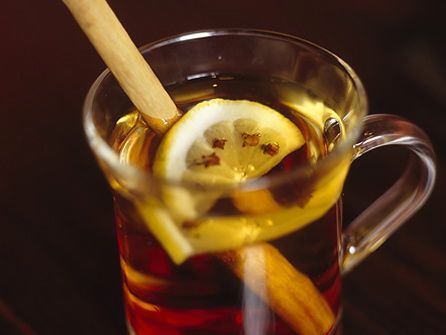 Hot toddies are traditionally drunk before going to bed, or in wet or inclement weather. Once believed to help cure the common cold and even the flu, the American Lung Association now recommends you avoid treating these illnesses with anything containing alcohol as it causes dehydration. I'm not sure about its curative properties, but a hot toddy will warm you from top to bottom. And I do find it can work wonders on a sore throat.The traditional recipe calls for pouring a shot of Scotch into a cup and adding boiling water, a spoonful of honey, half a slice of lemon, two cloves and a cinnamon stick.  Steep for three to five minutes before enjoying.Here are some variations on the theme, as well as a couple of recipes for other warming drinks that go down like a charm when you're fighting a chill.HOT TODDYserves 1
1 ounce (2 tablespoons) bourbon1 tablespoon honey2 teaspoons fresh lemon juice1/4 cup boiling waterPut bourbon, honey, and lemon juice in a mug. Top off with hot water and stir until honey is dissolved.Variations: substitute rum; add ginger; make tea with the water first (Darjeeling is nice)HOT BUTTERED RUMserves 12 or 3 ounces dark rumtwist of lemon peel1 cinnamon stick2 clovesSweet cider or water1 tablespoon honey1 tablespoon sweet butternutmegPut the rum, lemon peel, cinnamon and cloves in a pewter tankard or any heavy 12-ounce mug that has been rinsed in very hot water to warm it. Heat the cider or water to the boiling point and pour into the spiced rum. Add the honey and the pat of butter and stir well. Grate a little nutmeg on top.GLÖGG[Swedish Mulled Wine]1.5 liter bottle of dry red wine  (something decent)1.5 liter bottle of port (ditto)1 bottle of inexpensive brandy10 cinnamon sticks1 tablespoon cardamom seeds18 whole clovesPeel of one orange1/2 cup raisins1 cup blanched almonds2 cups sugarA second orange peel for garnishingPour wine and port into stainless steel or porcelain pot. Add cinnamon, cardamom, cloves, orange peel, raisins, and almonds. Warm gently; do not boil as this burns off the alcohol.Place sugar in a separate pan. Soak with half the bottle of brandy. Warm sugar and brandy over low heat. Let sugar melt and bubble until it becomes a golden syrup of caramelized sugar.Add caramelized sugar to spiced wine mix. Cover and let mull for an hour. Before serving, strain to remove spices; add brandy to taste. Warm gently over low heat. Garnish mugs of glögg with fresh orange peel.Substitutions: dried cherries for the raisins; whiskey or bourbon in place of brandy; brown sugar instead of white.MULLED WINEServes 41 large orange2 cardamom pods6 whole cloves6 allspice berries6 whole black peppercorns1 cinnamon stick, plus 4 for garnish (optional)1 bottle (3 cups) fruity red wine1/2 cup sugar1/4 cup brandyWith a fine grater, zest, then juice the orange.With the flat side of a knife, press firmly on the cardamom pods to bruise them. In a large pot (not aluminum), combine zest, juice, cardamom, cloves, allspice, peppercorns, cinnamon, wine, sugar, and brandy. Cook over medium heat, stirring, until sugar dissolves, 1 to 2 minutes.Reduce heat to low; simmer until flavors have melded, about 30 minutes. Pour through a fine-mesh sieve; garnish with cinnamon stick, if desired. Serve immediately.