12.22.10
Orange Genius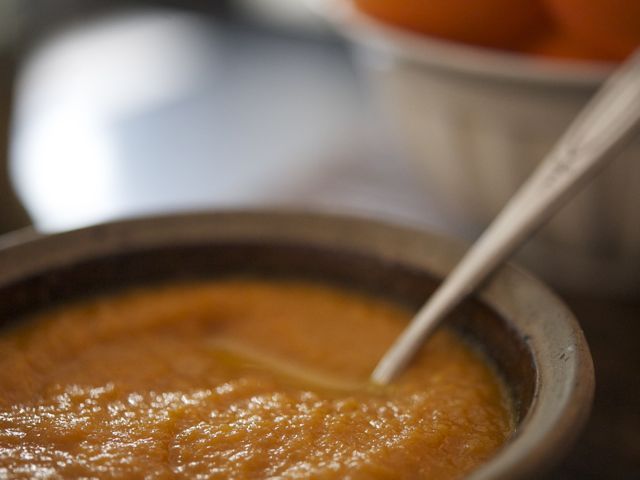 With all those rich roasts and braises, the patés and terrines, the confits and caramels, the puddings and petits fours, you need something tangy and vibrant to spark your palate, no? I've been enjoying cooling glasses of seltzer, lightly flavored with
lemon-rosemary
syrup. Quite a tonic. And a tart, juicy clementine can really hit the spot. I also rely on green juices to keep me honest, though I don't suppose that's actually a good way to kick off a holiday meal. But what about a bowl of brilliant orange carrot soup enlivened with lots of spicy ginger and a warming hint of cumin? The great thing about this soup is that you can adapt it to suit your mood and what you've got in your fridge. Stir in some buttermilk, or a tiny bit of cream. Add chopped jalapeño, or cilantro or dill. Got some stale bread? Make croutons to float in your soup. You can even forget the carrots and ginger and use broccoli, or potatoes, or squash. What I'm trying to say is that you can invent a fantastic vegetable soup by following a few basic steps I will lay out here for you.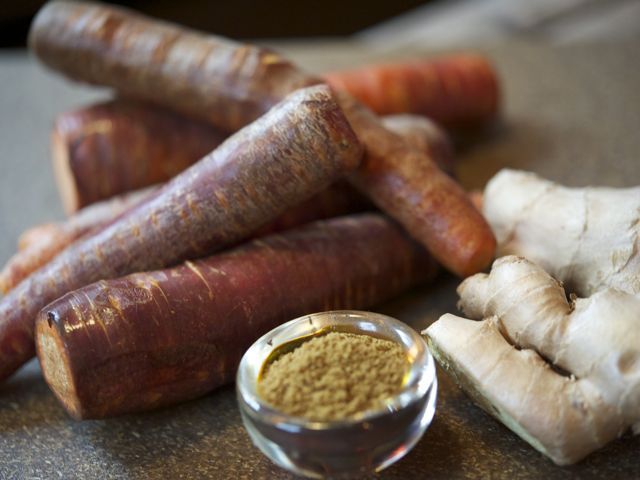 This is what you need to make a pureed vegetable soup:1. Flavor base (onions, shallots, leeks, garlic, carrot, celery, etc.)2. Vegetable (carrots, broccoli, mushrooms, parnsips, squash, etc.)3. Liquid (stock, buttermilk, cream, water)4. Zest (fresh or dried herbs, chiles, spices, cheese, actual citrus zest, etc.)5. Garnish, optional (chives, toasted nuts, croutons, creme fraiche, etc.)Is this making any sense at all?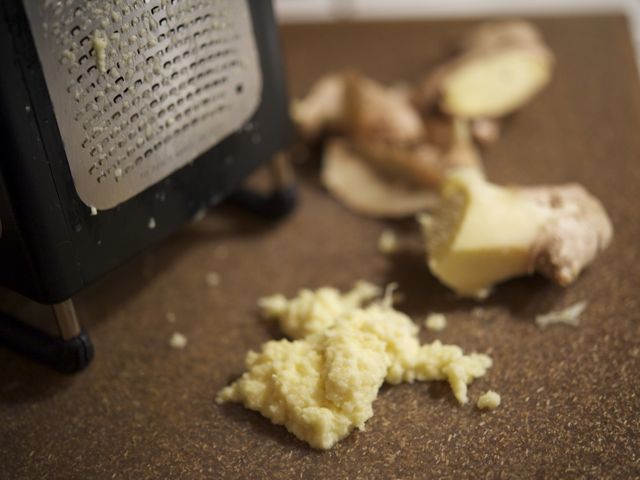 So, for instance, for this carrot-ginger soup, I set a
large pot
(I happen to love this one, a wedding gift) on the stove and sauteed some chopped leeks and shallots in a little butter and olive oil. How much? About a tablespoon of each, and a couple of handfuls of the leeks and shallots. You can build a flavor base with a dice of vegetables and aromatics, like celery and/or fennel, herbs, onions.When they were soft and fragrant, I added lots of roughly chopped carrots--maybe 8 cups? And then I poured in about 4 cups of chicken stock. I threw in some salt, put the lid on and let that cook until the carrots were really soft.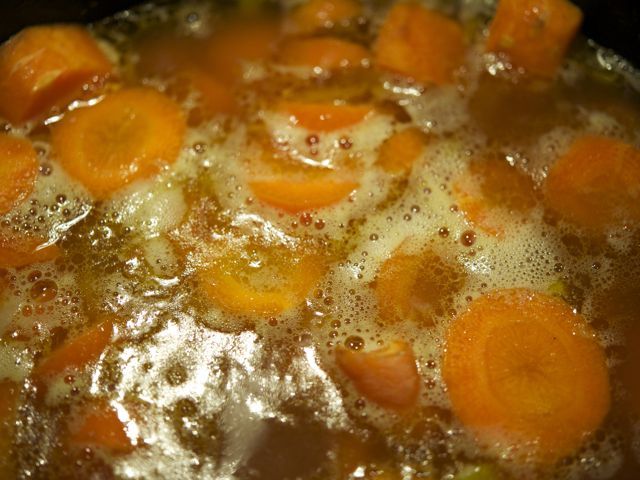 Meanwhile, I grated about 2 tablespoons of ginger. When the carrots were done, I let them cool a bit and then blitzed them in batches in the cuisinart until they made a smooth but not-too-smooth puree. I poured all this back into the pot, set it over low heat and added the ginger, a teaspoon or so of ground cumin and another of ground coriander. It seemed a little thick, so I added some more stock. (But I could have added buttermilk, or water.) Then I tasted it. It needed a little more salt, and the juice from half a lemon. That brightened it up nicely.I hope you'll venture into the world of vegetable soups. They are so easy and so satisfying, and so healthful! Carrots are loaded with carotene, which the body converts to vitamin A. They are also an excellent source of vitamins B and C, as well as potassium, folic acid, magnesium and calcium pectate, an extraordinary pectin fiber that has been found to have cholesterol-lowering properties.My soup is in the fridge now, and I'm going to pull it out and serve it to my niece and sister when they arrive tomorrow. They're taking the red-eye and we're picking them up at JFK, so we'll all be ready for something cleansing and nourishing. I've got a round loaf of
cornbread
ready to pop in the oven and I'm thinking this will make for a pretty sweet welcome.