11.9.10
The Nori Story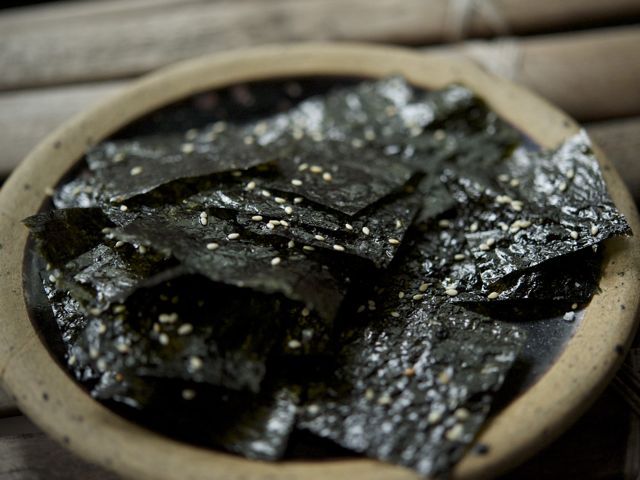 Although nori was originally a more generic word in Japanese, referring to a variety of seaweed types, it now refers only to the red alga Porphyra, sometimes known as laver. Nori is produced through a highly advanced form of agriculture, grown attached to nets suspended at the sea surface. It is processed in a method very similar to what was used for making paper in Japan, and the final product is a translucent, greenish-black dried sheet that's about 7"x8". As with most things Japanese, nori is available in several grades. At the high end is delicate shin-nori from the first of the year's several harvests, which can cost up to $50 per sheet. I buy the roasted yakishushi nori, which would be familiar to you from its use as a sushi wrap. It can also be toasted and flavored for use in other dishes or finely shredded and scattered on rice or stir fries. It is faintly saline with a distinctive marine flavor that is rich in umami. It toasts up quickly in the oven and, when brushed with a little sesame oil and sprinkled with sea salt and sesame seeds, it's crunchy and positively addictive. Oh, and virtually calorie-free.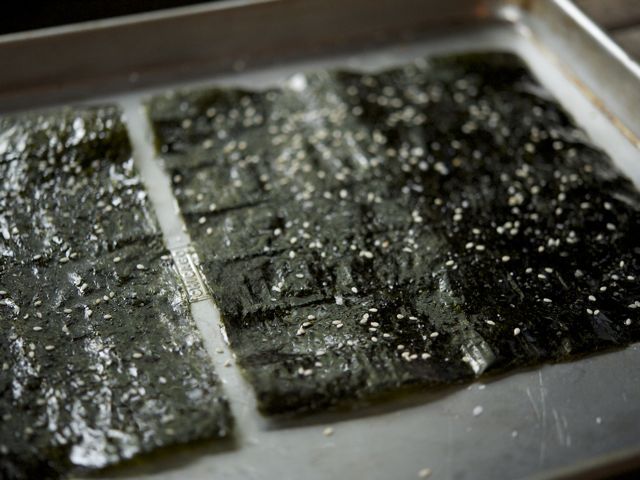 Nori is also a nutritional powerhouse. It contains as much protein as soybeans, and is full of  iron, calcium, vitamins, minerals, fiber and EPA, an omega-3 fatty acid. Basically, consuming two sheets of nori a day would be a real boon to your health. Try making these quick and easy chips to snack on, crumble over soup or rice or even into a sandwich. Or make onigiri, the Japanese rice balls stuffed with a bit of fish or some vegetables and wrapped in a nori sheet. When cooking with nori, make sure to handle it carefully, and don't let it get wet, because it will become soggy and rubbery. If you're not using the entire package (and you most likely won't be), seal it well.This recipe is easily doubled or tripled, but bear in mind that the chips will not stay crisp overnight and are best eaten fresh out of the oven. Below mine, I have also included Mark Bittman's recipe in which he folds the nori over to give his chips "more heft." I prefer mine, but this gives you an option, and one that stores a bit better.NORI CHIPSserves 22 sheets packaged noritoasted sesame oilsesame seedssea saltPreheat oven to 300 degrees.Brush shiny side of nori sheets with a little sesame oil, then sprinkle with sea salt and scatter with sesame seeds. Bake for about 10 minutes. Remove from oven and use kitchen shears to cut into bite-size squares. Allow to cool a bit and become crisper. Enjoy right away.MARK BITTMAN'S NORI CHIPSserves 4
8 nori sheets, sold at Asian marketsSea salt, to tasteToasted sesame oil, as neededHeat oven to 250 degrees. Brush or spray one sheet of nori very lightly with a little water and sprinkle it with sea salt. Fold sheet in half and press two sides together (sheets will not bind perfectly; do not worry).Use a pizza cutter or sharp knife to cut layered nori into 1-by-3-inch strips (or any desired size). Transfer strips to a cookie sheet in a single layer. Bake them for about 15 to 20 minutes; they will crisp and darken.When chips are done, carefully slide them off cookie sheet onto racks (they cool quickly). To serve, brush chips gently with sesame oil. Without oil, chips will stay fresh in a covered container for a day or two.