11.5.10
Fungus Among Us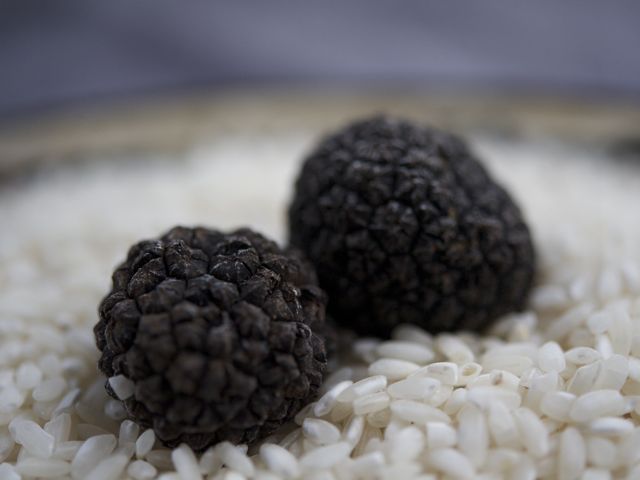 I've heard it said that truffles taste like dirt and I can't really disagree, though to me they also have a distinctive musky perfume that is vaguely erotic. These hotly coveted fungi develop underground, generally in close association with certain types of trees. There are hundreds of kinds, though the most prized are those of the genus Tuber, the ones referred to by my hero the 18th-century French gastronaut Brillat-Savarin as "the diamonds of the kitchen." The white truffle, Alba Madonna, comes from the Piedmont region in northern Italy. It grows symbiotically with oak, hazel, poplar and beech trees, and fruits in autumn—as in right now. Their flesh is pale and creamy or brown with white marbling. Prices vary from year to year according to the harvest, which is rooted out by the famed truffle-hunting pigs (and dogs, and men). This year, I've seen them at Eataly in Manhattan listed at upwards of $3,000 a pound. A counter woman was passing a white truffle the size of a small potato to a man who held it up to his nose, inhaled deeply and nodded. "Somebody's going to have a good dinner," I said. "My-a wife-a," he answered in a thick Italian accent. Better than diamonds.
So when I pulled up to the bar at Le Verdure and saw that for a premium of $50 I could get a flurry of white truffle shavings on my gratin of cauliflower and cardoon, well, who was I to say no?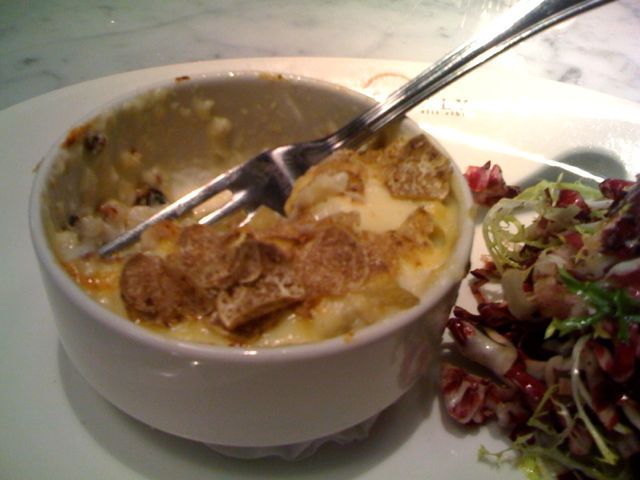 It was a decadent and divine lunch, the rich, creamy dish perfectly complemented by the earthy white truffles and a crisp, refreshing salad of radicchio.The black truffle, also known as the Périgord truffle (Tuber melanosporum) is named after the region in France where it grows exclusively with oak trees. More common, and with a somewhat less seductive flavor, black truffles command a lower price, somewhere between $500 and $900 a pound. We were lucky enough to receive a couple of these babies when a dear friend came to visit from the city. I love them shaved over mashed potatoes, scrambled eggs or risotto. You can also tuck thin slices under the skin of a chicken before roasting. 'Tis the season, so indulge in a truffle or two. White or black—I'm an equal opportunity fungus eater.BLACK TRUFFLE RISOTTOserves 2 as a main course 4 cups chicken stock1 cup carnaroli rice1 tablespoon (or more!) finely chopped black truffles3 tablespoons butter½ cup dry white wineParmesan cheeseSea salt & fresh black pepperBring stock to a simmer in medium saucepan. Reduce heat to low and cover to keep warm.Melt 2 tablespoons butter in heavy large saucepan over medium-high heat. Add onion and saute 2 minutes. Reduce heat to medium-low. Add rice and stir 1 minute. Add wine and simmer until wine is absorbed, about 1 minute. Add 1/2 cup broth; simmer until absorbed, stirring often. Add remaining broth 1/2 cup at a time, allowing broth to be absorbed before adding more and stirring frequently until rice is just tender and mixture is creamy, about 25 minutes.Stir in remaining 1 tablespoon butter. Mix in cheese, then truffles to taste. Season to taste with additional cheese, salt and pepper. Divide risotto among bowls. This rich dish goes nicely with a sharply dressed salad of bitter greens, such as endive or radicchio, with perhaps the addition of a few toasted walnuts.