11.1.10
Loafing Around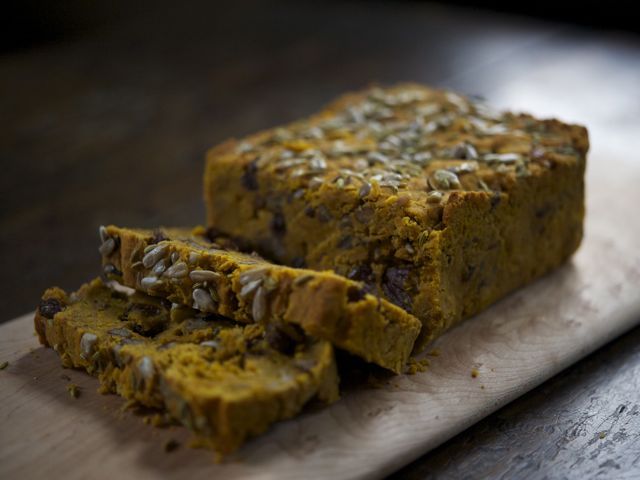 I met the impossibly dashing Albano through my friend Lisa when I visited her in Singapore several years ago. He's a dapper Australian designer of Italian extraction with impeccable taste in all things. Our friendship has been sustained mostly through Facebook, one of the very few reasons I can't be totally cynical about "social networking." He has been kind enough to share with me a couple of flawless recipes for what can best be described as tea cakes, those simple homey loaves you slice up and serve alongside a cup of something hot. Both of them allude ever-so-slightly to his Asian environs; one is made with kabocha squash, the other with Japanese sweet potato and seaweed. Toasted and buttered, with jam or just plain, a slice of these bread-like cakes hits the spot at breakfast, too.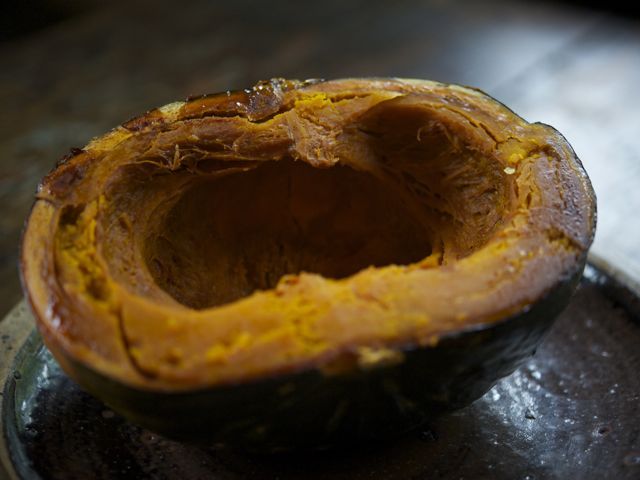 Kabocha squash is also known as Japanese pumpkin. It has a rich, creamy, dark orange flesh that exudes very little water and so is an excellent choice for baking of any kind. It essentially has the same dense texture as canned pumpkin, which you can substitute for this loaf. I've modified his original recipe according to what I had on hand; it calls for chopped dates, walnuts and orange peel but I only had raisins, pecans and lemon zest. I left out the ground cloves, which I often find too overpowering, and used nutmeg and fennel pollen instead. (The use of fennel seeds here is quite unusual and lovely.) I made my version with a gluten-free flour mix and it was still plenty lofty. The result was a gorgeous deep orange loaf, perfumed with fall spices, rich with pumpkin and crunchy from the nuts and seeds. (And, yes, once again, vegan and full of good nutrition!)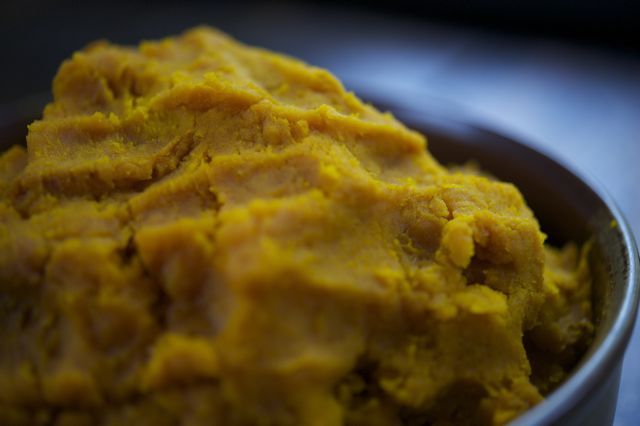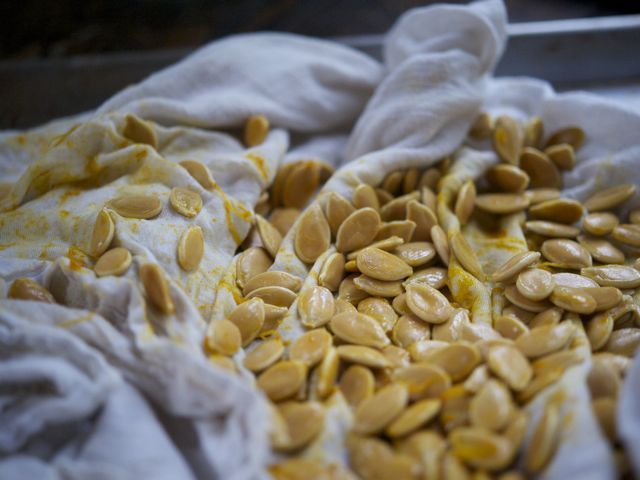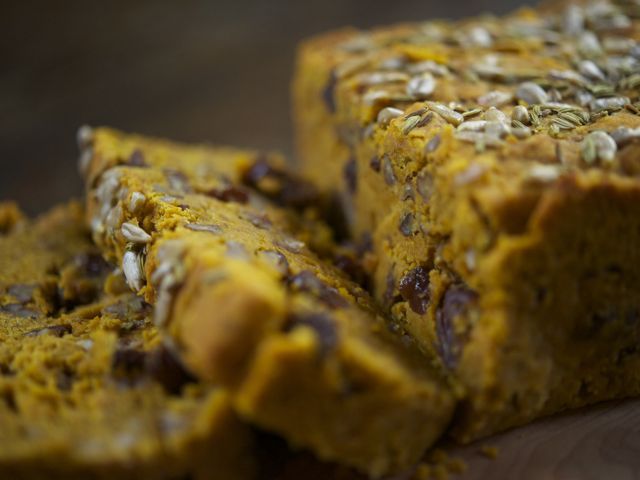 Pumpkin Bread (vegan)
makes 1 loaf
— 2 cups

roasted and mashed kabocha squash, or canned pumpkin puree

— 1/2 cup

virgin coconut oil, plus more for greasing pan

— 1 tablespoon

grated lemon peel

— 1/2 cup

raisins

— 1/2 cup

chopped pecans

— 2 tablespoons

raw pepitas (sunflower seeds)

— 2 teaspoons

sea salt

— 1/2 teaspoon

freshly grated nutmeg

— 2 1/4 cups

unbleached flour (GF is fine), or sub half with whole wheat flour

— 3 1/4 teaspoons

baking powder

— Topping:

2 teaspoons fennel pollen, 1 teaspoon fennel seeds, 1 teaspoon pepitas, 1 teaspoon sunflower seeds, 2 tablespoons demerara sugar
Preheat oven to 350 degrees.


Line a deep, long loaf pan (no smaller than 10 x 4) with parchment paper and grease the paper and any exposed pan with coconut oil.


In a large bowl, combine pumpkin, maple syrup, oil, zest, raisins, nuts, seeds and salt, and mix well.


Sift in remaining ingredients (except fennel seeds) and stir to combine thoroughly. The dough should be thick not runny, like a very soft bread dough. If the pumpkin mixture is quite wet, you can compensate with more flour.


Transfer mixture to the lined baking pan, smooth top and scatter topping evenly.


Bake for 45 minutes to 1 hour, or until an inserted skewer comes out clean. Cool for at least 20 minutes before removing from pan.


This cake keeps well in an airtight container or wrapped in foil. It is delicious sliced, toasted and spread with a little butter or nut butter and/or jam.



Download Recipe