10.4.10
Orange Squash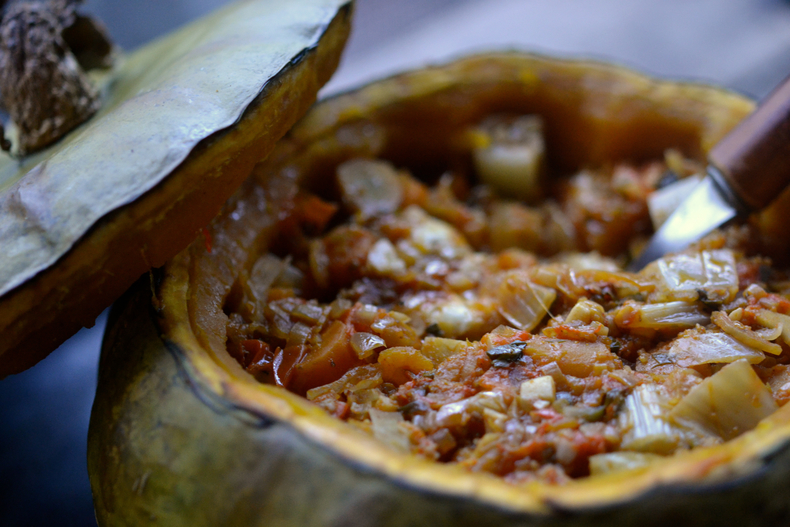 Squash and gourds have arrived! I'm planning to really load up when I visit the farm next weekend as Alice has so many gorgeous heirloom varieties. For now I just grabbed a green kabocha and a gorgeous brilliant orange mini Hubbard. Hubbards are my favorite variety, and we actually managed to produce a blue one ourselves in this year's garden. They have a wonderfully sweet and rather dry flesh that roasts up beautifully. Last fall, I invented this very easy and delicious way to stuff any whole squash; I find that roundish ones work best. Small ones are ideal for one or two people, or you could do a great big one for a dinner party. The presentation is lovely and rather dramatic. I use whatever vegetables I have on hand, and it's an ideal way to use up leftovers, because rice, stale bread, bits of ham—anything, really (dried fruit, seeds, tofu)—can go in there. A little cheese is always nice, so now that G is back on dairy (sad to report that 2 months without it, plus a whole slew of tinctures and Chinese herbs, did nothing for his chronic gut pain) I mixed in some fresh mozzarella from our local dairy. This is a very cozy and hearty dish, economical and full of nutrition.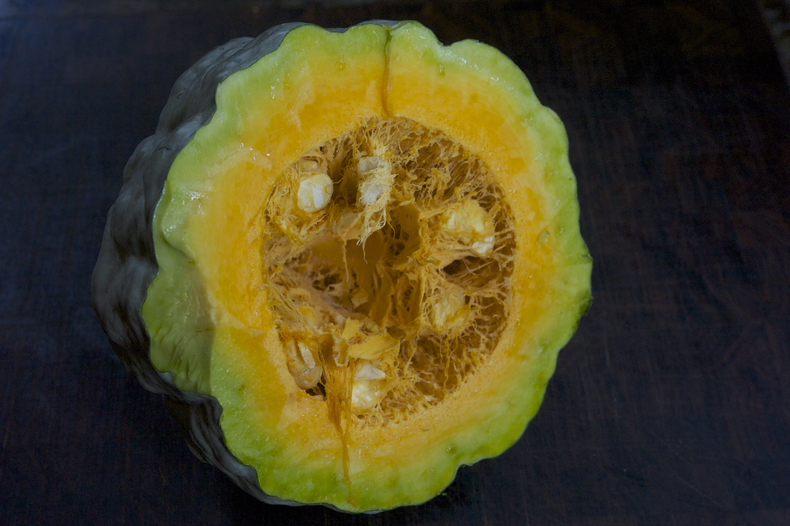 Winter squash is an excellent source of vitamin A (in the form of beta-carotene), and a very good source of vitamin C, potassium, dietary fiber and manganese. It's also rich in folate, omega-3 fatty acids, B vitamins and copper. Beta-carotene has powerful antioxidant and anti-inflammatory properties, so it can help reduce the severity of conditions like asthma, osteoarthritis, and rheumatoid arthritis, which all involve inflammation. Beta-carotene also prevents the oxidation of cholesterol in the body, and this is the type that builds up in blood vessel walls. Of special note is that the seeds are very rich in protein, so I recommend you roast and eat these as a snack rather than dumping them in the garbage (or the compost heap).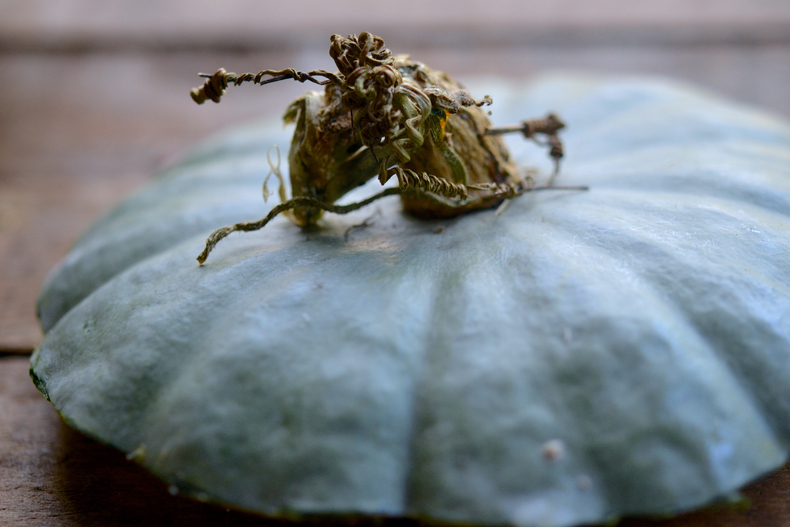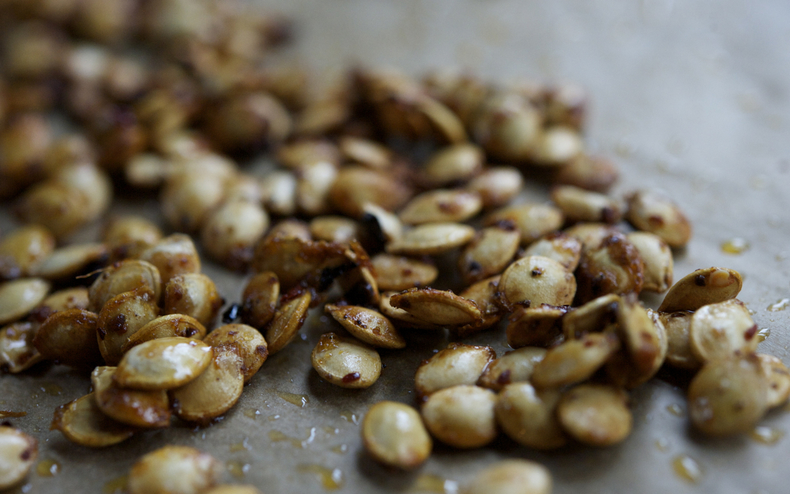 Here is a basic recipe, but do know that you can vary this according to what you have on hand. Virtually any vegetable, cooked grain, cheese, bits of meat, herbs and spices can go into it, providing you keep your head about the combinations. You could do a Mexican variation with rice, tomatillos, squash and queso fresco; a Spanish version with chorizo, manchego, tomatoes and olives; a Provencal version with eggplant, tomatoes, anchovy, fennel and thyme, etc. This is no time to squash your creativity.

Winter Squash, Stuffed & Roasted
serves 2-3, easily scaled up with a larger squash
— 1

medium whole roundish squash (kabocha, turban, acorn, hubbard) or heirloom pumpkin

— 2

large tomatoes

— 2 tablespoons

olive oil

— 2

shallots, peeled and diced

— 2

cloves garlic, peeled and minced

— 1

leek, white and light green parts, washed, trimmed and chopped

— 2 teaspoons

toasted, ground fennel seeds

— 1 teaspoon

pimentón

— 1/2 teaspoon

red chile flakes

—

sea salt and freshly ground black pepper to taste

— 2

carrots, peeled and roughly diced

— 1 cup

chopped fennel

— 1 cup

diced zucchini

— 3/4 cup

mozzarella or other melting cheese, shredded

— 4 tablespoons

grated Parmesan
Preheat the oven to 350 degrees.


Using a large, sharp knife, slice the top off the squash to create a "lid." With a big, sturdy spoon (or one with serrated edges), scoop out all the seeds and attached goop to make a clean cavity. (Reserve seeds to roast, if you like.) Then scoop out some of the inside flesh of the squash, leaving the walls about 3/4-inch thick. Dice this flesh and set aside.


Heat a large, heavy frying pan over medium heat and pour in the olive oil. When it's hot, add the shallots, garlic and leek, and sautee until translucent and soft. Add fennel, pimentón, chile, salt and pepper and cook a minute or so before adding the remaining vegetables, including the reserved chopped squash. Sauté over moderate heat until tender, about 10-12 minutes. Remove vegetables from heat and stir in ham and cheeses.


Place the squash shell on a baking sheet lined with foil or parchment. Rub the inside with a little olive oil and sprinkle with salt. Then carefully pour or ladle vegetable mixture into the cavity. You can fill it all the way up. Set the lid on top and place in the oven. Bake for about 60-75 minutes, or until a metal skewer slides in easily through the side. You want the squash to retain its shape, so don't bake until it's so soft that it collapses (although it will still taste good if you accidentally do this).


To serve, slice the squash into wedges and top with filling.



Download Recipe