10.27.10
Pumpkin Gnocchi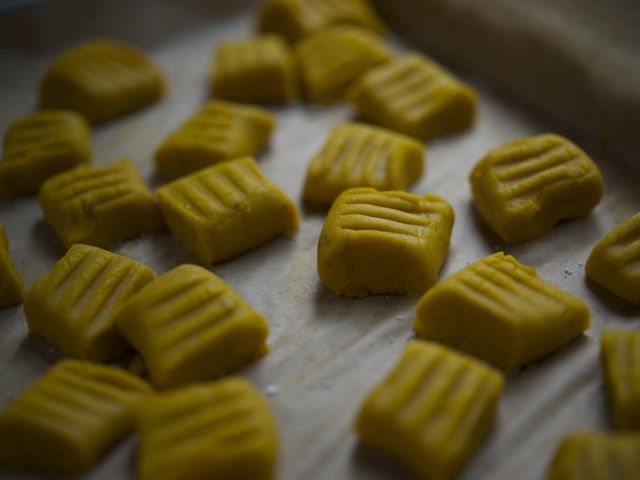 The great pumpkin returns, this time in the tender little dumplings known as gnocchi, meaning "lumps" in Italian. Probably of Middle Eastern origin, they were introduced by the Roman Legions during the enormous expansion of the empire. At that time, gnocchi were made from a porridge-like semolina dough mixed with eggs, which bears a resemblance to the saffron-infused basis for malloreddus, Sicily's signature dumpling. Although potato is what you'll see most often, pumpkin or any sort of squash also make a wonderful addition to these chubby nuggets. The key is to ensure their lightness by using as little flour as possible. If you can get your hands on a kabocha squash (sometimes called Japanese pumpkin), you'll find that their dense, dry flesh can make up the bulk.
The making of gnocchi is not an exact science. You take pumpkin or squash, flour, a little egg, some grated cheese and you mix it together to make a dough. You don't want to beat it or knead it a great deal as this can rob it of some of the quintessential lightness that makes gnocchi so irresistible. You roll the dough into long snake-like coils and chop these into the bite-sized pieces you will begin to recognize. Push a fork into each one to create the signature striations so adept at catching sauce and you're done. Simply plop them into boiling water until they float, then scoop them out and serve with brown butter and sage. Or, as I prefer, sear them next in a hot pan with a little olive oil or butter so they get a bit crisp, then top them with anything you like: roasted tomatoes, sauteed mushrooms, a scoop of ricotta, pesto, virtually anything goes.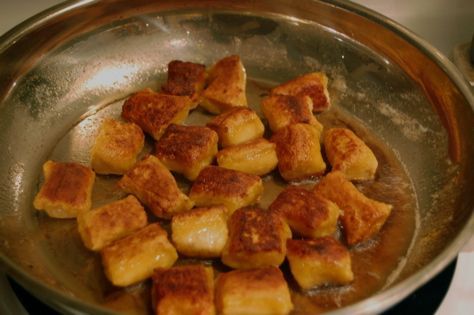 Please bear in mind that this recipe can be just a guideline. If your pumpkin or squash is much more watery, drain it first, or you will need to add more flour. You might like to try adding in a bit of ricotta (or a lot, as Mark Bittman does here), or substituting parmesan for the pecorino; maybe you want to mix sage into the dough, or give it a kick with some cayenne. It's your party.

Pumpkin Gnocchi
serves 4-6
— 3/4 cup

all-purpose flour (gluten-free is fine)

— 1/2 teaspoon

ground nutmeg

— 2 cups

pumpkin or squash puree, well drained

— 1-2

whole eggs, lightly beaten

— 1 cup

grated pecorino
Mound flour in center of a large work surface; add 1 tablespoon salt and the nutmeg. Using a fork, mix until well combined. Make a well in the center of the flour mixture. Add pumpkin or squash, eggs and grated cheese to well. Slowly incorporate flour, beginning with inner rim of well. When flour is incorporated, gather dough together to form a rounded mass; knead mixture until smooth, 4-5 minutes.


Divide dough into 6 equal pieces. Roll each piece of dough into a cylinder about 1" in diameter; cut into 1/2"-long pieces. Transfer gnocchi to a parchment-lined baking sheet and cover with a clean, damp towel. Repeat process until all the dough has been used.


If you are going to save any for future use, freeze them on a cookie sheet until firm and then scoop them into a resealable bag. Use within a month or so. You can also boil them (instructions follow), cool them, toss them in olive oil and store them in the fridge for a couple of days.


Bring 6 quarts water to a boil in a large pot over high heat. Generously salt water and return to a boil. Add gnocchi and cook until they rise to the top, about 4 minutes. Remove with a slotted spoon. You can sauce them right away (brown butter and sage, pesto, tomato sauce, etc.) or saute them on both sides in a little butter and olive oil over medium-high until crispy and lightly browned and then sauce them.



Download Recipe