9.23.10
Lucky Peach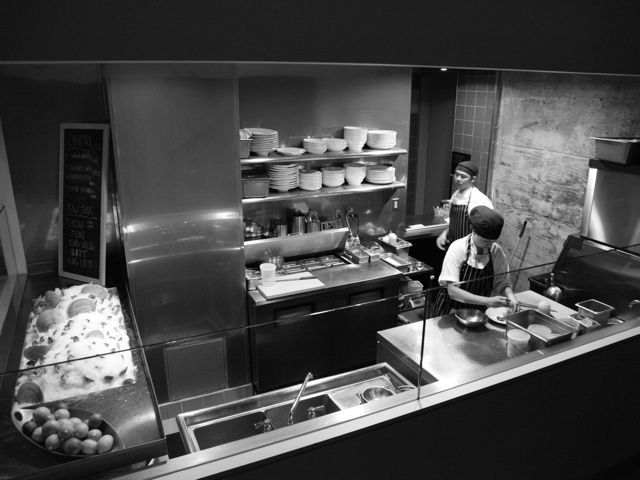 Still haven't made it to Momofuku Ko (can't seem to perform that Pavlovian task of logging on every day at 10am and frantically pecking at the keyboard in hope of getting a reservation) but finally dined at David Chang's latest outpost in midtown, Mà Pêche. It's what you might expect from an uptown version: roomier, sleeker and slightly more soulless. As chef, Chang has installed Tien Ho, formerly the boss of the kitchen at Momofuku Ssam Bar, which still remains my favorite of the empire. As Sam Sifton put it in in his review in the
Times
, "The food is not quite as precise and magical as it often is in the downtown restaurants, but it is recognizably Changish and strong: big flavors tied together with herbs and acids." I killed some time in the dimly-lit bar first and things started off with a bang. There was a bar snack of what looked like pork rinds and turned out to be large, crunchy cassava chips dusted with salt and spicy
shichimi togarashi
, a favorite spice blend of mine that was also used to spike a yuzu-infused sake "sour." Needless to say, I was very happy to sit there devouring Jonathan Franzen's "Freedom" and the entire bowl of chips along with my cocktail.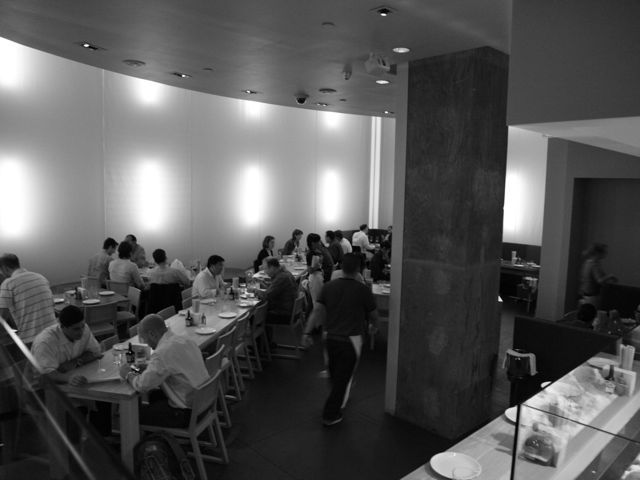 Once G arrived, we headed downstairs to the restaurant. It's been stripped of the fancy decor from the former tenant, Town, and the usual mix of music blares (though not quite as loudly), but the seats have backs and there's a great deal more room between tables than what you would expect from a Chang enterprise. It's not necessarily an improvement. I love the din and the crush at Ssam Bar. But whatever. I'm there for the food and that didn't disappoint, although there were no really new thrills for which we'll be returning. You can see the entire menu
here
. We had some nice oysters with a Thai-basil infused mignonette and a squid salad with fish sauce, coriander and peanuts. As usual, all the seafood was impeccable.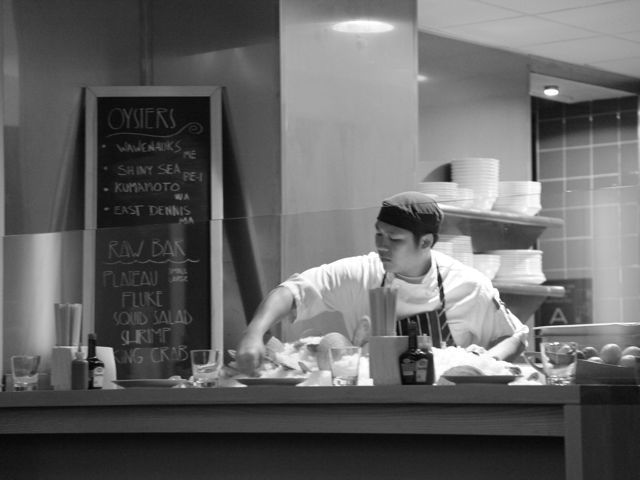 There was a delectable summer bean salad that was just green and yellow string beans generously dressed in an intense miso-sesame sauce. The Vietnamese summer rolls with shrimp and herbs were exactly what you might expect, authentic and fresh. Pork ribs with lemongrass and caramel sauce were good, but outshone by a dish of Tuscan kale infused with smoky bacon and showered with lemony bread crumbs. Cheese is on offer for dessert, or you can hit the Milk Bar bakery in the lobby on the way out. I asked for a taste of the salty pistachio-caramel ice cream, and it was the perfect mouthful to end the evening. Would I go back? When I'm in the area, and I'll definitely head there for lunch next time I'm up there. But, what can I say? I've been a downtown girl since I moved to Avenue A in 1985, and this was further proof that all the best stuff is still below 14th Street.