9.10.10
Black Ice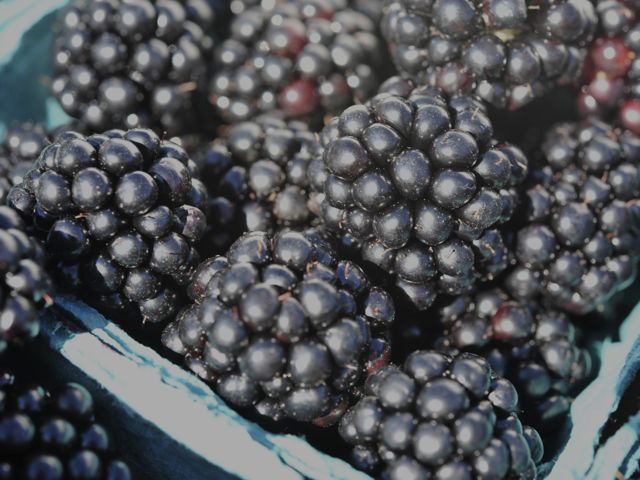 For much of the year, we follow a regular Saturday schedule: the dump; the farmers market in Barryville; Riverbrook Farm,
Silver Heights Nursery
and the dairy farm in Cochecton. It's an intense session of locavore foraging and so deeply satisfying. Whatever produce we're not getting from our own garden we get from Riverbrook Farm (along with fresh eggs and some goat and lamb meat), but they don't grow fruit, so we've been lucky to have a steady stream from some lovely people at the Barryville farmers market. We've had red currants, gooseberries, strawberries, apricots, blackberries, at least 8 varieties of raspberries, all kinds of plums (golden, red, sugar, black, Italian), delectable peaches (white and yellow) and now crisp, flavorful apples have begun to make an appearance. My pantry shelves hold jars of plum preserves. Tucked away in my freezer, along with the tomato sauce, are liter freezer bags filled with blackberries, raspberries and peaches. The trick to freezing berries is to spread them first on parchment-lined cookie sheets. Then, once frozen, slide the little nuggets into ziploc freezer bags or other airtight containers. This way, all year long you can have sorbet, ice cream, smoothies and even pie that taste of sweet summer. Speaking of sorbet, I made one with blackberries that was so divine, I can't resist making it again right away.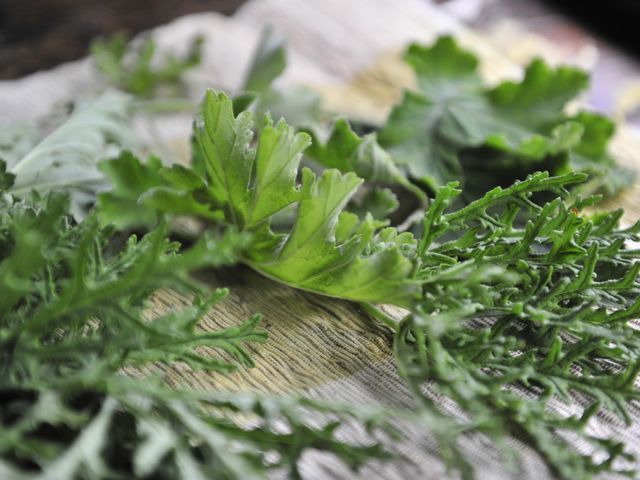 You may have heard me wax poetic about geraniums already. (Incredibly, I just saw that I posted about them
here
exactly one year ago!!) I am so in love with the gorgeous fragrance they exude, and this year I am growing so many different kinds from Silver Heights Nursery (they have a stand at the Union Square farmers market, by the way). Rose, lemon, frankincense, chocolate mint, apricot...the "flavors" are subtly layered atop the sweetly spicy geranium scent that I find so addictive. An important oil in aromatherapy, geranium is said to to help balance the mind and emotions; stimulate the adrenal cortex; balance the hormonal system; and stimulate the lymphatic system. It also helps regulate the production of sebum in the skin while keeping it supple, and has anti-bacterial properties that help with the healing of wounds.
Incredibly, there is a way to translate the wonderful fragrance of geranium into something edible. Yes, it's perfumey, but more in the way of something like passionfruit or an incredibly floral melon. In Victorian times, when they ate things like candied violets, geranium-flavored sugar was popular for cakes and icings. It can be added to other herbs like chamomile, mint and lemon balm for a delicious infusion (tea) or even, as I have done here, used to infuse simple syrup. From there you can be mixing it with club soda (and bourbon!), adding it to your iced tea, or spooning a bit over berries. I read somewhere that blackberry-rose geranium jelly was popular back when our grandmothers were girls, and it inspired me to use these enormous juicy berries and a handful of rose geranium leaves from my own garden to make sorbet. The result was beyond my wildest dreams: an intense almost winey flavor of blackberries with a subtle but sublime hint of geranium. It needed nothing else. Make some now if you can still find fresh blackberries where you are. Or use frozen. Sorry, you can't have any of mine...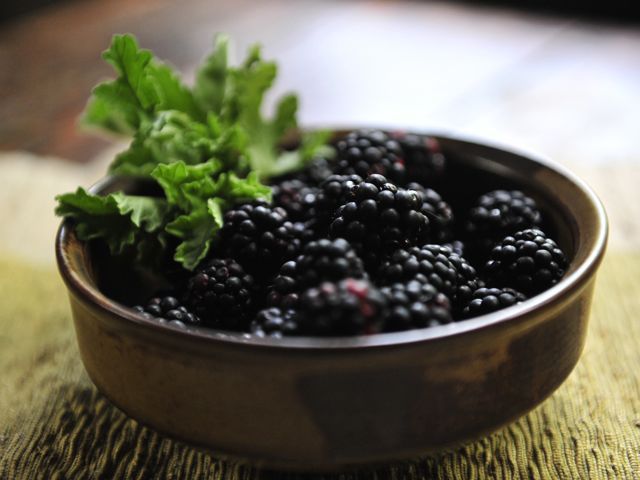 BLACKBERRY-GERANIUM SORBET

makes 6 servings

1 1/4 cups organic sugar
1 cup water
1 generous handful fresh geranium leaves (rose, lemon or mint are best)
1 1/2 pounds fresh blackberries (if using frozen, thaw first and reserve juices)
2 tablespoons fresh lemon juice
sea salt
18 fresh blackberries

Combine sugar and water in small saucepan over high heat and bring to a boil, stirring until sugar dissolves. Boil for a minutes and remove from heat. Crush geranium leaves lightly and stir into syrup. Place lid on pan and set aside to steep, at least an hour or more. Taste to see if it's rather strongly infused with the geranium flavor. If not, steep longer. Remove leaves, then chill until cold, about 3 hours. (Or seal in a ziploc and submerge in an ice bath to chill more quickly.)

Puree blackberries (with any juices) and cold syrup in blender until smooth. Pour through a fine mesh strainer into another bowl and discard seeds. Stir in lemon juice and a generous pinch of sea salt. Process in ice cream maker according to manufacturer's instructions. Transfer sorbet to container, then cover with a piece of parchment and a lid or foil and freeze until firm, several hours. Serve garnished with fresh blackberries and a sprig of geranium or mint.