7.24.10
Peachy Keen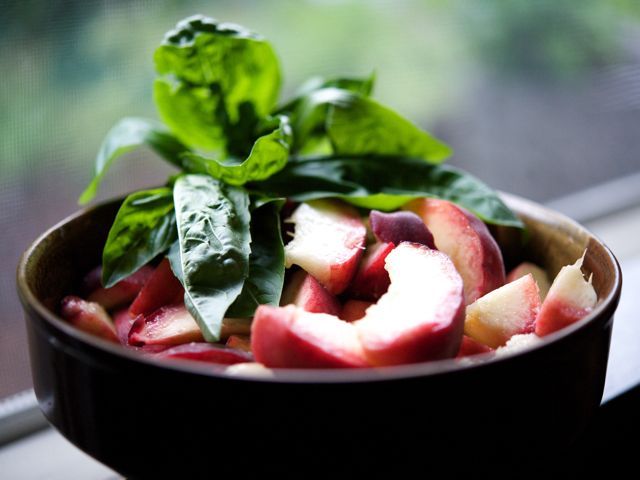 A bowl of white peaches sat on the counter, their rosy, fuzzy curves as innocent and perfect as those of a child. Their sweet fragrance would waft towards me whenever I walked past and, after a few days, they hovered at that turning point of ripeness that demands attention. My freezer already held a bag of white peach purée, ready to recreate the bellini of my dreams, exemplified by that one on a freezing January day at the crowded, overheated bar at
Harry's
in Venice, surely among the most glamorous and decadent meals of my life. (When you go there, stick to bellinis and panini at the bar.) There were six peaches—too many to simply eat out of hand now that they were on the verge of going soft. How then to take advantage of these delicate creatures?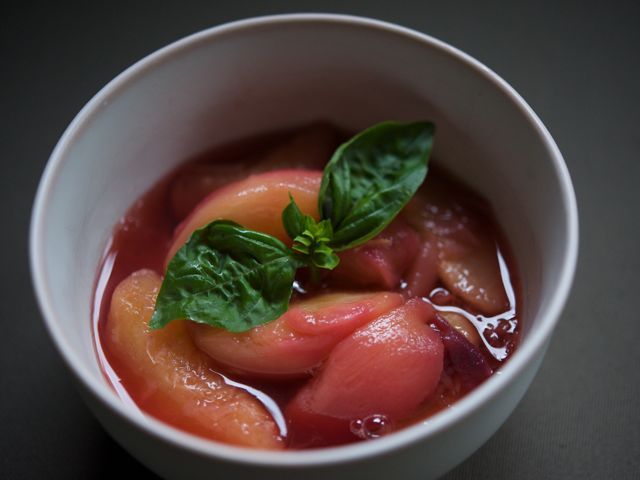 I had read recently in more than one place about peaches poached with basil, which has now taken off in our garden. I liked the idea of these two perfumey flavors coming together and decided to give it a whirl. Turns out nothing could be simpler or more perfect on a hot summer's eve. (And you're left with plenty of divine pink syrup to mix with white wine or drizzle over yoghurt.)
Peaches Poached in Basil Syrup
serves 4
— very large handful

basil leaves

— 6

ripe but still firm white peaches (yellow are also good)

— 1/2 cup

honey

— 1 1/2 cups

water

— 1/2 cup

rosé
Cut the peaches in half, remove pits and then slice each half into thirds. Cut a third of the basil leaves into chiffonade, leaving the rest whole. (Stack the leaves, fold them over several times and slice the packet into thin strips.)


Place the honey, water and wine in a heavy saucepan over medium heat, stirring to combine. Bring mixture to a low boil and then reduce heat to simmer gently.


Drop half of the whole basil leaves into the syrup, and then gently add the peaches. Poach until soft but not falling apart (timing will depend on ripeness of your fruit). Use a fork to check carefully for tenderness.


Using a slotted spoon, remove the peaches to a bowl. With a pair of tongs, gently remove the skins and discard. (They should slide right off.) Add the remaining whole basil leaves to the syrup and boil until reduced by about half. Pour any juices that have collected in the bowl of peaches into this boiling syrup. When reduced, remove from heat, strain and cool.


To serve, place peaches in a bowl, garnish with the basil chiffonade and drizzle generously with syrup. Reserve the remaining syrup to use in cocktails, over ice cream, as a glaze for duck, etc.



Download Recipe