7.12.10
Chilled Out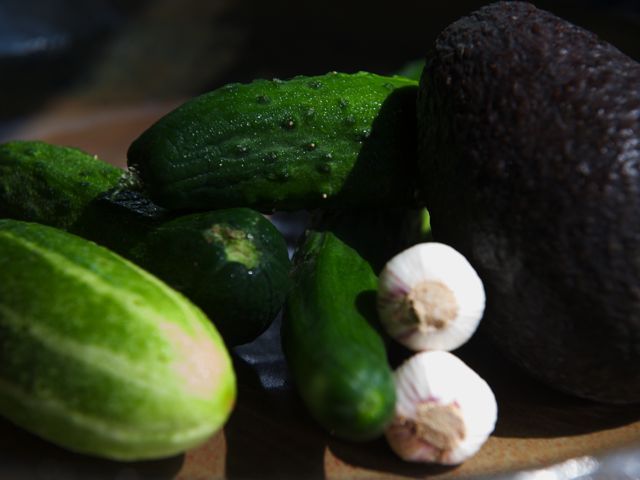 There's scarcely a better way to combat a heat wave than with a cold soup. The recent rise in mercury has prompted a spate of dinners at home consisting of nothing more than salads, so the occasional soup is a nice substitute or supplement. They keep fairly well and can be easily transported to work in a glass jar or thermos. (Try to wean yourself from phthalate-ridden plastic containers; invest in a set of
these
.) Food52's cucumber challenge several weeks ago prompted a number of cold soups but most of them contained dairy, which we're currently avoiding because of G's latest protocol. Fellow blogger and extremely talented chef
Pork to Purslane
(currently residing in Amsterdam) submitted one that is rendered supremely creamy with the use of avocado. I adapted it according to my what I had on hand and my craving for a bit of spice.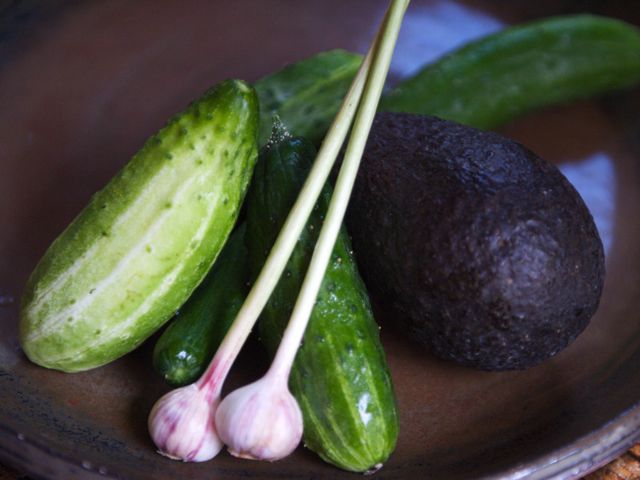 Until the tomatoes ripen and we're off on a quest for the perfect gazpacho (almond oil? tomatillos?), this smooth, green concoction really hits the spot. Cucumbers' high water content contributes to their cooling effect; they're also rich in vitamin C and potassium and support good digestion. Feel free to add chilled poached shrimp or a crumble of feta cheese, some toasted nuts or a handful of croutons if you'd like to have a bit more protein or texture. In a rush? No one says you can't serve this over ice.

Cold Cucumber-Avocado Soup
adapted from Pork to Purslane; serves 2-4
— 5-7

medium cucumbers, peeled, seeded and sliced

— 2 teaspoons

vinegar (rice or apple cider are nice)

— 2 teaspoons

raw honey

— generous teaspoon

sea salt, plus more for seasoning

— 1

large, ripe avocado

— 2 tablespoons

chopped fresh young garlic, or scallion or shallot

—

fresh lime juice, to taste

— 1

jalapeño, seeded and minced

—

diced cucumber and/or chopped cilantro for garnish
Place sliced cucumber in a large bowl. Toss with sea salt, vinegar and honey, and marinate for at least one hour, or up to three. The salt should draw liquid, which will aid with pureeing (alternatively, you could have a shorter marinating time and use more water for blending, but I expect this will dilute the flavor).

Peel and pit the avocado and add to a blender along with the cucumber mixture (and all of the liquid that's been released), the chopped garlic, jalapeño and the lime juice (start with a tablespoon and add more later to suit your taste). Add a generous pinch of sea salt. Puree until very smooth, about 2 minutes, adding filtered water to facilitate blending until desired consistency is achieved (not as thick as baby food, but more viscous than juice).Taste and adjust seasoning as necessary.

Chill until ready to serve. Divide soup amongst chilled bowls, garnish with chopped cucumber and a sprinkling of cilantro.

Download Recipe