6.30.10
Curry Improv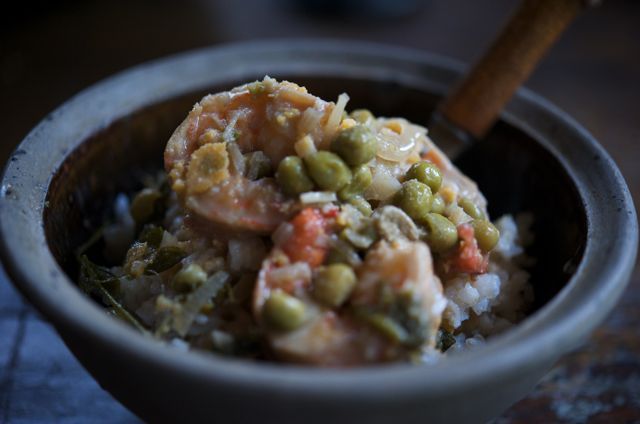 We all experience that moment of truth when the dinner hour rolls around, nothing has been planned and it's just you and the fridge in a Mexican standoff. These days, the problem is often that there's so much in my fridge I can hardly maneuver around the jars of whey and pickles and stock; the mounds of just-picked kale and lettuce; the stockpiles of lemons and radishes. This particular evening, I dove in and emerged with a pound of shrimp, a jar of red curry paste and some wild lime leaves. There were snow peas, pea greens and shelling peas from the garden, and with that and a can of coconut milk, a curry seemed possible.
The great thing about having a well-stocked fridge and pantry is that you're able to wing it. Month and months ago, I promised to write a post on what you should have on-hand at all times, and I'm afraid I've been remiss. It's a bit daunting, I guess. It would have to be one of those extended write-ups, like the ones on fats and sugars, that require research, organization and plenty of thought. Still coming, one of these days.In the meantime, there's this recipe, cobbled together out of what's in the fridge. Don't be afraid to start riffing with whatever you've got on hand. It's a good idea to start with a variation on something you know how to cook—a pasta sauce, say, or a frittata. Rely on a known technique and then vary the ingredients, change up the spices. I've made many curries in my day, so it wasn't such a stretch to come up with this one. And I had canned coconut milk and frozen shrimp stock on hand. I also keep a supply of these wild lime leaves (you know I don't like to use the word kaffir for its negative connotations) in the freezer. They add a very authentic flavor to Southeast Asian cuisine, as does a but of fermented fish sauce. You could substitute chicken or pork for the shrimp in this dish, use whatever other fresh vegetables you have, even dispense with the coconut milk and use a combination of stock and water. But I do like the richness of flavor and texture it imparts, and it's very good for G's tummy.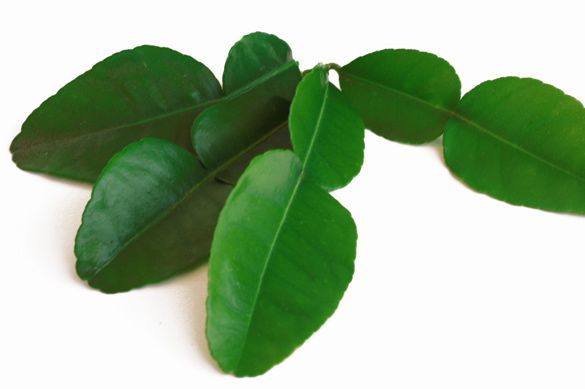 FREESTYLE SHRIMP CURRY WITH 3 PEASserves 41 pound large wild shrimp, peeled and deveined2 tablespoons coconut oil1 tablespoon Thai red chile paste1 14 oz can organic coconut milk (not light)1 3-inch piece ginger, peeled and minced1 medium onion, finely chopped2 garlic cloves, peeled and chopped2 teaspoons ground coriander1/2 teaspoon turmeric1/4 teaspoon cardamom seeds2 cups shrimp stock (or vegetable stock, or water)1 tablespoon fish sauce3 wild lime leaves1/2 cup snow peas, sliced in 31/2 cup fresh peas2 cups pea greens1 cup chopped fresh cilantroIn a deep skillet or sauté pan over medium-high heat, heat oil and add chile paste, ginger, garlic, turmeric, cardamom and coriander and fry for a couple of minutes. Then add onion, 1 teaspoon sea salt and sautee until translucent. Add 1/4 teaspoon black pepper and cook for 1 minute longer.Pour in coconut milk, stirring to scrape up bits on pan and mix well. Add shrimp stock, lime leaves and fish sauce and bring to a boil. Turn heat down and simmer for 15 minute, allowing flavors to meld. Add shrimp, peas and greens and cook until tender, about another 5 minutes. Stir in cilantro and serve with brown or basmati rice.