6.21.10
Relish the Radish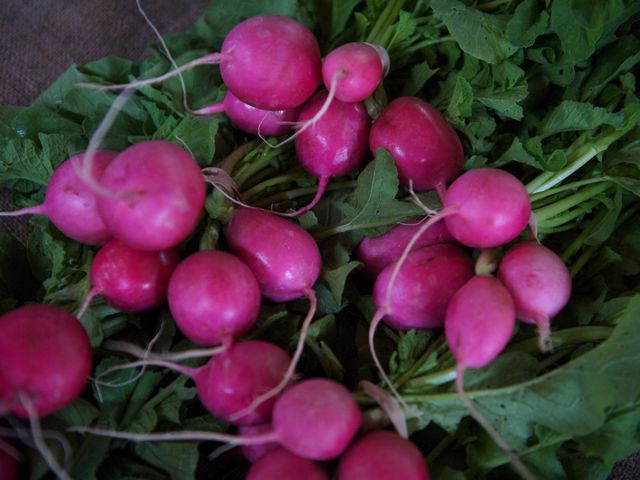 A radish is a beautiful thing, something like a baby turnip with a bite. I'm sure you're already familiar with the classic European way of eating them with slightly softened butter and a sprinkling of coarse sea salt. What could be better? In his seminal cookbook,
Nose to Tail Eating
, British chef Fergus Henderson suggests that you eat your radishes in this manner and then follow that with a light salad made of their greens tossed with a vinaigrette. Sort of a vegetarian nose-to-tail approach, no? Thin slices of dark bread, buttered and layered with radishes and sea sat, make a fantastic sandwich. And I love an early summer salad of sliced radishes, blanched English peas and chopped preserved lemon, tossed with a couple of tablespoons of creme fraiche and maybe a chiffonade of mint. BUT, perhaps you have an aversion to radishes.
Too strong
you say; or maybe even
too watery
or
too strange
. For those of you in this camp, and any others who would like to branch out in new radish directions, may I recommend the delicious braised radish?
Cooked radishes are a revelation. You'd think they would be soggy and weird, but they're actually rather more like the above-mentioned baby turnip: succulent, sweet, divine. With a light butter glaze, they beautifully complement duck or grilled pork. This is a quick, simple, seasonal side that may be off your beaten track.On an interesting note, radishes are also packed with nutrition. Despite being 90% water (and thus very low in calories), they contain as much potassium as bananas and are also an excellent source of vitamin C, folate and magnesium.BUTTER-BRAISED RADISHESserves 4 2 tablespoons unsalted butter 1 spring onion diced, white part only 1 pound (about two bunches) radishes, cleaned, green tops removed, stem ends trimmed; smalls left whole, mediums halved, larges quarteredsea saltfreshly ground black peppergenerous pinch sugar1/2 cup waterIn a pan large enough to hold the radishes without crowding, melt the butter over medium-high heat until lightly brown and nutty. Add the diced onion and reduce the heat to medium. Cook, stirring, for about 3 minutes, then add the radishes, salt and pepper to taste, sugar and water, stirring to combine. Increase the heat to high and bring just to a boil, then cover and reduce the heat to low. Cook for about 20 minutes, until tender when pierced with a fork. Uncover, increase the heat to high and bring back to a boil; cook for about 4 minutes, until almost all the liquid has evaporated and a syrupy glaze is left on the radishes.