5.8.10
Pie Shy?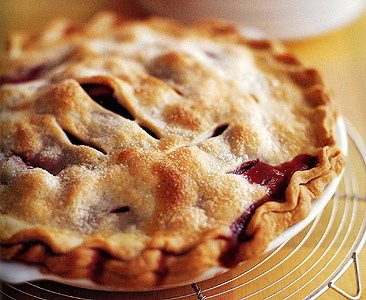 Too intimidated/busy/shy/lazy to make your own pie crust? Think you'll just pick one up at the store or take a shortcut by buying one of those pre-made crusts? Think again. PRIORITIES, people. Have you ever read the ingredients on one of those pie crust packages? 
Blech
. (If you absolutely have to use one, let it be the Keebler and not the Pillsbury; but neither will work for this recipe, thank god.) Let me lay something on you: polyunsaturated fats and hydrogenated fats are terrible for you. As in cellulite, saddle bags, Hadassah arms, heart attacks, strokes. I'll tell you more about that in an upcoming roundup on fats, but for now I want to give you my beloved and timeworn recipe for strawberry-rhubarb cobbler-ish. It just won an
Editors' Pick
on Food52; and so did my
Cardamom-Saffron Lassi
, a variation of the one I posted
here
!  
The ish is because it's more like a pie without a bottom crust than a true cobbler (in which you plop blobs of dough on top). This baby is VERY easy to make, especially for crust-phobes (I include myself in this group), and people will fall at your feet drooling and weeping with delight when they bite into this sweet-tart, buttery, flaky oozing goodness. Rhubarb is just coming into season; get some fresh strawberries from California, or use frozen organic ones. And don't forget the whipped cream or vanilla ice cream. Either one makes the perfect lush and creamy foil for this delectable cobbler-ish.This recipe has a certain fame amongst old friend and family. It is one of the few legacies from my first, (very short-lived) marriage. Eat it still warm from the oven, topped with softly whipped cream or a scoop of vanilla ice cream. Nothing says "summer's coming" better than this. (It's also great for breakfast, if there's any left!)
Strawberry-Rhubarb Cobbler
serves 6-8 (it's really not a good idea to eat it all yourself)
— 1 1/2 cups

all-purpose flour

— 1/2 cup

leaf lard, preferably organic, or vegetable shortening

— 1/2 teaspoon

sea salt

— 1/4-1/3 cup plus 1 tablespoon

half & half, separated

— 1

egg yolk

— 1-2 tablespoons

turbinado sugar

— 2 1/2 cups

organic cane sugar

— 3/4 cup

unbleached all-purpose flour

— 1 teaspoon

sea salt

— 1 tablespoon

fresh lemon juice

— 6 cups

sliced rhubarb

— 2 cups

halved ripe strawberries

— 1/4 cup

organic unsalted butter
Combine 1 1/2 cups flour and 1/2 teaspoon salt. Cut in lard or shortening with a fork or 2 knives until crumbly. Sprinkle in half & half until dough comes together. It may seem very wet, but never fear. Roll into a ball and cover with saran or wax paper. Refrigerate for 2 hours.


Toss rhubarb and strawberries with lemon juice. Combine sugar, flour and salt and add to fruit. Stir well to coat. Let sit while dough chills.


Preheat oven to 450 degrees.


Remove dough from fridge and roll out on a lightly floured surface. It needs to be big enough to cover the top of a 9x13 pan (or equivalent).


Place fruit mixture in pan, dot all over with butter and lay dough on top, crimping edges to sides. Nothing fancy; this ain't a pie, after all.


Make some decorative slits in dough with a knife, or poke some holes with a fork. Beat egg yolk and remaining half & half together, then brush over the dough. Sprinkle with turbinado sugar.


Bake at 450 degrees for 15 minutes, the reduce heat to 375 degrees and bake for another 30 minutes. Serve warm with vanilla ice cream or whipped cream.



Download Recipe