5.22.10
Chill Out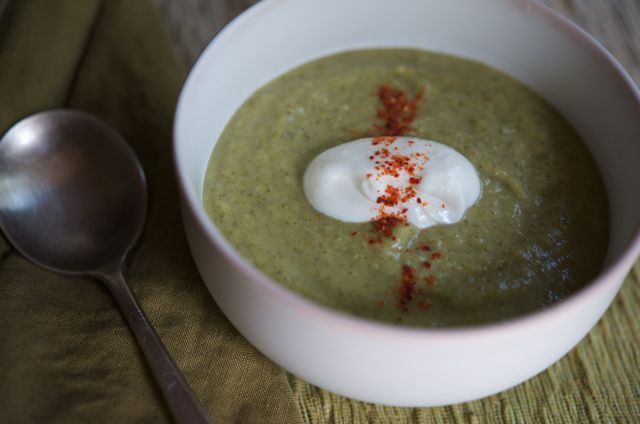 I got some free broccoli last week when my friend Laquita's husband Tim was on a photo shoot where they used 30 cases of the stuff to create a "forest." They dropped off a huge bag and I had to think fast. It was a hot day and I decided to make a cold soup. As we slide into warmer weather, cold soups make great lunches, snacks and first courses, and they're an ideal way to showcase fresh vegetables. Once the tomatoes are ripe it will be all about gazpacho, but for now broccoli, asparagus, spinach, sorrel and pea all make brilliant green soups. The basic steps are simmer the vegetable (or a combination) in chicken stock or water; puree it in a food processor; stir in some buttermilk, yogurt or cream (or a combination); jazz it up with some ground coriander, fresh mint or basil, lemon zest, vinegar, etc; and chill. If it needs thinning, use water, stock or more cream. You don't need to overthink this. I served mine garnished with a dollop of creme fraiche and a sprinkle of piment d'Espelette.
This pepper from the Basque region has a dark, slightly smoky flavor and a robust peppery finish. Traditionally used to rub the famed Bayonne ham, and found in other dishes typical of the area, it's now become quite popular in temples of gastronomy. I recently had a delicious sweet pea soup at Colicchio & Sons that was garnished with teensy bits of crispy bacon and a tiny sprinkling of piment d'Espelette. Of course I first noticed it because a very small jar of it cost $25 at Kalustyan's, and you know how I feel about a luxury ingredient.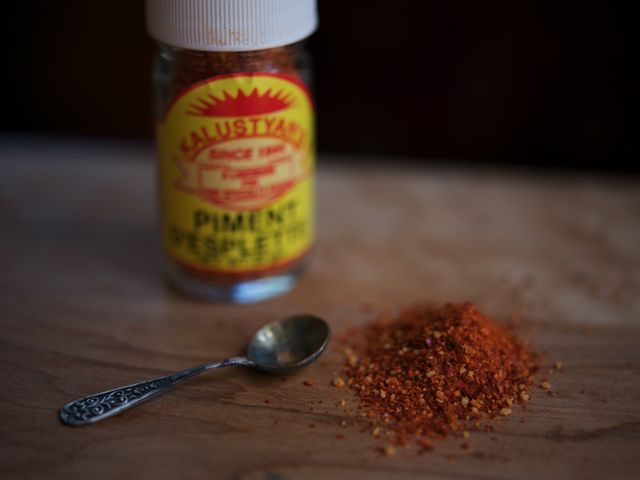 Try it sprinkled on scrambled eggs, stirred into mayonnaise, or anywhere you might otherwise use paprika.